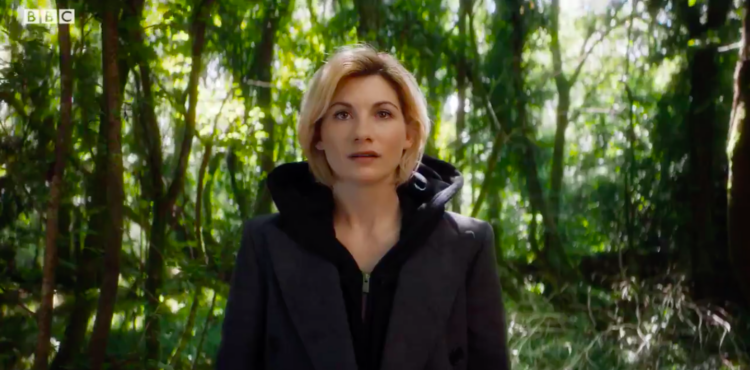 What is Doctor Who? Who is Doctor Who? Is it a big deal that the next person to play the Doctor will be a woman? I don't know! I've never seen the show!
Here, I have a conversation with my ex-husband Mike, who is a fan. Read our chat, where he introduces me to the show's universe below. (Conversational pauses included for authenticity.)
Mayim: So there was a little bit of controversy in the geek world, because they just announced that the next season of Doctor Who will feature a new doctor, as they do every year? Correct?
Mike: It's not every year, whenever basically an actor's contract runs out they ah…put someone new in…
Mayim: The new Doctor is going to be female.
Mike: Right.
Mayim: For people who don't know anything about Doctor Who tell us what the story is.
Mike: So the Doctor regenerates at some point, and it was a he and now it's going to be a she.
Mayim: But Doctor Who …
Mike: He's a time traveler…
Mayim: Is he a Doctor?
Mike: Hmmm…not really…
Mayim: Okay.
Mike: He's a time lord: He's one of the last of his race and he ends up often hanging around Earth and picking up companions, who then go to do adventures, saving the universe, all that kind of fun stuff.
Mayim: So there have been how many actors…
Mike: Well, gosh, so this is where I'm not an expert, but this is the 13th Doctor. I think she will be the 13th actor to be the Doctor, the reason I'm hesitant is because there may be one episode or so… She's officially the 13th Doctor.
Mayim: So when this news first broke, your older son had some pretty strong opinions about it. And a lot of people are having a lot of sour grapesy reactions, particularly male fans of the show, which I will say has predominately male fans, I can fact check that…
Mike: Well it's geeky, so I think that, just like of geek things, nowadays there's a lot more female fans but uh…
Mayim: So a lot of people were upset that Doctor Who is a female: Can you explain what that "being upset" is about?
Mike: Well, I mean look it's a traditional thing. We've had 12 Doctors and they've all been white males. And this is the 13th Doctor and we are getting a white female, and I think some of it is a reaction to the politicizing of someone's entertainment. Right? They're saying, "Why does everything have to be multicultural and multi-ethnic, or feminist?" But I think some of it is just a reaction because there's just been white males playing the Doctor. Remember Doctor Who started in the 1960s when, frankly, "We are going to cast a person of color or a woman to be the Doctor" wasn't even in the mindset of people. Then [the show] had a big break in the 1980s and 1990s, and got rebooted again in 2000. So, what I was saying earlier, is if the show had started out with the reboot, I think of course we would have had a Doctor of color or a woman, way before; we had four males, after the reboot, and now we have a woman. But when I think about the character of the Doctor, why would it be a white male every time? I think the Doctor is so much more complicated that it would make more sense for the Doctor to be a variety of what humanity looks like. I think that if there hadn't been eight Doctors prior to Christopher Eccleston starting it up again on the reboot, I think the second or third Doctor would have been a woman or a person of color…
Mayim: We had kind of talked about the idea of, "What if there had been a female James Bond" and I was curious, is there anything inherent to the things that Doctor Who has to do that would make it difficult for him to be a woman?
Mike: Well it's interesting, since we talked last someone brought up to me that it IS a time travel show. They are constantly going back in time in Europe and other places, it will be interesting to see what happens when the Doctor has to go back in time and has to deal with, culturally, for instance the British government in the 1930s as a woman. I don't think the Doctor is going to get as much respect in that time frame. Because of male biases in that culture. I don't think we are going to see that kind of change when the Doctor's off in space dealing with aliens and things like that. There may be an episode where the Doctor will have a much different experience on Earth being a woman than being a man so it will be interesting.
Mayim: Okay, I have one final question, it may lead to others. One of my questions before you had educated me about the structure of the show and why I believe it is possible… One of my concerns is that I worry sometimes that the current progressive feminist movement really wants to make things equal, and equal to a point that, to me, sometimes may not logically make sense. What I mean, if we have Spider Man and Spider Woman are we now going to have to have Spider Person? Played by a man or a woman? Do you think that the franchise is so strong that they're confident adding a feminist slant or is that just what we're picking up on because that's what's in our culture?
Mike: Well, I'm not in the heads of the creators; the show also is changing showrunners. I think they are looking for something new, they are trying to explore different kinds of stories and this is one giant way of doing it. You have this built-in mechanism in Doctor Who in which you can play around with the character, so I don't know…
Mayim: Are they gonna make her get naked?
Mike: Oh, I doubt it.
Mayim: Okay, good.
Mike: Having said that I know that women have found the Doctor Whos in the past to be quite attractive…
Mayim: And some men perhaps…
Mike: And men sure, so I don't know, I can't imagine that the Doctor will be played up as a sex symbol as far as what you are talking about. I don't think there will be a swimsuit episode for the Doctor. In fact, I don't think I've ever seen any of the other Doctors in their underwear, maybe Matt Smith, once when he changed, I'm trying to remember now. But, that's not really a big part of the Doctor Who thing. Frankly, Doctor Who fans are particular about lots of things. Prior to this, one of the biggest debates was that the Doctor has this tool called the sonic screwdriver and the last Doctor had what were sonic sunglasses and I definitely fell in the camp of hating the sonic sunglasses…
Mayim: Well there you have it. To each Doctor Who fan his—or her, or their—own. All right, thank you.