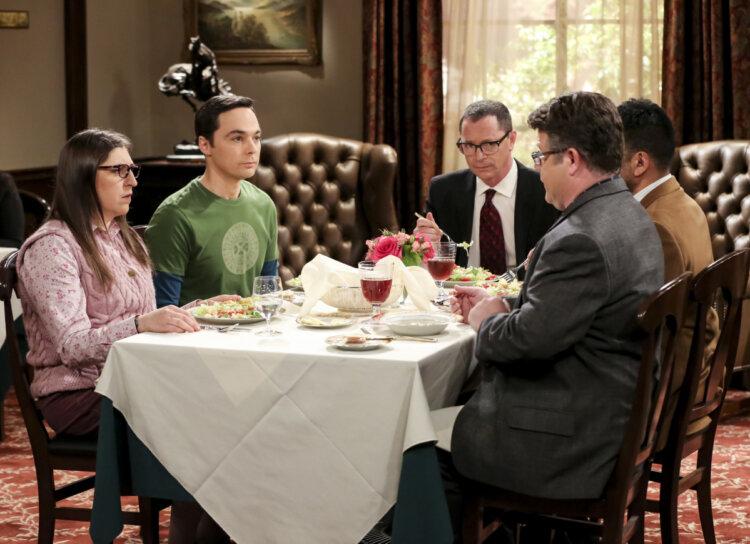 Ooooh the Nobel situation is getting H-O-T!!!! Amy and Sheldon have access to some saucy, incriminating information about their Nobel competitors and everything kind of falls apart. It seems like this is a huge plot point which will be continuing for the next (final!!) three episodes.
This week's episode deals with ethics as Amy and Sheldon are challenged to decide if they want this incriminating information, and what, if anything, they ought to do with it. They ultimately decide to take the high road with Drs. Pemberton and Campbell, played by Sean Astin and Kal Penn.
But of course, it's not just as easy as all that. In the process of Amy and Sheldon taking the high road, the drama reaches a crescendo when Campbell gets iced tea thrown in his face, prompting him to tackle Pemberton. The scene was intense enough that we had two stunt actors and a stunt coordinator for it. It was so cool to watch both stunt actors get haircuts so they could look like Sean and Kal. They also wore identical clothes to them, and they even padded the stunt man playing Sean's character a bit, since he had a slighter build.
I realized during the filming of this scene how stunt people sometimes just have to do stuff that we actors are too chicken or weak to do. There's no magic way to be knocked off of a chair. I mean, sure, you can know how to fall "properly" and tuck your chin and such, but ultimately, you're being knocked off of a chair with no padding under you!
Thankfully, we got the scene in two takes, so that was probably a relief for both of the stunt actors. In addition, the part where Sean throws the iced tea in Kal's face was achieved in one take (much to Kal's relief, I'm sure!). We actually filmed the scene many times right up until that point, but the actual throwing of the glass of iced tea was done perfectly the first time!
It was really awesome to have John Ross Bowie back for what might be his last episode (who knows?!). He plays the speech-impaired Kripke, a pretty sleazy guy with very few redeeming qualities. Seeing John go from being on our show to a regular on the successful show Speechless gives us a lot of pride. As someone who has been friendly with John and his talented wife Jamie off camera, I'm personally thrilled for the shifts in his career. Side note: he also wrote and produced a really interesting play about the Ramones which I saw in Hollywood, and that is now being performed in London (Learn more about Four Chords and a Gun here!).
But for the show, the official countdown is now in effect… three more episodes after this one!