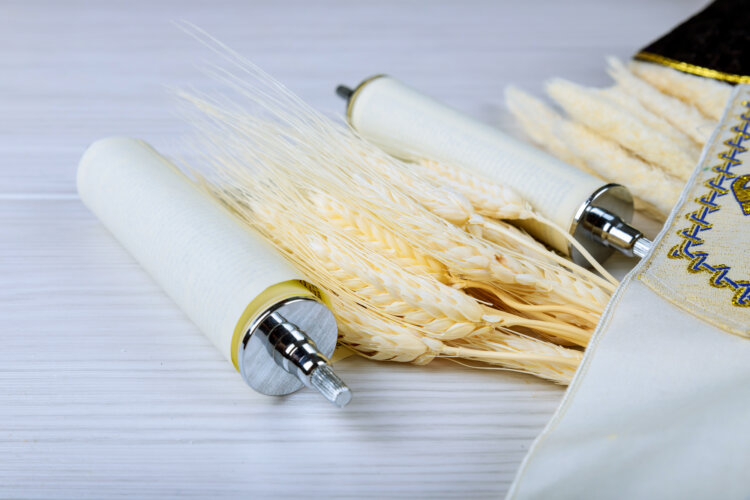 It's a major Jewish holiday this weekend! No, it's not Passover. That just… passed over. And it's not Chanukah, because that happens in the winter (and is actually a "minor" Jewish holiday!). It's not Rosh Hashanah or Yom Kippur, because those happen in the fall. Same for Sukkot, when we eat and sometimes sleep in huts in our backyards (not making this up).
So what is this momentous holiday? Well, here's a hint: after Passover is over, you count 49 days until you get to this holiday. It's called Shavuot! It is a harvest festival where in ancient times, the first sheaves of wheat were brought to the Holy Temple in Jerusalem. And that happened exactly seven weeks after Passover.
The holiday is also connected to the receiving of the Ten Commandments at Mount Sinai, which is a really huge, gigantic, enormous deal for the Jews. We love to commemorate this with tremendous fanfare since it's kind of the birth of Judaism as we know it.
We celebrate Shavuot by studying the Torah. All night long. Aw yeah! It is customary to study the book that started it all. So communities and synagogues all over the world hold learning parties where there is food and drinks and opportunities to attend lectures and talks, and you basically stay up until the sun rises, or for as long as you can. It's fun, I promise. If you're with friends and like-minded people, it really is a cool way to celebrate your tradition.
We also eat dairy on this holiday. There are a number of reasons why we do this, including that before the Torah existed, there wasn't a basis for all of our laws of kashrut—kosherness—so after receiving the tablets on Mt. Sinai, the Israelites stuck to dairy because it was the easiest to prepare with the new kosher laws…no blessings to make before slaughtering a cow, no laws about not mixing meat and dairy; you get the picture. So Shavuot is known for delightful, dairy delicacies like cheesecake and blintzes which are often served at midnight.
Another cool thing about this holiday is its mystical significance. It is said that every Jew was somehow at Mount Sinai. Like, bend your noggin around that for a second. Think of it not in a scientific way, because this isn't a science lesson. Rather, it's a mystical belief that we all stood there and witnessed what can only be summed up from its description in the Torah as a psychedelic experience. Synaesthesia is described, we supposedly saw sounds and there was thunder. Feel the thunder. Lightning, and the thunder! Jews are known for our love of the Torah and laws and restrictions, but we also have a strong, mystical, groovy aspect to our tradition which makes me really feel fulfilled as a Jew. It's a little bit of everything.
If you're celebrating along (or just want something tasty to eat!), here's a little bit of "dairy" for you. This is my veganized recipe for cheesecake. Warning: this is not a healthy recipe just because it's vegan, but it is a delicious one. It does include processed soy, so if you have issues with soy, this is not the recipe for you. This tastes like an East Coast cheesecake and it's delightful.
Enjoy the holiday and let me know if you make this cheesecake and enjoy it as much as I do!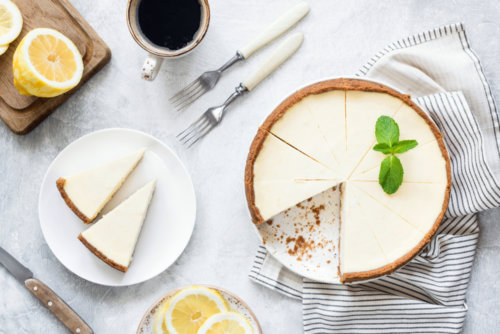 CRUST
1 1/2 cups graham crackers
2 tbsp sugar
1/4 melted margarine
Process the crackers to fine crumbs either in a food processor or the way we do it is we put those crackers in a Ziploc and pound on them with a heavy drinking glass. Add sugar and margarine and mix well.
Grease a cheesecake pan or you can do it in a 9" pan. Press the crust into the pan and make it creep up the side about an inch. Bake at 350° for 8 minutes and let cool for a little bit.
FILLING
15 oz vegan cream cheese
3/4 cup vegan sour cream
3/4 cup sugar
2 tbsp flour
2 egg replacer eggs (I use Bob's or Ener-G)
1 tsp vanilla extract
Zest of 1 lemon
Beat the cream cheese and sour cream with a hand mixer. Beat in sugar, flour, egg replacer, zest and vanilla. Put it all in the cooled crust. Bake at 350° for 50 min; until it starts to crack a little. Remove from oven and let sit for 15 min. Increase oven temp to 425°.
TOPPING (do not skip this)
1/2 cup vegan yogurt (plain or vanilla works)
1 cup vegan sour cream
3 tbsp sugar
1 tsp vanilla
Pour off any liquid your yogurt has. Mix it with the sour cream, sugar, and vanilla. Spoon over the cheesecake evenly. Bake at 425° for 10 min. Cool to room temp and refrigerate. Tastes better the next day!