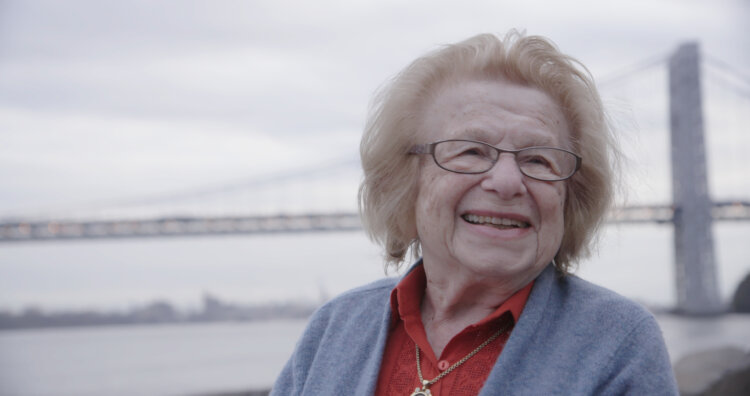 I watch a lot of documentaries. I'd say documentaries are mostly what I watch, in fact. Name one and it's highly likely I have seen it.
Favorites? I mean, Making a Murderer, The Ted Bundy Tapes, Abducted in Plain Sight, and The Staircase rank high up there, as do Mommy Dead or Dearest and Surviving R. Kelly.
I saw a documentary recently, however, which belongs in a separate category from all others, as it affected me in ways that were utterly personal and deeply meaningful. What is it? Ask Dr. Ruth.
Growing up in the 80s, I knew Dr. Ruth as the thick-German-accented, fiery, tiny sex therapist who made headlines for saying something about sex which shocked our culture's consciousness, but I really didn't think much about her in general. I knew there was a comic book made about her a few years back, I knew she had an amazing childhood as a survivor of the Holocaust, and I knew she was an important figure in the history of sex therapy, but I didn't know half of what I know about her now after seeing this documentary.
Dr. Ruth was born in Germany, but at the age of 10, she was sent alone to Switzerland by her parents as the Nazis moved gained power and swept through Eastern Europe. Young Ruth was able to write letters back and forth with her parents, but one day the letters stopped. She never saw her parents again.
A consummate saver of things, Dr. Ruth takes us through her personal letters, photos, and diaries. They paint a picture of a child survivor forced to deal with unspeakable challenges. Her childhood was punctuated by strength, courage, and humor. We follow Dr. Ruth as she speaks with the first boyfriend she ever had; her recollections—and his—moved me to tears. At 91 years old, she has an impeccable memory and tremendous insight, without being overly-sentimental…she credits her German upbringing for her refusal to show much emotion. Her daughter, son, and her grandchildren are also featured in the documentary, and their interviews provided such an interesting window into this woman's life.
Dr. Ruth was married three times; the first two relationships she called "legalized affairs," but her third husband was her one true love. Her relationships took her from her adopted homeland of Israel to America, and she has stories to entertain us for every stage of her fascinating life.
While staunchly apolitical, Dr. Ruth nevertheless has placed herself at the forefront of body positivity, sex positivity, and feminist causes while all the while refusing to identify as such. The notion that we should speak openly about sex and sexuality was exceptionally unusual in the years when Dr. Ruth was making a name for herself; she was—and is—consistently unapologetic about things others may be uncomfortable about, since she sees true happiness and satisfaction in a relationship as impossible if we're unable to speak openly and freely about these intimate things.
Her sense of humor is still with her at 91 years of age, as is her enthusiasm, pep, and fieriness. She is a dynamo at only 4'7", but has a much bigger presence. Ask Dr. Ruth is an example of someone who not only survives, but thrives because of her hard work, determination, faith, and sense of humor.
I felt so inspired by this woman, her journey, and her resilience. I hope to have even an ounce of her spirit tomorrow, much less when I'm 90. Thank you to the people who felt Dr. Ruth's story needed to be told in this way. She is remarkable and this documentary is not to be missed!
Ask Dr. Ruth is now streaming on Hulu.