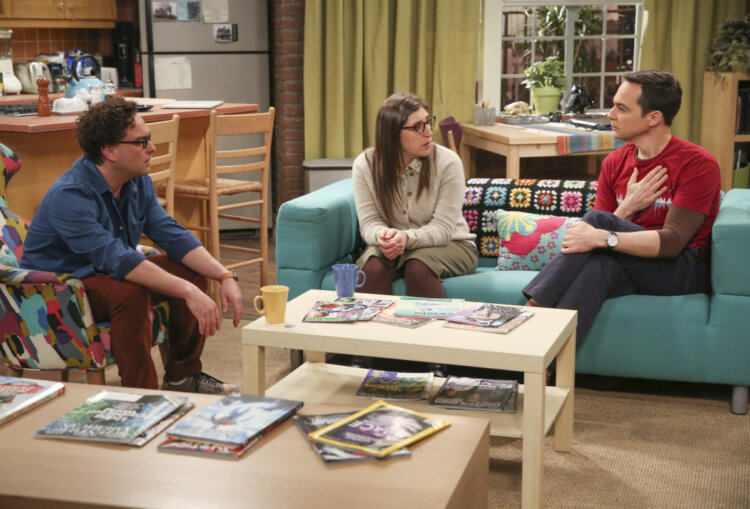 As we enter these final three episodes of The Big Bang Theory, a lot of loose ends are starting to be tied up, and this episode makes that very concrete. There were also a lot of "awwwww!" moments.
In last night's episode, we see a significant shift in Raj and Anu's relationship. She is offered a job in London, and Bernadette convinces Howard to keep Raj from pursuing Anu further, and that love is right in his own backyard, as it were. Awwwww!
Denise and Stuart have a delightful set of scenes, and we finally see them admit their love for each other. They are ready to take the next step. Awwwww!
The main plot revolves around Leonard's mom, Beverly (played by the incredibly warm and magnanimous Christine Baranski), coming to visit, and being uncharacteristically… nice. It turns out that she is examining Leonard for her next book. He ends up feeling betrayed, used, and disregarded for the person he is.
It's actually a very emotional episode. My mom—also named Beverly, coincidentally—came to visit for this taping, as it will be the last one she sees, and it felt fitting for her to be here for the "mom" episode. Typically, I am very nervous to perform when my mom is around, and she knows this. It's mostly about not being able to relax knowing she is there. Acting is very vulnerable, and my mom knows me super well. It's a lot of professional intimacy for me to have her there. The episode was heavy, but my mom really liked it, and it was nice having her here! Awwwww!
After we filmed this episode, we had the last of our hiatus weeks before the big FINAL hiatus, which will be an eternal one. This marks one of the "lasts" on Big Bang: this was the LAST taping we had a hiatus week after. The next two episodes will be back to back, and then we are done for good. That's so heavy!
All of these lasts are hard for sure. So it was actually kind of nice that my role was light last night. As we near the final episodes, I find myself doing a lot of observing. Since I am dipping a toe into writing and directing, I am observing more how plot pieces come together, how problems are resolved, and how the comedy and reality of these characters blend. Our writers are so skilled, passionate and intelligent; their hard work shows. While taping this episode, my interest in storytelling and my desire to take in these last moments combined, and I truly enjoyed being able to sit back and watch how our writers decided to handle these fictional relationships we have all been following for so long.
And now we wait…and we wait. And soon, we will see what is in store for Amy and Sheldon! Keep tuning in for all of the behind-the-scenes details!