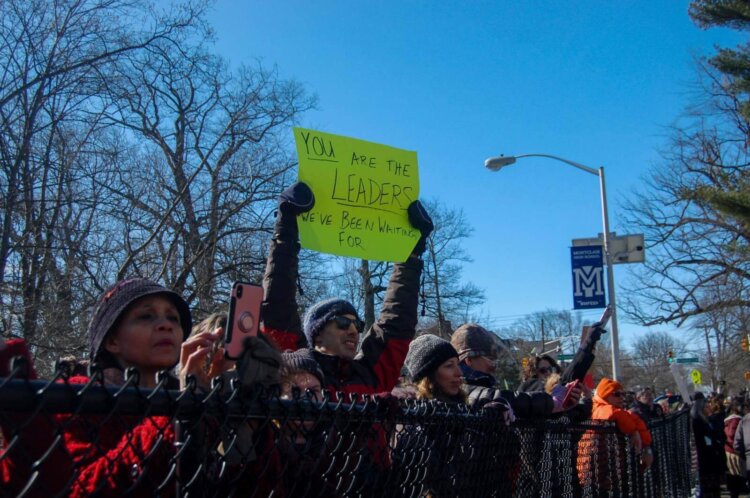 This week was dominated by the student-organized walkouts–and in some cases,"stay-in" assemblies and other commemorations–in memory of the students who died in the Parkland school massacre and against gun violence. What was a moment of grassroots organizing triumph that inspired people everywhere to think that maybe the future could be a better place was marked by this tweet from the NRA.
I'll control my own guns, thank you. #2A #NRA pic.twitter.com/jqbZzwcWf6

— NRA (@NRA) March 14, 2018
Yes, that's the AR-15, the type of gun that the Parkland shooter used to end 17 lives. Stay classy, National Rifle Association.
Also this week, 7,000 pairs of shoes were positioned on the lawn opposite the Capitol to represent the 7,000 lives lost since the Sandy Hook shooting; global advocacy group Avaaz organized the stunt to "bring Congress face-to-face with the heartbreak of gun violence," and to call for gun legislation reform.

Inclusion is on the Rise
It's been less than two weeks since Frances McDormand introduced us to the "inclusion rider" at the Oscars, and the conversation on inclusion and representation continues to grow.
For the second season of Marvel's Jessica Jones series creator Melissa Rosenberg wanted to make sure that at least 50% of the directors would be female. But, the L.A. Times reported, Rosenberg and Allie Goss, vice president of original series at Netflix, decided that every one of the 13 episodes would be directed by a woman. Rosenberg said, "I've been on 25 years of shows, and nine times out of 10, those directing staffs are all white men, so why not all women?" She networked and Googled and learned "it was really not at all difficult to find 13 terrific female directors." The Grok Nation research team is studying this statement, as it may also prove a Y chromosome mutation that renders some men literally unable to see female directors. (L.A. Times)
People with disabilities are also stepping forward to be sure they're included in Hollywood projects. In an article in The Hollywood Reporter, advocate and film executive Delbert Whetter, who has profound hearing loss, wrote:
People with disabilities make up 20 percent of the population — that's 54 million people — but appear on screen only 2.7 percent of the time. An overwhelming number of the roles, upwards of 95 percent on television, are played by actors without disabilities. Hollywood does not lack for brilliant, talented actors with disabilities (think of R.J. Mitte who played Walt Jr. in Breaking Bad, or the deaf actor and model Nyle DiMarco, with his stigma-busting triumph in Dancing With the Stars), but since they are rarely if ever cast in nondisabled roles, they are effectively chasing just one-tenth of one percent of the available work…
The article also announced that next week, disability rights group RespectAbility will be launching a toolkit for industry professionals and reporters, "on some of the myths that need puncturing and the cultural shift that needs to take place to give actors and executives with disabilities their due." (The Hollywood Reporter)
In Political News…
The President fired Secretary of State Rex Tillerson, and there is buzz that sometime soon Lt. Gen. H. R. McMaster, the national security adviser, will also be ousted, among others; in the New York Times, POTUS called it a "very exaggerated and false story." Special counsel Robert Mueller issued a subpoena ordering the Trump Organization "to hand over records related to Russia and other topics he is investigating," according to people who had been briefed on the matter, the Times reported.  And yesterday, the Trump administration imposed sanctions on a series of Russian organizations and individuals "in retaliation for interference in the 2016 presidential election and other 'malicious cyberattacks,' its most significant action against Moscow since President Trump took office," the Times reported.
While battles are still ongoing about the status of DACA/Dreamers/undocumented workers, at least one 33-year-old woman is living her American dream, the Washington Post reported: Lizbeth Mateo, an attorney and immigrant rights activist and an undocumented immigrant, was appointed to an advisory committee that seeks to improve access to college for low-income California students, and help students from underserved communities go to college. Mateo is also the first person in her family to have attended and graduated college. (Washington Post)
Toys 'R' Us Will 'B' Us No More
All the Toys 'R' Us kids are sad, as the giant retailer announced it's closing all 800 of its U.S. stores – the chain declared bankruptcy six months ago and has 8 BILLION dollars in debt, the Washington Post reported. To blame? The pre-existing debt and also likely the rise of big stores like Target and Walmart and convenient online shopping experiences like Amazon. The brand is such an American fixture that a number of toy companies are looking to buy stores and operate them under the Toys 'R' Us name. I have a special connection to Toys 'R' Us, too: you know that "Toys 'R' Us Kid" jingle? Back in the 1980s, I was one of the kids who sang on the demo that eventually sold the iconic song to the company, so YOU'RE WELCOME, AMERICA. I did a Facebook live about it yesterday, including singing the song in honor of the defunct company, and also world premiering the "holiday version" of the song that never made it, which you can view at the end of this post if you're so inclined (Esther said, bowing modestly…).
March Madness
While we were focused on students marching in the school walkout, talking about the March for Our Lives happening next weekend, or snarking about Pi Day and the Ides of March, March Madness also arrived. If there's a basketball fan in your house, they'll probably be watching the NCAA Division I Men's Basketball Tournament, in which 68 teams compete in seven rounds for the national championship. The penultimate round – when four teams are left – is known as the Final Four. People track the wins and losses using something called a "bracket," to chart the teams as they play each other and are eliminated. (Click on image at right to expand in a new window.)
TV Highlight: Bill Hader on SNL
This weekend, Saturday Night Live is hosted by Bill Hader and Arcade Fire. Hader's one of my favorites–he's SO good –and I'm looking forward to seeing what weirdness he's cooked up for us. But while I was getting excited for more Stefon–his rendition of New York nightlife, filled with randomness, is the only one I want to hear–a friend sent me this clip from 2008: a Stefon, freed from the Weekend Update desk and…pitching movies with his "brother" Ben Affleck? This is a case of right character, wrong environment, and I can't believe that SNL almost botched it. Watch the sketch here.
Movie Trailer Watch: Avengers: Infinity War
I love a good Marvel movie. Or TV show. But in this new trailer, in the battle scenes and the talky scenes alike, "infinity" seems like too many. True we're getting the payoff (if that's what it is) of all those post-Marvel movie teasers featuring Thanos, but putting all the Marvel characters in a blender seems like bad self-editing to me. You want StarLord bantering with Iron Man? Great. But let's trim the army a bit: Do we really need the Winter Soldier? Hawkeye could certainly take five. Rocky Raccoon, maybe sleep off that cocaine-binge energy. Pepper Potts: perhaps consider consciously uncoupling from this infinity war. And all due respect to Scarlet Witch and Vision, but I'm more interested in Black Widow and Hulk. Appreciate that Thanos may be an "all hands on deck" scenario, but I'm getting superhero whiplash. Oh, obviously still going to see the movie, but the trailer prepared me for a film that's going to be visually overwhelming. What do you think?
What's on your mind this week? Let us know in the comments.
(Your bonus for staying with us to the end of the post: here's that Facebook Live we were talking about…)