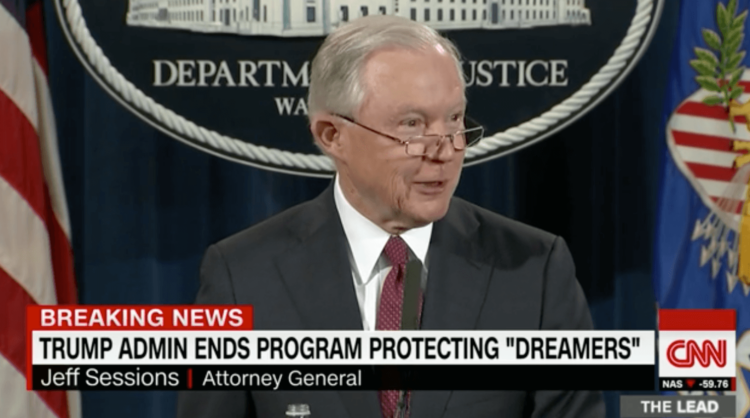 If you spent any time on the internet yesterday, you've probably read a bit about #DACA, the Deferred Action for Childhood Arrivals program, because a Trump administration representative announced that the protective program would be rescinded and phased out, affecting nearly 800,000 (mostly ages 18-35) people.  Here are some of the facts – and tweets – you need to read to learn more about this issue. (And if you happen to be or know a Dreamer who would be willing to talk to us about their experience firsthand, please let us know.)
What is DACA?
On Tuesday, September 5, Attorney General Jeff Sessions, representing the Trump administration, rescinded 2012's Deferred Action for Childhood Arrivals program (known as DACA). He called the program unconstitutional and an overreach by President Obama, and announced that it will be phased out over the next during which Congress has a chance to pass a legislative alternative. This program has deferred deportations for more than 780,000 people who came to the U.S. illegally as children and enabled them to remain in the U.S. with temporary permits – these people are known as "Dreamers."
According to FWD.us, an effort by the tech community to support policies that keep the American Dream achievable in the 21st century (including comprehensive immigration reform and criminal justice system reform), Dreamers have "passed a rigorous background check, paid a fee, and are currently in school, active duty or the workforce. They are hardworking, young individuals who are part of the fabric of our nation."
While running for President, candidate Trump had said that young Dreamer immigrants could "rest easy," that he was after the criminals, not the dreamers (Boston Globe).
Some facts about Dreamers from the New York Times:
A vast majority are Latino, 79% are from Mexico
More than 25% of Dreamers live in California
The current age of DACA recipients ranges from 16 to 35 years old
After Sessions made the announcement, the President tweeted:
Congress now has 6 months to legalize DACA (something the Obama Administration was unable to do). If they can't, I will revisit this issue!

— Donald J. Trump (@realDonaldTrump) September 6, 2017
For more information about how this will affect DACA recipients, see here at CBS News.
How are people reacting?
My message to Dreamers: We see you. We stand with you. We will fight to ensure you can stay in the country you call home.

— Kamala Harris (@KamalaHarris) September 5, 2017
#DREAMers embody America's story: diverse, determined & hopeful. Instead of rewarding that patriotism, @POTUS is abandoning them. #DACA

— Rep. Joe Kennedy III (@RepJoeKennedy) September 5, 2017
Over the next six months, Democrats and Republicans will have to work together to suggest a solution. According to FWD.us:
 "The bipartisan DREAM Act would allow young undocumented immigrants who grew up in the United States to apply for legal status and eventually citizenship if they can meet certain educational, work, or military requirements, successfully pass a background check and remain in good legal standing."
Protests are happening everywhere. (See gallery at NYDailyNews.)
In a Facebook post, former President Barack Obama called this move "a political decision, and a moral question. Whatever concerns or complaints Americans may have about immigration in general, we shouldn't threaten the future of this group of young people who are here through no fault of their own, who pose no threat, who are not taking away anything from the rest of us."
When Obama left office he said he would only comment on 45's actions at "certain moments where I think our core values may be at stake."
In Denver, students staged a walkout:
#Breaking: Students at Denver schools are walking out of classes in protest of #DACA announcement
WATCH: https://t.co/fYKBG4jvCA pic.twitter.com/ErH0Hz86oq

— Channel 2 KWGN (@channel2kwgn) September 5, 2017
In Silicon Valley last week, on receiving word that DACA might be rescinded, 300 tech company leaders signed a group letter to the President against this plan. (Read more at CNET.)
Silicon Valley's backlash against the #DACA repeal is intensifying https://t.co/qpB3CfHonM pic.twitter.com/uWrJH1SaOX

— CNET (@CNET) September 5, 2017
In the New York Times, Javier Palomarez, the president and C.E.O. of the United States Hispanic Chamber of Commerce, the country's largest Hispanic business association said he's resigning from the President's National Diversity Coalition:
While I will never cease advocating for policies that benefit America's Hispanic-owned businesses, the moral costs of associating with this White House are simply too high. There is no place for a National Diversity Coalition in an administration that by its word and deed does not value diversity at all.
The ACLU is also investigating whether a threat by 10 states issued to Jeff Sessions constitutes collusion by those states to get Trump to rescind DACA, when he had previously said that the Dreamers could "rest easy." (Buzzfeed and Boston Globe)
To take action on behalf of DACA recipients, call your Congressional representatives (more information at https://dreamers.fwd.us)
Main news sources for this article: