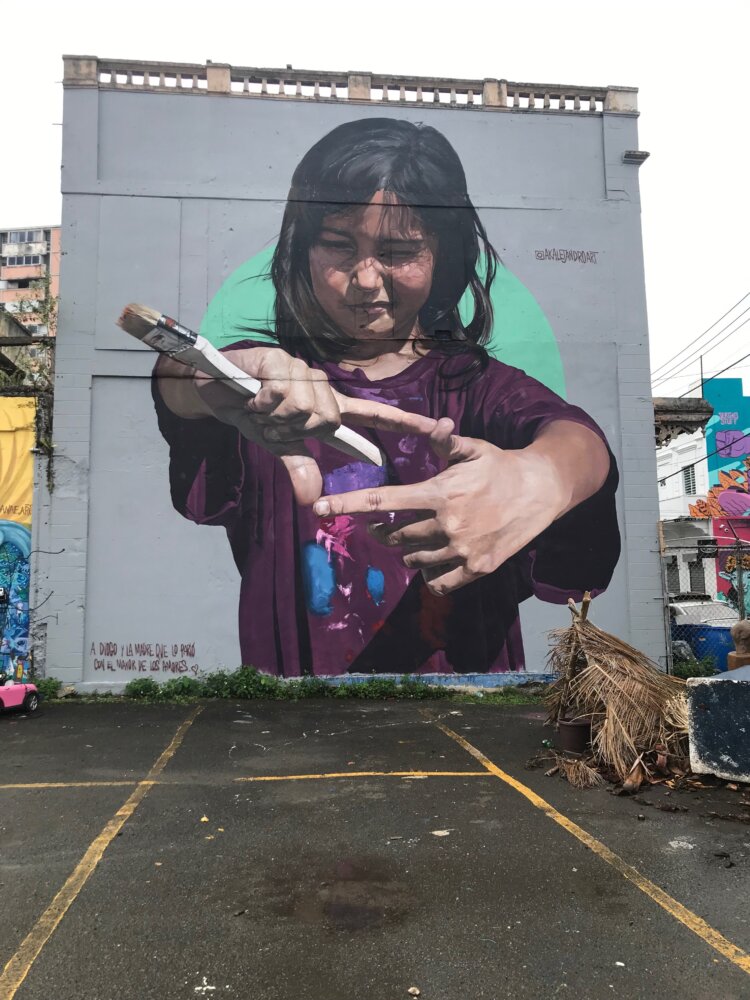 When I found out that Broadway sensation Hamilton was visiting Puerto Rico, with creator Lin-Manuel Miranda reclaiming his title role, I felt a helpless desperation I have seldom encountered since adolescence. I remember thinking that I would sell at least a piece of my soul (which, for the sake of transparency is in fair, but used condition) to be at one of those 24 shows. I'd never seen the musical and had just fallen in love with Miranda for the zillionth time after watching Mary Poppins Returns.
Making it even more outstanding in its allure was the fact the profits raised from the limited Puerto Rican run were going directly to Puerto Rican artists and arts institutions, by way of the Flamboyan Art Fund, an initiative co-founded by Miranda.
Thankfully, due to a press trip put on by Marriott hotels, I was able to head down to Puerto Rico, my soul still intact. As my plane heading to the island took off, I wondered what exactly all us Hamilton-crazed folks were walking into in San Juan. I had dismal imaginings of wrecked roads, collapsed infrastructure and other bold remnants of Hurricane Maria, which devastated the island just over a year prior.
My grim expectations were fortunately not met, but Puerto Rico, from what little I saw of it (primarily San Juan) is far from recovered. For every pristinely restored edifice, there is half a block of homes that—split by trees or with roofs caved in—have been emptied and abandoned.
Only the heartless could take in these sights of ruin and not feel heartbroken. But only the heartless, too, could not simultaneously feel hopeful. San Juan has come further in its recovery than anyone could have predicted this time last year (despite facing an uphill and sorely underfunded battle) and will only continue to defy what seems possible in terms of rehabilitation. Why? Because going above and beyond the call of duty is just the Puerto Rican way.
"One of the things that really struck me here is how incredible the people are," Donald Webber, Jr., (Aaron Burr in the Puerto Rican production) told me during our pre-show chat. "I think about this often. There's a part in Hamilton where [Lin Manuel-Miranda], as Hamilton, is singing about being in the eye of a hurricane. This thing destroyed his entire town, but he still has the wherewithal to right his way through it all. It's like, 'I'm not going to let this massive thing that destroyed my town define me.'"
Though I spent most of my own viewing of Hamilton in a state of jet lagged shock and awe, unable to process all the memories I was so determined to create, I can still remember just how powerful this scene was, and how serendipitous it felt to experience it in a place that has its own songs of resilience.
We hope that our #HamiltonPR run serves as a reminder to the rest of the world that Puerto Rico is open and ready for business. #RiseUp pic.twitter.com/090rdKXPiu

— Hamilton (@HamiltonMusical) February 1, 2019
"Some people would have given up, they would have said, 'This is too much," Webber said, reflecting on a story a local cab driver told him of walking miles every day to get water—for seven months after the hurricane. "But not here. The Puerto Rican people said not only is it not too much to get water every day for myself and my family, but I'm going to get it for my neighbors, too. And I'm going to help build a gas station with my bare hands even if I've never built anything a day in my life."
Sabrina Sloan, who plays Angelica Schuyler in Hamilton, has toured with the musical for more than a year and notes that though the show is consistently met with gracious enthusiasm, Puerto Rico's audiences took it to the next level.
"It's always exciting bringing this piece to people who have been waiting for it to arrive close to their home," Sloan told me. "But nothing can match the deep gratitude and joy every single person in the audience in Puerto Rico showed every single night. I am so grateful that Lin chose to bring it to Puerto Rico before many of the other cities in the U.S. get to see it, and when not many Broadway touring shows come through the island. I hope it brings light to the fact that this island is a valuable, vibrant, strong and extraordinary part of our country, with an incredibly rich history, and that the people here should be celebrated and cherished and uplifted, not only after a disaster like the hurricane, but always."
I hope for the same, and am looking forward to my second trip to Puerto Rico next year to marvel at just how much more proud progress has been made.