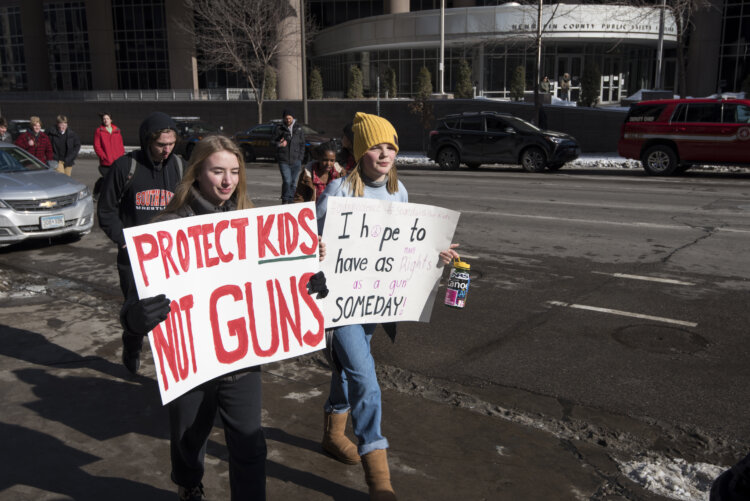 The mass shooting at Marjory Stoneman Douglas High School changed the way this country talks about (and hopefully, legislates) firearms. Due to the tireless activism of the surviving students, anti-gun violence events and actions have sprung up all over the place. Here's the 411 on what's happening, where, when, and how you can participate.
Enough is enough!

Women's March Youth EMPOWER is calling for students, teachers, and allies to take part in a #NationalSchoolWalkout for 17 minutes at 10am on March 14, 2018. Join us in saying #ENOUGH!https://t.co/8ZE8uthRlZ pic.twitter.com/45yCZl4zDm

— Women's March (@womensmarch) February 16, 2018
#Enough National School Walkout
When: March 14
More info: Organized by the Women's March Youth Empower group, the #Enough National School Walkout takes place exactly a month after the Parkland, FL school shooting. Students (and anyone who supports them) are encouraged to walk out of school at 10AM local time for 17 minutes, a minute for each life taken at Marjory Stoneman Douglas. For more details, visit WomensMarch.com.
On March 24 we will take the streets of Washington DC and our communities across the country to #MarchForOurLives. Sign up at https://t.co/2m7ItdfFjV pic.twitter.com/yokyEdj7Jq

— March For Our Lives (@AMarch4OurLives) February 18, 2018
March for Our Lives
When: March 24
More info: This march on DC is being organized by high school students who survived the Marjory Stoneman Douglas High School shooting. It has already raised millions of dollars in support and over 500,000 are anticipated in DC. There will be local marches around the country the same day, so if you can't make it to DC, check out where one will be happening by you.  
Join the National Day of Action to Stop Gun Violence in Schools https://t.co/Jn9vwU3n0A pic.twitter.com/H01K5co1Dd

— Network4PublicEd (@Network4pubEd) February 17, 2018
National Day of Action to Stop Gun Violence
When: April 20 (chosen because it is the anniversary of the Columbine shooting)
More info: The Network for Public Education (an advocacy group that works to preserve, promote, improve and strengthen public schools) is calling for a national day of action in hopes of ending gun violence. They're asking folks to wear orange in support, as well as organize or attend an event near you. Check out their site for action items anyone can take, from elementary to high school students, as well as activities that can be done before or after school that day.  
UPDATE: Lockton becomes the latest company to cut ties with the NRA https://t.co/uUhabbHdxF pic.twitter.com/VQ8yO53f8X

— ThinkProgress (@thinkprogress) February 27, 2018
Boycott Business Still Doing Business With the NRA
When: All the time!
More info: One way to help push change along is to make noise with our money. Refuse to shop at stores or use brands that still offer discounts and perks to NRA members. While individual members may not be the problem, the organization as a whole has more of an interest in loosening and expanding gun culture instead of fighting for the lives of children. So far, it's been working. As of March 2nd,  almost 20 companies had stopped offering discounts or special programs to the NRA.