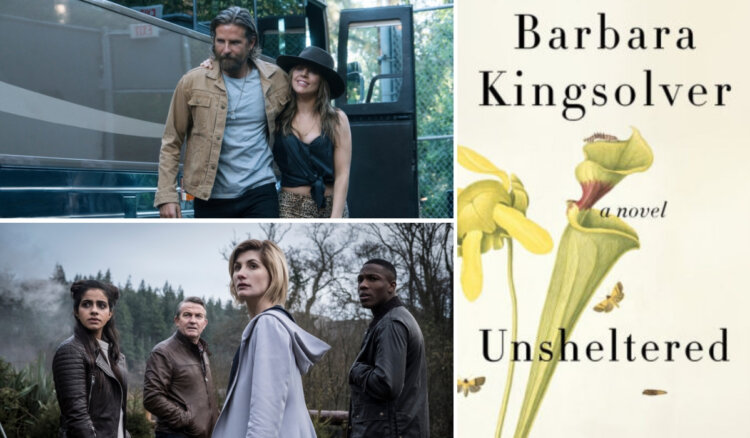 It's no surprise that an October Pop Culture Roundup would be bursting full of horror movies (and TV). But our monthly column has more than that: We want to keep you informed about what's coming to screens, both big and small, and bookshelves so that you can fill the time spent not watching slasher flicks and creature features with something interesting. With that said, there's still a spooky recommendation or two below, so let's get to it…
TV
The Man in the High Castle (Amazon, October 5)
Look, we're not saying it's easy, in our current political climate, to watch a show about what it would be like if the Nazis had won WWII, but Amazon's series is pretty compelling. The pacing can be a bit sluggish at times, but the mind-bending, slightly sci-fi premise is an undeniable hook that will keep you watching. Entering its third season, The Man in the High Castle could be considered one of streaming's sleeper hits. Don't miss out.
Fresh Off the Boat (ABC, October 5)
Simply one of the best sitcoms on TV today. Diverse, hilarious, and incredibly poignant, Fresh Off the Boat is heading into its fifth season. And if you've never watched but loved Crazy Rich Asians, Constance Wu should be more than enough reason to start.
Doctor Who (BBC America, October 7)
First female Doctor. Need we say more? This may be one of the most highly anticipated seasons yet, with Jodie Whittaker stepping into the role. We loved what we saw coming out of San Diego Comic-Con, so here's hoping the series keeps building on what the trailer has already delivered.
The Walking Dead (AMC, October 7)
The biggest thing to note about this new season of The Walking Dead is that it will be Andrew Lincoln's last. Rick Grimes will be no more, in one way or another, and while the show's certainly struggled to maintain the momentum and intrigue of its earliest seasons, we're definitely curious about Rick's fate.
Black Lightning (The CW, October 9)
The CW switched up its formula to great success with the first season of Black Lightning. The first 13 episodes felt lived-in, political, and unique in a way that so much superhero TV simply doesn't, and we're itching to see what the show has to offer up with a second season.
The Romanoffs (Amazon, October 12)
With a stacked cast (Amanda Peet, Diane Lane and Noah Wyle, to name a few) and the creator of Mad Men behind it, The Romanoffs has all the makings of an incredible binge series. Each episode of the Amazon anthology series will follow someone in the modern day who purports to be a descendant of the Russian dynasty.
Crazy Ex-Girlfriend (The CW, October 12)
It's no secret that we're a fan of Rachel Bloom around here, and this show just keeps getting better. We can't wait to dive into its fourth and final season.
Camping (HBO, October 14)
Lena Dunham and Jenni Konner's new HBO series, about a group of friends on a back-to-nature retreat, sounds ripe for the kind of wrenching, hilarious, emotionally nuanced writing the two brought to Girls. And as they've since split as a writing duo, this will be the last opportunity to watch their work together.
Charmed (The CW, October 14)
No matter how you feel about reboots, it's hard to deny the *charm* of The CW take on this late '90s classic.
Black-ish (ABC, October 16)
The show is always must-see, but the final stretch of achingly real, gut wrenching episodes centering on marital problems in season 4 saw the show explore a different tone and a different kind of storytelling. We don't expect Black-ish to go fully experimental or anything this season, but it's good to know that the writers aren't afraid to try something different as the show enters its fifth season.
Making A Murderer (Netflix, October 19)
Your favorite depressing true crime binge watch is back, once again following Steve Avery as he attempts to get a new trial.
Chilling Adventures of Sabrina (Netflix, October 26)
More Mad Men alum on this list, with Kiernan Shipka taking on the role of Sabrina Spellman, aka Sabrina The Teenage Witch, in this dark imagining of the Archie Comics.
Movies
Venom (October 5)
The latest from the Marvel Universe sees Tom Hardy playing the titular character. We don't understand why movie studios continue to cast Hardy in roles where he has to cover up that face, but we'll go see this anyway.
A Star Is Born (October 5)
This much-buzzed about remake, and Bradley Cooper's directorial debut, stars Cooper alongside Lady Gaga. Early buzz from the Toronto International Film Festival makes this sound like an easy Oscar contender.
First Man (October 12)
Coming off the success—and one of the most awkward Oscar moments ever—of La La Land, Damien Chazelle and Ryan Gosling team up again, this time tackling the story of NASA's mission to land on the moon. Gosling plays the emotionally closed-off Neil Armstrong, in a performance and role that seems primed to appeal to Academy voters.
Halloween (October 19)
This update, from Danny McBride and David Gordon Green, got mixed reviews coming out of TIFF, but there's no way we're missing Jamie Lee Curtis returning to play Laurie Strode one more time. Plus, it's October!
Suspiria (October 26)
Speaking of spooky remakes, we were wary of anyone touching this absolute classic from Dario Argento, but the first few trailers for the remake look bloody, unique and extremely promising.
Books
Bridge of Clay by Mark Zusak (October 9)
Zusak wrote the fantastic The Book Thief, and his next book looks at the coming-of-age of five Australian boys who must raise themselves after their father disappears. Secrets lurk behind that disappearance though, giving the boys one more obstacle to overcome. Pre-order on Amazon.
My Squirrel Days by Ellie Kemper (October 9)
A collection of essays from the hilarious actress (The Office, Unbreakable Kimmy Schmidt), which chronicle her life in the Midwest and her move to Los Angeles and introduction to the world of film and TV. She's every bit as funny and charming on the page as she is on screen. Pre-order on Amazon.
Killing Commendatore by Haruki Murakami (October 9)
This one's no beach read, clocking in at just over 700 pages, but it's Murakami, so we have to recommend it. He's certainly written slighter books, but Killing Commendatore, about a man who discovers a painting and "unintentionally opens a circle of mysterious circumstances," sounds like it'll be quite the journey. Maybe this shouldn't be your first foray into his work, but if you're a fan of anything else he's written, this one has to be on your must-read list. Pre-order on Amazon.
Unsheltered by Barbara Kingsolver (October 16)
Kingsolver's latest novel sounds like another epic in the same vein as The Poisonwood Bible, as she tells two different stories at once: one about a couple facing personal challenges as their house falls apart, and another about a family living on the same property in the 1870s. Pre-order on Amazon.
The Library Book by Susan Orlean (October 16)
Not just a chronicling of the devastating fire that ravaged the Los Angeles Library in 1986, Orlean's non-fiction account is also a stirring love letter to libraries in general. Pre-order on Amazon.