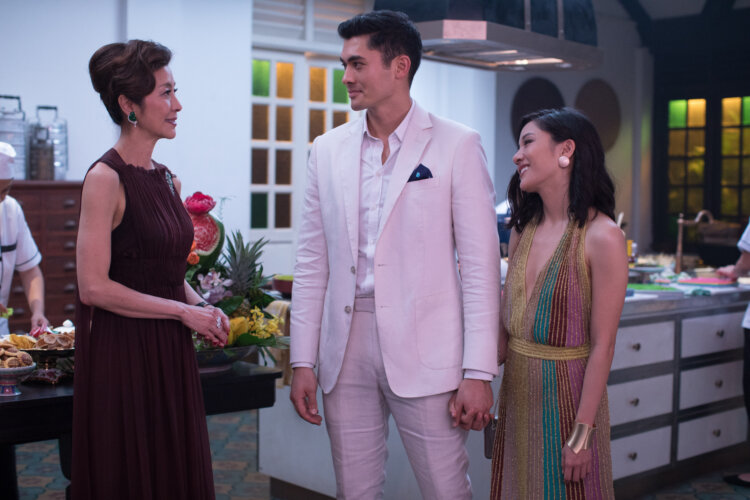 I was never one to believe that marginalized people should seek their emancipation via Hollywood movie, certainly not ones that glorify the crazy rich. So as a Crazy Moderate-Income Asian, I was cynical about Crazy Rich Asians. The Asians on my social media feed have been deliriously excited about the movie for months. As if just watching it will break the ground from under us, undo the ugly history of yellowface in cinema and usher in an era of humanizing non-stop work for Asian American actors. Crazy Rich Asians is hardly our Black Panther and it's definitely not our Roots, but it is our Halley's Comet.
Okay, so it's not been 75 years like the periodic comet, but it has been 25 years since a major Hollywood studio has given a theatrical release to a feature film with an all Asian cast (the last was Joy Luck Club in 1993). So while Crazy Rich Asians might glorify the Asian 1% and send the unrealistic message that Asia's enthusiastic embrace of capitalism means all bets are off on actual socio-economic issues that affect the other 99% of us, I sure as hell wasn't going to wait another 25 years to see all Asians on the big screen.  
Based on Kevin Kwan's guilty pleasure novel of the same name, the plot is as follows: Chinese-American Rachel Chu (Constance Wu) is NYU's youngest economics professor. She's dating hot AF Singaporean export Nick Young (Henry Golding in his movie debut). In their year long courtship, she never managed to google how crazy rich his family is and he didn't let on either. They go to his home in Singapore for the Spring Break wedding of his friend Colin (Chris Pang). When they arrive for the week of festivities, Rachel learns she's snagged Singapore's most-coveted bachelor from a notorious property mogul family. Nick has plans to propose to Rachel that week. Jackpot, right? Wrong! Rachel learns that being Nick's loving girlfriend isn't enough to get the approval of his mother (Michelle Yeoh) and all the "wolves"/aunties/Singapore elite who blatantly berate Rachel for being too common for Nick and his family's wealth. Spoiler alert: It's a rom-com, so love prevails and Rachel still gets her Hollywood ending.
The trailer left me skeptical. As someone who has only slept her way to the bottom, how would I empathize with a protagonist who finds out her insanely hot boyfriend is also crazy rich? As a third-generation Chinese-American from San Francisco whose Crazy Blue Collar Asian immigrant grandparents barely saw anything close to middle class, how would I relate to the filthy rich Singaporean world of these characters?
But again, Hollywood movies are not where I go for political liberation, it's where I go to escape reality. Except for once, rather than escape into white characters, I'd be escaping into the lives of Asian people who look just like me–except skinnier, prettier, and CRAZY RICH, but otherwise, who look just like me….
The movie pops from the jump. The movie soundtrack is a lot of catchy Chinese language covers of American pop songs. Everything from the locations, backgrounds, editing and graphics feels modernly Asian and fresh without being orientalist. I've never been to Singapore, but Crazy Rich Asians might as well be the new tourist bureau video that has sold me on going. Director Jon Chu (best known for the Step Up films) gives meticulous detail to illustrating this stunning futuristic vision of Asia's economic boom. It's like if Willy Wonka's Chocolate factory was Singapore, and Rachel is the dowdy Old Country American peasant who got the golden ticket but doesn't fit into her new world.
And abs! This movie is a rare opportunity to catcall perfect washboard Asian abs in a theater! At my screening the group swoon throughout the theater made for more humor. Henry Golding's abs made me quickly forget all my anti-capitalist lefty reservations about the movie. (And confession: I spent most of this morning googling shirtless pictures of Henry Golding whilst daydreaming about the Asian Magic Mike movie he'll star in next.)
The story really kicks in when we get to the standout performances from Rachel's eccentric college friend Peik Lin Goh (played by scene stealer Awkwafina) and her jokester father Wye Mun Goh (equally hilarious Ken Jeong). There is a side plot emerging: Nick's sister Astrid (Gemma Chan) learns that her "commoner" husband (Pierre Png) is cheating on her. In all the vibrant cinematography elucidating what an endless buffet of wealth gets you and a palatial wedding where the bride literally walks on water, is a heartfelt story about women fighting for love, family and self respect.
Then there's a moment where the ground finally shifts from under me. I'm watching Rachel confront Nick's mother in a Mahjong salon. I have a rare realization that I don't often have when watching Asians on screens— these are incredibly nuanced performances from Wu and Yeoh. They aren't performing their race, they aren't punchlines or side characters. Rachel is negotiating with Nick's mother over Mahjong tiles to get what any of us Crazy Not Rich Asians and all humans want: to be seen, to be accepted for who we are and to love what we want to love.
Purchase tickets to Crazy Rich Asians on Fandango.