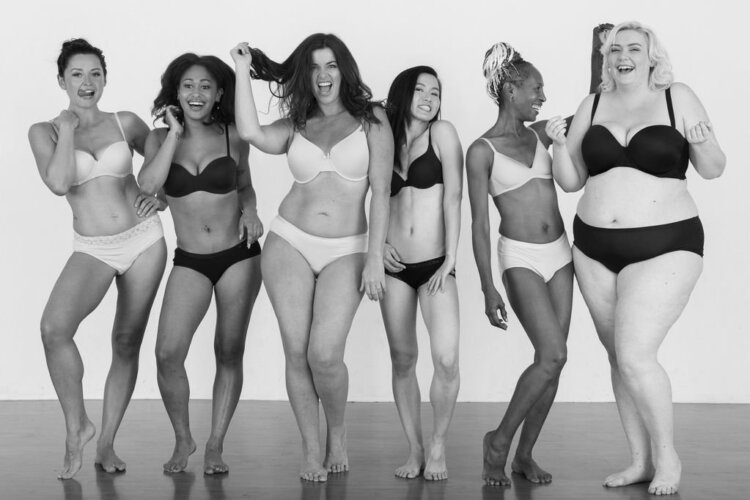 Last month we told you all about Period Panties, non-absorbent underwear that put the punny back in menstruation. This month we road test actual period panties — underwear that acts as protection against your monthly flow. Some are designed to catch small leaks from tampons and menstrual cups, while others function as underwear and pad all in one! Plus, period protection panties are environmentally friendly! Our landfills are overflowing with plastic, disposable menstruation products. Wearing reusable protection reduces that waste. So, in the interest of style and science, we decided to check out a few different brands and test them out!
Luna Undies
These underwear are from LunaPads, a company that has been creating environmentally friendly period protection since 1993! Known for their washable cloth pads, this women-owned and run company introduced underwear in 2000. According to their website, Luna Undies help divert more than 2 billion disposable pads and tampons from North American landfills each year! Plus, their Pads4Girls program provides over 17,000 girls and women in 18 nations with 100,000+ reusable menstrual products. And, they recently commissioned this short documentary about period culture in Korea. Filmed in Pyeongchang, the documentary highlights the stigma associated with menstruation in South Korea, where some young women are taught that their periods are "dirty." 
But what about their actual underwear? I've actually been a LunaPads customer for a while now. I have a number of their super soft reusable pads, and when they started making underwear, I was first in line. The Maia hipsters are wonderful. The outside looks like regular cotton underwear, and it feels sleek, smooth, and comfortable. Inside, there are soft jersey bands over a thin fleece crotch. You're able to place cloth pads (from light to super absorbent depending on your flow) securely in the elastic and off you go. It's really no different than wearing a disposable pad, except there's no chafing, annoying crinkly noise, or plastic all up in your business. There are other styles too, ranging from bikini cut to boy shorts. I love that LunaPads uses real people as their models, showing what their products look like on different bodies.
Not sure where to start? Take LunaPads' Matchmaker Quiz to see which of their products are right for you! Purchase on Lunapads.com starting at $30.
GRADE
Leak Protection: A
Comfort: A
Array of Undie Options: B+
Overall: A-
THINX
Period-proof organic cotton is here!https://t.co/7ENvMyVreV pic.twitter.com/E946FK0SFM

— THINX (@SheTHINX) August 24, 2017
Probably one of the more recognized brands when it comes to reusable period protection. THINX was started in 2014. (Note: though its former CEO, Miki Agrawal, was accused of sexual assault and creating a hostile work environment she is no longer with the company.)  THINX's FAQ notes a portion of every THINX sold helps fund their giveback initiatives, but it's unclear on the website how much is donated, and exactly what is done with the funds.
THINX styles run from light day "cheeky" pairs to ones that offer the same absorption as two tampons. The look runs the gamut from sturdy utilitarian to feminine, lacy or mesh numbers that offer space for personal style. Plus, THINX offers underwear specifically for playing sports, as well as protective leotards, perfect for dance or gymnastics.
When I first tried THINX, I was unsure what to make of the outside material, which reminds me of a bathing suit. As someone used to cotton undies, this threw me off a little, and made it feel like I was wearing something other than actual underwear (they've recently released an all cotton line that I have yet to try). However, there's no arguing with their absorption powers. They are definitely powerful, and, like LunaUndies, I feel clean and fresh with these on, even with a heavy flow.
Not sure where to start with THINX? They offer a "Cycle Set Kit" where you can create your own customized period's worth of underwear. Purchase on SheThinx.com starting at $30.
GRADE
Leak Protection: A
Comfort: B
Array of Undie Options: B+
Overall: B+
Modibodi
Real queens fix each others crowns…. and talk about real issues!#busttaboos pic.twitter.com/WpAQ6It8N7

— Modibodi Australia (@Modibodi) October 8, 2017
This Australian brand has been around since 2013. (But yes, they ship to the US with no additional taxes!) Through their patented "Modifier" technology, Modibodi offers period protecting underwear that wicks away moisture while also zapping away odors, keeping you cool and fresh where it counts. And, like its competitors, these underwear have the capacity to absorb up to two tampons worth of menstrual fluid.
One of the things I love about Modibodi are the fabrics. Their soft bamboo cotton, sports marion wool, and microfiber come together to create truly comfortable, luxurious underwear. They also offer other moisture-protecting technology, like bras for breastfeeding moms (with extra thin, absorbent padding for leaky nipples!) and swimsuits that catch leaks and light flows. The swimsuits use special tech that allow them to be period and leak proof, holding up to 1-1.5 tampons worth of menstrual fluid. 
Two styles that I absolute love from Modibodi are the seamless unders and the "sensual" ones. Make sure to also look at the products aimed at young girls and pregnant women. And, like the brands mentioned above, they do an excellent job of using models with diverse body shapes.
Modibodi also gives back to their community with a number of programs, including "Give A Pair," which provides underwear to women and girls in Australia impacted by domestic violence. Other programs revolve around making sure those who are in need of menstrual products — regardless of circumstances — receive them. Purchase them on Amazon.com starting at $25.
GRADE
Leak Protection: A-
Comfort: A
Array of Undie Options: A
Overall: A