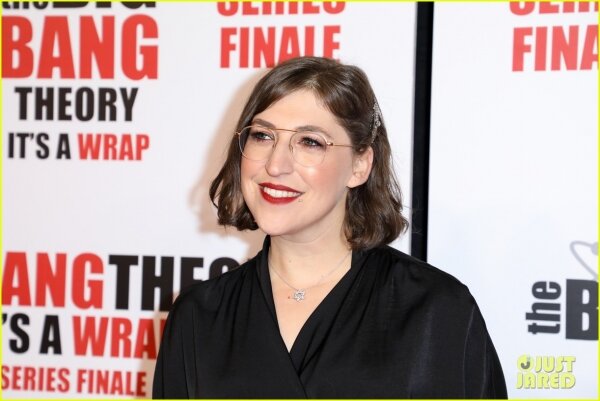 Well, the secret's out: Amy Farrah Fowler cut her hair–but so did I! As you saw in the final two episodes of The Big Bang Theory, Amy gets a makeover, and part of that is a pretty significant haircut! As I discussed in my write-up of those last couple of episodes, it was a very big deal in the show, but let's talk more about it. Because it's really a big deal for me.
For most of my life, I have had no proper haircut. I wore my hair one length, and that length was long. On Blossom they would curl up my hair and made it look so pretty, but I was a hippie chick for most of high school and, on my downtime, I let it grow long and straggly and I loved it. After Blossom ended and I went to college, I dyed my hair with purple and green streaks, and was even a redhead briefly, courtesy of my bestie Kari's handiwork. I cut it about shoulder length sometime during my first few years in college, and even had Bettie Page bangs! No one liked those except me…oh well.
Once I had kids, I let my hair grow long once more, and really loved the length all over again. I lost a bunch of my hair after my first son was born, and was told that I had the worst hair loss that several hair specialists had ever seen. It was brutal. But it eventually grew back to some extent before I lost it again after having my second son. It was at this time that I was on What Not To Wear and they cut off about nine inches of my hippy hair.
Little did I know, it would never grow back.
Soon after appearing on What Not To Wear, I was cast as Amy Farrah Fowler, and while my hair was somewhere just past my shoulders when I appeared in the season finale of The Big Bang Theory's third season, it never grew much more after that, sadly. Having my wavy 'Jewfro' straightened with a hot iron two days a week for nine months of the year for nine years took its toll.
It's true that many, many women in my industry have sewn-in extensions or clip in extensions, and very few actually have the luxurious locks you think celebrities are genetically blessed with. But still, even with all the tricks of the trade, I felt increasingly self-conscious about my ratty, damaged hair.
And of course, unless you're in a role that allows for chopping off your hair and looking amazing (note Kaley Cuoco's dramatic hair change in Season 8), you can't change your hairstyle when you play a frumpy character who doesn't care about her looks. Sure, I fantasized about it, but I couldn't do it. When Chuck Lorre approached me about Amy's series finale make-over, I didn't even let him finish his sentence. "Do you want a wig or do you want…"
"I want to cut it!" I exclaimed.
The first of the final two episodes had me wear a "fall," my actual hair in front with fake in the back because we still had scenes to film with my normally longer hair. But the last episode is all me and my freshly shorn locks.
There have been questions, and I have answers:
Yes, I have wavy hair. It waves more when it's short and doesn't have the weight pulling it down.
Yes, I love it.
Yes, it hides my shorter patches much better and that makes me less self-conscious.
No, I didn't color it and don't want to. I'm not going to dye my gray hairs which show a bit more now.
Yep, it's easier.
No, I don't have to put product in it if I don't want to.
Yes, I wear headbands now and look 6-years-old.
Yes, I miss ponytails, especially when it's super hot like it was the week I was in the Dominican Republic, but I'm learning different ways of wearing it off my neck.
Yes, I want to keep it short FOREVER.
It feels so freeing to cut off my hair and have it look healthy. I definitely feel bad that I can't handle long hair anymore, and it does feel like some sort of shot to my femininity. I miss long hair and I loved how it looked on me. But I'm also open to new things now by necessity. New look, new stage of life, new everything, really.
I hope my hair journey will inspire some of you to start fresh and to do things that make you less self-conscious too.