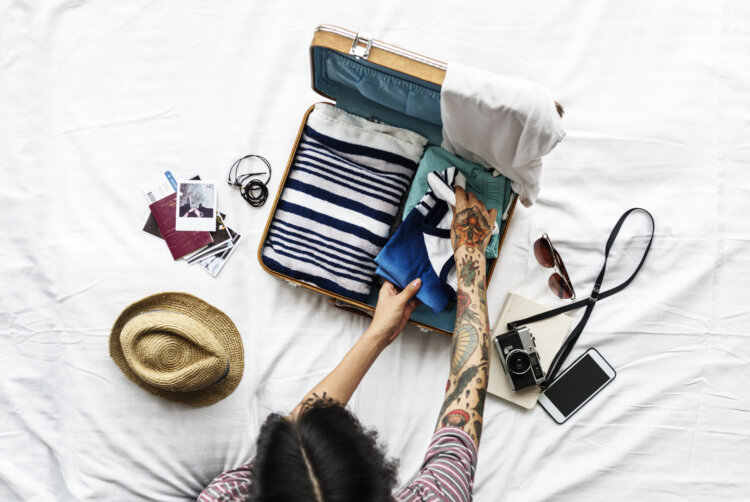 All good things must come to an end, and so was the case with my recent three-week trip around Mexico. There were some wonderful things, and some not-so-wonderful things, but throughout the high and lows, one thing remained constant: how happy I was to have packed light.
While hopping on buses, colectivos (shared van transport), and planes all over Mexico, I continuously patted myself on the back for just carrying a backpack instead of being like the rest of the poor tourists who were struggling with cumbersome, wheeled carry-ons.
But achieving this level of minimalism wasn't as easy as it sounds. The challenge? The climate of the places I visited within those three weeks ranged from 50° to 90°F. Here's how I fit it all.
The secret is in the layers
I brought two pants that were ankle and calf length since they work in cool and hot weather, and a pair of shorts that I paired with leggings if it was cool out.
For tops, I chose four basic short-sleeved shirts and a light mid-length shirt. In cooler cities, I paired them with undershirts and either a grey sweater, a pashmina, or one of my two lightweight jackets (of which, in retrospect, I should've only brought one).
Besides this, I had six pairs of socks and underwear, two bras (one beige and one black), a cover-up, and two swimsuits.
The same principles of layering and matching apply when preparing for different activities. Need to kill it at a meeting, then go hiking? Want to wander around museums but enjoy the nightlife while the sun sets? Try to find items that can be dressed up or down. Basic tees can work for a business casual outfit or an excursion to the pyramids, depending on what bottoms and shoes you wear them with. The same goes for some dresses, which are comfortable enough for sightseeing but dressy enough for a night out.
It's okay to be basic (about colors)
Of course, the layering system only works if the items in your travel wardrobe match. The best way to guarantee this is to go for basic colors. If you're not one for monochromy, go for basic in either your tops or bottoms, then add color or patterns to the other.
Not everything in my wardrobe matched, but I made a self-imposed rule that everything had to go with at least three other items. The exception to the rule was a vintage flower jumper I found by chance in the lost-and-forgotten side of my mom's closet. It really only went well by itself or with a black T-shirt underneath, but it was comfortable, cute, and didn't take much space.
For the love of shoes
My love affair with shoes is cancelled out by my tendinitis and my desire to pack light. Unfortunately, there's nothing I can do except make the hard choices and keep it simple and practical.
For my Mexico trip, I packed two pairs of shoes: sneakers and flip flops.
Sneakers are a great choice when traveling because they're multifaceted and fashionable. You can walk around the city, go to a bar, and even enjoy outdoorsy activities. Nike and Skechers are my usual choice because they look fashionable while providing arch support.
I opted for comfort when choosing flip-flops so I could explore the Tulum Ruins as well as go to the beach in them. If I had wanted to pack even lighter I could've bought cheap flip-flops at the beach to leave behind at the end of the trip. This is a good strategy if your bag is bursting, but it might be worth considering the environmental impact of throwing almost-new shoes away.
If you need to prepare for a business meeting, as well as doing some sightseeing and going out at night, I recommend packing a pair of black flats. They're comfortable, go with everything, and take up very little space.
Packable self-love
My uber-sensitive skin demands a complicated skincare routine, but I manage to keep it travel-sized. Belif, my skincare brand, gives amazing samples that usually last me about a month and a half of everyday use. When they don't come in TSA-appropriate sizes, I use reusable containers that I can fill up whenever I need to, and which create less waste.
If you're bringing makeup, apply the basic colors principle and bring shades that go with everything in your wardrobe.
Inspector Gadget yourself
One of the best things you can do if you're looking to pack light is invest in cool accessories that make the most of your space. Both my jackets were Uniqlo ultra light down, meaning they could be packed down to a quarter of their size and weighted very little. This makes them absolutely perfect for traveling.
Another thing I never travel without is my microfiber towel, which fits in my small delicates bag. It's great backup for the rare case your Airbnb doesn't have towels (yes, it happened), and serves as a beach towel as it dries quickly, and doesn't get sand stuck on it.
Other gadgets I love are my collapsible water bottle, my iPad to work while I'm on the road, my Steripen for safe water wherever I am, and my Lush shampoo bar, which is eco-friendly and tiny.
At the end, do you
Knowing your own priorities is the secret to making compromises when packing. I don't usually wear makeup, so I don't plan space for that. On the other hand, I have a huge family, so I left space for all the gifts I would be bringing back for them.
Know what you need, make space for it, and leave yourself a little wiggle room.