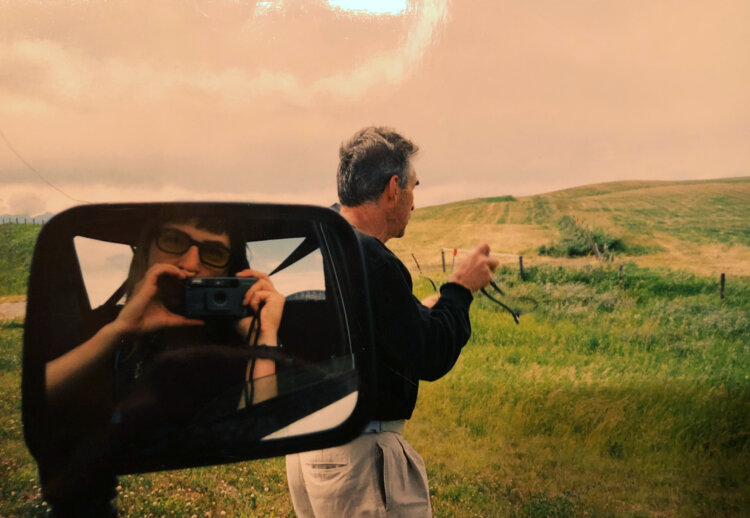 My father was an artist. He was a poet. He wrote me many poems; usually for my birthday but he wrote a lot in the dozens and dozens of journals he had kept since he was 21 years old when he married my 18-year-old mother.
My father also wrote short stories in these journals. He always wanted to write "the great American novel." He never did. He lamented it many times in his 73 years. I never really knew what he meant, to be honest. I suppose he knew.
My father was a documentary filmmaker. He and my mother traveled cross country a few times before they had me and my brother; they filmed the country in slow motion and they sped it up. They used time lapse when everyone told them that looked crazy. They overexposed film and they edited by hand. The strung the film up in their railroad apartment in the Village in New York. 
My father destroyed all of his writing before he died. I don't know when or how. I kind of know why. And I also don't. He left me two journals: the one he kept the year I was born, and the one he was keeping the year he died. He also left me a folder of the final art project he was working on.
It was bits and pieces of a mind slowly losing itself. My father had multi-system atrophy, which is a pathetic clinical term for "everything is f—ed up." He was a prisoner of a body breaking down; his mind was intact but his vocal cords were increasingly paralyzed and his body was deteriorating, and it takes on average several years to arrive at this diagnosis and it just sucks.
So what this folder involved was a collection of photos and thoughts and ideas. And it was vague and unclear. My mother told me that my father had spoken to his friend Dennis about this project. I reached out to Dennis after Shloshim ended (the first three months of grief, which I chronicled on the site and you can read about here). Dennis told me this was to be a deck of cards. I remembered my father's love for images in opposition and the photographs started to make sense. I laid them all out in my year of grief. I could not make sense of them as something to make sense of. The world was upside down. I had to live without my father living; nothing made sense. How could these images? There weren't even 52 of them.
I tried many times to do something with them. I thought of sending them to a professional artist—you see, I am just an amateur—but it was too personal. Too hard to explain. I thought of a tarot deck. But he didn't like tarot; that seemed sacrilegious in a way. And so the project sat in the sad manila folder in my file of things about my dead father.
Cut to two years later. My 12-year-old is preparing for his Bar Mitzvah. His tutor, my mentor (and yes, also my lawyer) Shep Rosenman suggests we find ways to make this simcha (joyous event) meaningful beyond the Torah reading Miles would be doing. Miles was intrigued. He loved his Zadie very much. He had so many fond memories of them playing chess and taking walks and—wait for it: playing cards.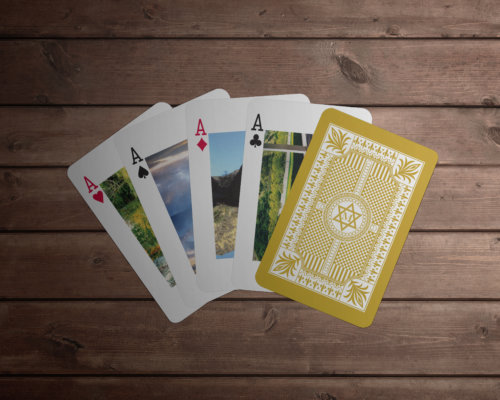 And so it began. My older son took on the task of completing my father's art project and designing a deck of cards for his Bar Mitzvah. This deck of cards includes all of my father's photographs. And since there were not 52 images, we went into my father's photo books and found new images to use. And we even got to make two very special "jokers:" one is my father and one is my son.
We had the same designer who did the rebrand of Grok Nation help format everything and design the card back, which is white and gold: the colors of milk and honey, a euphemism from my son's Torah portion for the Land of Israel. A photo of my father and son playing cards when my son was about 5 years old adorns the cover.
The deck of cards was such a special token to be able to give to guests at my son's Bar Mitzvah—and to keep for life.
And best of all, you can be a part of this special project as well: We printed extra cards in order for Miles to sell them and donate the funds to charity. Click over here to purchase a deck of cards (a few of which will be signed by me) and to see which cause my son chose to donate.