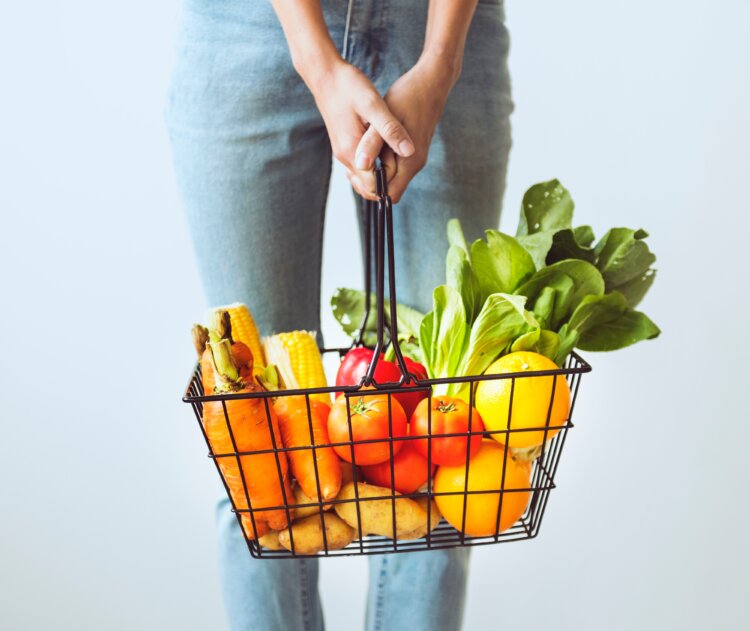 As you may know, I love to save money. However, sometimes my lack of energy after work outweighs my need to save money and I end up ordering takeout. And it's rarely the healthy kind. Since starting a new job a couple of months ago, I'd say 80 percent of my meals at home are from a to-go carton. As my bank account dwindled and my sluggishness increased from constant delivery of indulgent foods, I decided it was time to make a change.
A normal person might plan ahead for healthy meals or take a crack at the Instant Pot, but I'm really a go-big-or-go-home person. I decided to try something more radical: attempting to become vegan!
Although, I've tried cutting out pork and beef before, it hasn't lasted, and I've never tried to fully cut out animal products. Now that I'm about to turn 30, I think it is high time I start making healthier and more ethical food choices.
Before starting, I didn't do too much research—which when making such a large change to your diet, would have probably a smart decision. But I did research "vegan junk foods." I was very excited by my options! Oreos, potato chips, fries, Ritz crackers (even though they taste like butter) and Sour Patch Kids. I even discovered this delicious Macadamia Fudge Creamer from Milkadamia. Having junk food and my morning coffee planned out, I felt like I was set.
I definitely was not—here's what happened…
Day 1
I woke up and turned on the Keurig on my way past the kitchen to get ready. After washing my face and putting on my skin care products, I made my coffee and put in the fudge creamer. It was delicious, it was like putting Hershey's syrup in coffee. If anything, my morning coffee had improved.
At work I had an apple and some Made Good Chocolate Banana Granola Minis. My sister /roommate stocked up on Made Good products when they had a sale at Whole Foods, and they were a lifesaver over the week since they are certified vegan. As a bonus, each packet has a serving of vegetables! I didn't actually plan a lunch, but on my way to work I got some Spicy Sweet Chili Doritos at Rite Aid. I had seen them recommended in a vegan junk food article, but they were a little too sweet for my taste.
My sister and I usually plan dinners together. I asked her what she was thinking for dinner and she shared this recipe from The Forked Spoon for Ginger Garlic Noodle Soup with Bok Choy. Perfect! I had told her I was planning to try being vegan, and I thought she remembered. I ate the soup up and loved it. I commented on how easy going vegan would be since this recipe was so tasty. Then my sister told me the recipe included chicken broth. Lesson learned: Always verify ingredients before you eat to make sure the food is vegan.
Day 2
I started my morning again with my delicious coffee and a Made Good granola bar. I also bought some bananas and Ritz crackers, which I ate for lunch. Starving when I was leaving work, I picked up some Oreos as a pre-dinner snack. After eating Oreos the entire week, I read that Oreos aren't technically vegan because they are "cross-contaminated" with milk products. So far, not so good.
For dinner, I had every vegan's favorite food: tofu. I've never been much of a tofu eater after eating a whole package raw in some sort of college competition. But, turns out tofu isn't that bad when prepared properly. The sesame tofu and green bean recipe we made from The Kitchn is definitely one I would recommend to other people trying to reduce their meat consumption.
Day 3
I had my "breakfast" of coffee and a granola bar, but lunch was a little odd. I had Kettle BBQ chips, which are deliciously vegan. I also packed another Made Good bar, but upon opening the package I realized it was basically a Rice Krispies treat, but I ate it, and it was tasty. At this point, you've probably realized I don't have proper breakfasts or lunches. That would require planning, which is not my strong suit.
But I did think about dinner for night 3, and I was really excited for it. I planned homemade refried beans, spanish rice, cashew queso, and seitan for a taco filling. The five-ingredient vegan "queso" from Nora's Kitchen was easy to make, but I had to go to two different stores to find the raw cashews. (I had a huge bag of roasted cashews at home. Does anyone know if I could've used that? Would've saved me $5 and a trip!)
While I was working on the dip, my sister was cooking the seitan and the black refried beans. As she was mashing them, she asked me to grab the butter from the fridge. I pulled the butter out, plopped it in the beans, and stuck it back in the fridge. About five minutes later, it dawned on my sister we just added an animal product to the food. If she hadn't said something, I'm not sure I would have thought about it. I'm so used to adding butter to things; I'm going to have to work hard to remember what I'm really eating.
I do have to note the seitan was pretty good, and I am not sure I would have known it wasn't even real meat. The texture was a little chewier, but not in a way that bothered me. I also am terrible at cooking chicken, so this was easier and I didn't have to worry about eating undercooked meat!
Day 4
I can't say anything too exciting happened this day. I used my creamer, had some sort of chips at lunch, ate my ritz crackers when I got hungry. I did get famished when I got home and started dipping my Oreos in peanut butter, just like Lindsay Lohan taught me in The Parent Trap. But it's not as good as I would have guessed. Dinner was leftover beans and rice with some sautéed okra.
Day 5
Breakfast and lunch were under control with my now steady diet of granola, chips, and Ritz. Dinner was a different story. I went to a Mets game after work with plans to eat at the game. I knew if all else failed, I would be able to eat French fries. However, I lucked out when I saw a Yves veggie dog on the menu. With a quick Google search, I confirmed it was vegan and ordered the combo with crinkle-cut fries. The fries were delicious, the hot dog was… not. The veggie dog had absolutely no texture and it was like a log of weird tasting mashed potatoes—I would not recommend it.
In line for a beer, I quickly did another search on my phone to make sure beer was vegan, which I thought would be an obvious yes. It's not! My go-to beer Stella, wasn't vegan. Luckily, I was able to grab a Shock Top, which is.
And of course, no game would be complete without Cotton Candy, which is pure sugar and, therefore, also vegan.
Day 6
This was a day of mostly lounging around the house. I grazed on my crackers and olives. I did spend extra time frothing the creamer, which made an excellent latte. For dinner, I didn't have the groceries or motivation to do any cooking, so I searched Seamless for a while. I had to spend a lot of time googling everything to figure out what is and isn't vegan. I settled on edamame and veggie udon soup. I normally order gyoza, but I couldn't figure out if their veggie option was actually vegan, though, and I didn't want to risk it.
Day 7
I, of course, started my day with my coffee. For breakfast I had my leftover udon because once I'd eaten all the granola bars in the house, all my normal breakfasts ideas (eggs, yogurt, etc.) include animal products. I went to get my nails done with a friend and afterwards we swung by a restaurant for margaritas. I was good and ordered guacamole instead of the queso, which I really wanted. After another margarita, I went home and was still hungry. Let me just say that being hungry and buzzed is not a great combination: I ordered a cheese pizza. Hey, at least I was still vegetarian! I don't know if it was the sugary margaritas or the pizza, but boy was I sick afterward!    
Being vegan was much harder than I realized. Breaking old habits and looking up everything I eat to see if it is vegan or not was kind of a pain. I'd also like to be a healthier vegan, not relying on junk foods to get me through most the day. I'm going to try this again, without all the processed foods. But first, I think I need to get some advice.
Are you vegan? What are your go-to dishes? Any advice for a vegan newbie?