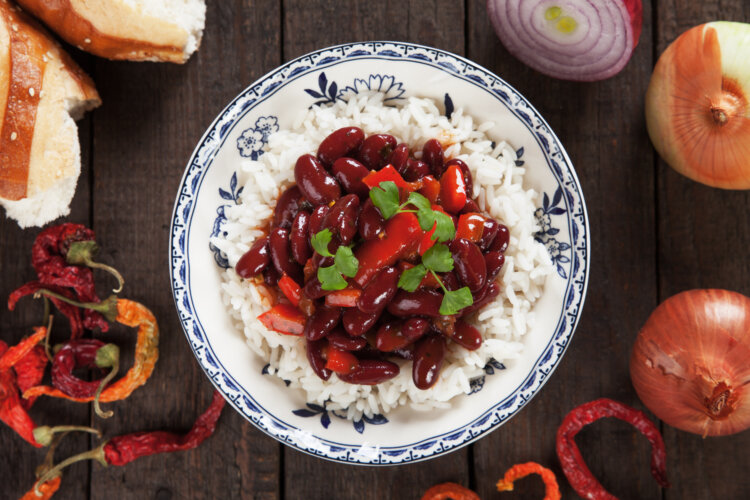 If you are new to The Instant Pot Diaries, here is what you need to know: I'm an analog cook (I don't even know how to use a microwave—yes, it's true!). So I didn't anticipate taking to an Instant Pot like I've seen so many people on my social feeds do. (For those who might not know, an Instant Pot is a multicooker, which is an electric pressure cooker that also has functions for slow cooking, sautéing, steaming and yogurt making—all in a single pot.) But based on the cooking device's popularity, I decided to give it a try and have become a semi-convert.
But, first, there was a bit of a learning curve—which is what I wrote about in my first Instant Pot Diary. Last week, I decided to try out making yogurt. This week, I write about testing out the vegan staple rice and beans, something I could happily eat every day.
Rice
Rice is so simple. A heavy pot, like a classic Le Creuset enameled cast iron, ensures it won't stick. While I save a little time (perhaps eight or 10 minutes tops) making white rice in the Instant Pot, the results are lacking. Maybe it's because the recipe calls for butter, which I normally don't use when making rice. And less water than usual is required, which makes me suspicious that the rice will stick. The not-fluffy-enough texture of the finished rice bothers me.
Further attempts with slower-cooking brown basmati rice yield more satisfying results—and do save more time. I follow IP superstar Urvashi Vitre's recipe on TwoSleevers.com, which calls for pressure cooking brown basmati rice for 22 minutes followed by NPR (natural pressure release) for 10 minutes—butter, ghee or coconut oil optional. On the stove, the same rice takes 40 minutes of simmering, followed by letting the rice sit and steam, still covered, for another 10. The IP basmati is perfect, the grains separated and oh so fragrant.
The thing is, if I am already making beans in the Instant Pot, the rice is going to happen on the stove anyway. Instant Pot power-users may find joy in cooking rice and beans together using stackable pot inserts, but I don't want to go down that road. I don't have enough storage space for yet another IP accessory. Also, my pot is a 3-quart Mini, better sized for rice or beans, not rice and beans.
Rating:
Note: A good middle ground when it comes to prep time is Madagascar Pink Rice, which takes 20 minutes on the stove. (The brand linked here is organic and works with household cooperatives using farming practices that require less water.)
Bottom line: Sorry, Instant Pot fans, but in my opinion rice is just as easily made the traditional way, on the stove. (Risotto is an exception, since it reportedly cooks up into creamy perfection in the Instant Pot, and does away with the need for constant stirring.) 
Beans
Here is where the Instant Pot really shines. I took a liking to brown tepary beans last summer when my sister-in-law brought us a bag on a visit from Arizona. This heirloom bean is native to the southwest desert, drought-tolerant and has a high protein content. The tepary is a tough little bean, however, and stovetop cooking can take five or six hours, even when the beans have been soaked overnight. Pressure-cooking tepary beans takes about 55 minutes, depending on freshness (older beans take longer to cook) and desired texture.
Difficulty: Easy (see recipe, below)
Rating:
Bottom line: If you are a bean-eater, the Instant Pot is definitely worthwhile.
Update: Over the past week, I've been cooking Rancho Gordo Domingo Rojo red beans for 45 minutes in the Instant Pot, with aromatics like bay leaf and chopped celery, plus smoked paprika, cumin and garlic, riffing on the recipe below. Tepary beans are a rare sighting here in NYC, and these red beans are equally tasty.
Mary's Instant Pot Tepary Beans
Yield: 4 servings
Note: This was made using an Instant Pot Duo Mini 3 Qt.—your control buttons may differ depending on brand and/or IP model.
Ingredients:
1-2 Tbs. olive oil
Chopped fresh garlic or granulated garlic to taste
1/2 tsp. smoked paprika or to taste
1 or 2 Tbs. ground cumin
1 Tb. Better than Bouillon vegetable base (optional)
1 bay leaf
1 cup chopped tomatoes including liquid (fresh, canned or tetrapak)
1 1/2 cups unsoaked brown tepary beans
1 cup water (there should be about an inch of liquid above the beans)
Note 1: Do not use salt—it is said to toughen the beans and slow cooking time.
Note 2: You can swap tepary for a quicker-cooking bean (pinto, black, lentil, etc.) to save time.
Instructions:
1. In Sauté function: Place olive oil in pot, add garlic, paprika and cumin and sauté for a minute or two.
2. Add all other ingredients. Stir to combine.
3. Press Cancel button (to exit Sauté mode).
4. Place and lock cover on Instant Pot, turn valve to "sealing" position.
5. Press Pressure Cook button; use + or – buttons to adjust cooking time to 50 minutes.
6. After 50 minutes, beep will sound. Allow IP to release pressure naturally (meaning, do NOT open the pressure valve, leave it closed). This may take about 15 more minutes.
7. When pressure has fully released, the pressure float indicator will lower with an audible/visible click. It's now safe to open pot cover and taste-test beans. If they are not soft enough for you, cook beans under pressure for another 5 minutes. Or if there seems to be too much liquid in the pot, continue to cook, uncovered, using the Sauté function.
8. Serve with rice and hot sauce and something green. Enjoy, and don't hesitate to modify and tweak these ingredients each time you cook.