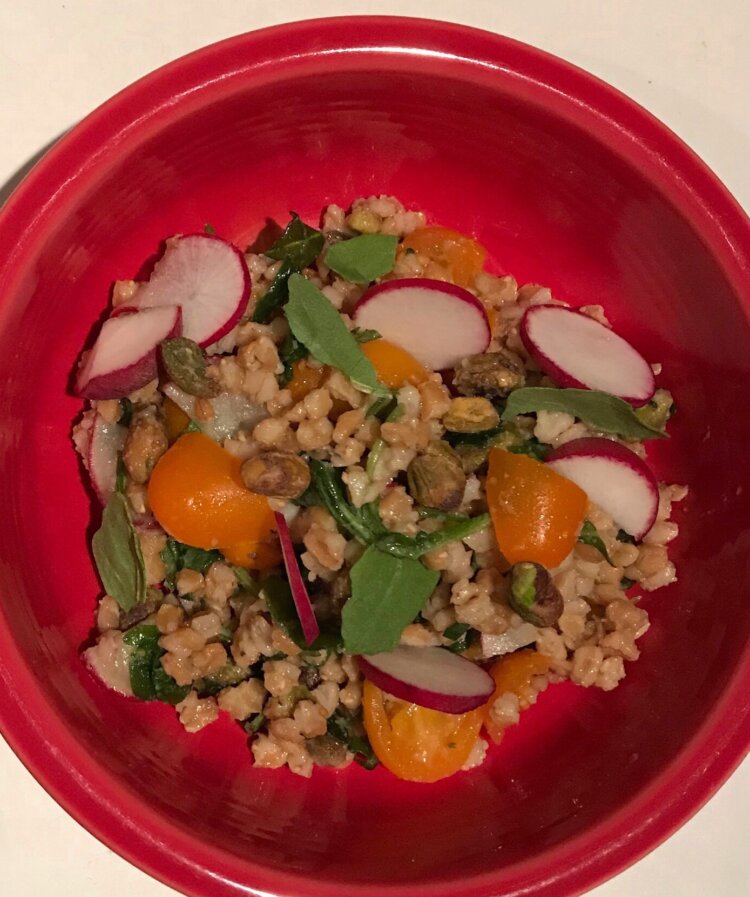 If you are new to The Instant Pot Diaries, here's a quick summary: I'm an analog cook (I don't even know how to use a microwave—yes, it's true!). So I didn't anticipate taking to an Instant Pot like I've seen so many people on my social feeds do. (For those who might not know, an Instant Pot is a multicooker, which is an electric pressure cooker that also has functions for slow cooking, sautéing, steaming and yogurt making—all in a single pot.) But based on the cooking device's popularity, I decided to give it a try and have become a semi-convert.
There was a bit of a learning curve—which is what I wrote about in my first Instant Pot Diary. Then I decided to try out making yogurt, as well as the vegan staple rice and beans, something I could happily eat every day. Last week, I write about my experience cooking yummy Butter Chicken. This week I'm testing out how an ancient grain holds up in the Instant Pot.
Charlie Bird's Farro Salad (Instant Pot)
I offered to bring a vegan dish for Sunday lunch at my mom's house this past weekend. Scrolling through the saved recipes in my trusty New York Times Cooking app, I found a delicious salad that caught my eye a few years ago. It starts with farro—a so-called ancient grain, similar to barley—made extra flavorful with a flurry of bay leaves and apple cider added to the cooking water. Once cooked, the farro is dressed with olive oil and lemon juice and tossed with pistachio nuts, parmesan, arugula, mint, basil, radish and cherry tomato. I've made this enough times to know it's going to taste just fine with or without the cheese. And I confess I've never bothered with the basil or mint. It's a very forgiving recipe. Credit goes to chef Ryan Hardy of Charlie Bird, a restaurant in Soho in New York City. (A rather pricey restaurant, I might add, where a single portion of said farro salad is $18.)
Knowing how long farro takes on the stove—at least 30 to 40 minutes—I figured this is the perfect grain to convert to Instant Pot cookery. But I was mistaken. Farro pressure-cooking times on various sites vary from 3 to 12 minutes, pressure-release times range from immediate quick release to a 5 to 10 minute release, even a full natural release. The Bob's Red Mill site calls for 12 minutes of pressure followed by a natural release. Since I was using Bob's Red Mill Organic Farro, I decided to go with Bob's cooking advice. With the IP cover locked in place, it's not necessary to watch the pot to see if the liquid is cooking away, plus less liquid is needed overall since scant evaporation takes place with pressure cooking.
With the farro in the Instant Pot, I tended to other tasks, tearing the arugula into bits, slicing the radishes as finely as possible (all while watching Mean Streets on DVR). Soon, I noticed that the pot had been in pressure-release mode for a good 20 minutes. Somehow I forgot that it's supposed to release naturally, but I was also thinking that the farro had been cooking at least as long as it would have been on the stove. So it must be done. And hopefully not overdone! I used tongs to flip the valve position from "sealing" to "release" and whoosh—the pot started loudly spitting through the open valve. Slightly panicked, I turned the valve back to sealing position and waited another five minutes. With the second turn of the valve came another long, violent rush of steaming, spitting and spewing. Finally the pressure float dropped down, indicating it was safe to open the cover.
Inside, it looked like soup. Farro soup. I tasted it. It was fantastic. The texture was soft but still chewy and thanks to the sealed cooking environment, each grain was fully infused with the bay leaf and cider flavors. Next time, I'll adjust the liquid-to-grain ratio downward a bit. I used a slotted spoon to transfer the farro to a big bowl, where I composed and finished the salad without further incident.
Overall, I did not save any time using the Instant Pot, but the outstanding results made up for the agita.
You can find Ryan Hardy's excellent stovetop recipe here. And if you've made farro or other grains successfully in your Instant Pot, please let me know what you did in the comments.