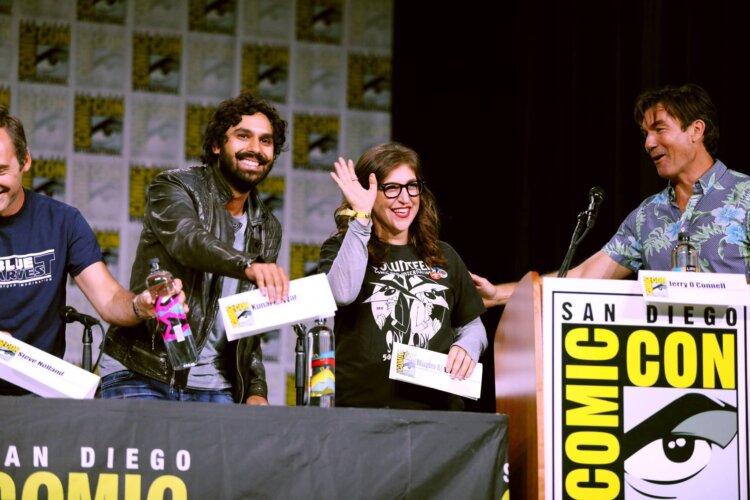 I took my kids to Comic-Con for the first time. Meaning it was their very first time at Comic-Con. They have been to various other "cons" with their dad, including Stan Lee's Comikaze in full costume with their group of awesome, geeky homeschool friends and their equally awesome, geeky parents. I'm not typically included in those journeys since: a. I don't love crowds; b. If I don't wear a costume, I tend to be recognizable and then it becomes me taking pictures with people rather than spending time with my kids and c. I'm not really into dressing up to avoid that or otherwise.
As for me never taking them to Comic-Con: When I have gone with the cast and writers of The Big Bang Theory, it's to work. Like, to be in hair and makeup early and to run around from interview to interview and do our panel and press. I never walk the floor. I go home and get back into PJs.
This year, through the graces of Warner Bros. and their ingenious pre-planning, I got to go for one night with my kids and Grok Nation's very own Esther Kustanowitz. The boys' dad was on vacation, so they were coming with me no matter what! I was asked to be a surprise reveal guest at the TBBT writer's panel Friday morning. This meant I could not be seen before the panel; no press, no posting, no nothing!
RELATED: Our favorite cosplay from San Diego Comic-Con
When I told the boys we were going, they were extremely excited, especially FirstBorn, who is almost 13. Little Man doesn't tend to love crowds, so he was, justifiably, a tad nervous. We headed down Thursday to miss traffic and succeeded. The drive was smooth and Esther and I napped as Cedric, our endlessly entertaining driving companion, got us there in time to have many hours of daylight left to wander around.
Walking the floor presented a challenge for me, since I don't take pictures with fans when I'm with my boys, but that would pretty hard to explain to people at Comic-Con. Here's the solution:
That's right, I walked around Spider-Man mask. Little Man, who is almost 10, decided I should not wear it inside out and be "dark Spider-Man." Was it uncomfortable? Yes. Could I see? Not super well. Was it sweaty? Heck, yeah. It was incredibly hot and humid in San Diego and inside of the Convention Center it was cool, but on the floor with all of the vendors and thousands of people, it was HOT.
Luckily, we ran into my friend (and sometime Grok Nation contributor) Samantha Taylor. (She actually wrote about her crazy Comic Con experience with her family last year, which you can read here.) She was thrilled to take FirstBorn to the Felicia Day/Orlando Jones/Joe Mantenello/Adam Savage panel, where they debated "Who is the better Chris: Pratt or Evans?" Little Man and I retreated to the comfort of our hotel room and watched some cartoons. Esther ran about on her own after we dropped her off at the fancy/not fancy green room for the Crazy Ex-Girlfriend panel and she got to meet Rachel Bloom (whom she told me about years ago, which sparked a little celebrity friendship I now have with Rachel). Weird Al fans have to stick together, after all. Here we are looking adorable:
Little Man and I waited for FirstBorn to order up some cheeseless pizza and pasta marinara and fries from room service (my standard room service order when I'm in a hotel with no vegan options clearly demarcated on the menu) and we watched Nick Park's Early Man, which was really cute.
I may have fallen asleep in between my sons as it ended, but it was a good strong cuddle, and we all slept great and I woke up early to go to the hair and makeup suite Warner Bros. had in the hotel. By 8:40 a.m. we were out the door and seeing the bowels of the convention center with the rest of our TBBT team. Kunal Nayyar and the writers and I gathered together with Jerry O'Connell, who moderated our panel. He brought out all of our writers and then when a question came up about everyone on the show being married except Raj, Kunal Nayyar came out and the crowd went wild!
RELATED: Mayim talks about the last time she and Kunal crashed a 'Big Bang Theory' Comic-Con panel
A few minutes later, a question came up about Amy's wedding dress and Steve Holland, our showrunner, said, "Well, we can't talk about the dress without talking to the woman who wore it!" Out I pranced in my Comic-Con volunteer shirt from about seven years ago, and a very "me" outfit: denim skirt, Doc Martens (yes, my vegan ones!), sloth socks, a Mr. Bill button, a DC comics button, and a "Bazinga!" button, too. And bold red lips, of course.
It was weird knowing my boys were watching me from the audience. We so rarely have them see me in "celebrity mom" capacity, and I was a bit worried. I was worried they would be weirded out and treat me differently. I was worried I wouldn't be funny, and they'd think I was a dweeb. I was worried they were getting too much attention of the wrong kind: "You're a celebrity's kid" kind of attention.
But they loved the panel. Samantha took pictures of them laughing, and FirstBorn wanted to talk about it a lot after. It made me feel kind of odd. We don't usually talk about my work stuff. But they wanted to tell me their favorite parts of the panel, which was mainly co-EP Eric Kaplan's hilarious quips throughout the panel (including him granting random fans "D&D inspired" fantasy names). And they loved seeing the security measures in play backstage. They also got to see lots of catering stuff since we were in the real backstage of the center—they especially liked seeing all of the bread lined up on racks for the day.
We headed back to LA right after the panel. We had Shabbat plans and life to get back to. Esther had a blast, as it was her first Comic-Con and she got a real VIP experience by hanging with our crew. I mean, free water at her disposal was a perk, since things tend to be very pricey at Comic-Con!
I don't know if TBBT will ever get to go again, since we are only contracted through this year, but I hope I will have other opportunities to go. Maybe I'll go as a fan next year with my boys. And most importantly, if we do go again, I'll choose a mask with better vision opportunities and more ventilation.
I hope everyone had a great Comic-Con!