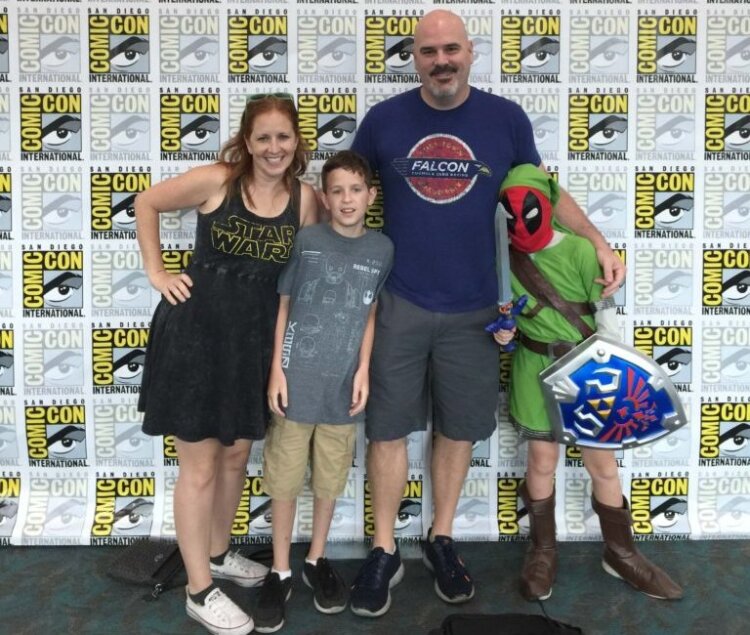 After about 15 hours of waiting in line, my friend Christy turned to me and said "I have an abusive relationship with Comic-Con, and I just keep coming back for more." She and her husband have been attending the San Diego-based convention for all things comic book/geek/sci-fi for nine consecutive years. They've seen it grow and change from a crowded but fantastic nerd fest (more than 160,000 people make this pilgrimage to San Diego, with some estimates reaching 200,000) into an impossibly challenging, often demoralizing, but still incredibly unique experience.
My husband and I attended Comic-Con in 2011 and 2012 without our kids. We had the most unbelievable experiences, ranging from panels for our favorite television shows, to meeting celebrities, and unintentionally sitting outside for dinner during a zombie parade (we still refer to this as "Best Dinner Ever"). We thought that getting up at 4 o'clock in the morning to secure our spots in line for the coveted Hall H (where the major panels take place) was a bit ridiculous, but we did it anyway. We remember having conversations about how brilliantly everything was organized. There was no room for anyone to skip the line. Every time we wanted to get into a panel, we did. We always laughed at the people sleeping in tents overnight to get better placement in the room. We would never do anything like that… those people were crazy.
Fast-forward to 2017. We brought our two boys (ages 12 and 9) with us. We are raising them as geeks, and figured they were old enough to handle the crowds and insanity. (We left our 3-year-old daughter at home.) Before we left, we met up with our Comic-Con experts (Christy and Ken) to look at the event schedule and plan out our adventure. We all agreed that we HAD to be in Hall H on Saturday. Christy explained that they had implemented a new wristband policy, and that we were going to have to be in line ALL DAY Friday to even have a chance to get in on Saturday. Despite many attempts, they had never made it into Hall H on a Saturday. I was determined that with four of us, we would do it. We made a schedule for taking turns in the line.
After arriving in San Diego, we spent the entire first day on the floor of the convention. The kids had a blast playing Nintendo games that hadn't yet been released, posing with attendees in spectacular cosplay, and marveling at the hand-made replicas of their favorite characters. The highlight was running into Adam Savage from "Mythbusters" on the floor and snagging a quick picture with him. The boys are big fans, and it was a thrill. A highlight for me was seeing the private property of Carrie Fisher and Debbie Reynolds that will be auctioned in September. I was in awe of the autographed poster and costume from Singing in the Rain, one of my favorite movies. I teared up as a looked through Carrie Fisher's photographs and memorabilia from Star Wars. Her personality and wit shone through. That is going to be one hell of an auction. She was one hell of a lady.
The second day my husband got up at 5 a.m. to claim our spot in the line for Saturday's panels. When he arrived, he was shocked to see at least a thousand people in front of him—many of whom had been there for one to two days already. Each person is allowed to hold a spot for up to five people. The room holds 6,500 people, and we thought our chances were pretty good. I took over for him a few hours later so he could have fun with the boys. Later our friends took my spot, and I joined the boys for some fun. Wristbands which guarantee entry into the hall would be distributed at 8:30 p.m. When my family joined our friends in line around 7:30, the line in front of us had ballooned, and we started to worry that we wouldn't get in. By 10:30 p.m., 17 hours after we had started, we received the coveted wristbands. We were told we had to be back in line by 7:30 the next morning or we'd lose our spots. (Thousands of people spend the night there after receiving wristbands to guarantee good placement.) The next morning, my husband got back into line at 5:30 am. We waited six more hours before we finally got in. We made it in, but barely. I'm told several hundred people with wristbands behind us didn't get in until later in the afternoon. To make up for the error, Comic-Con comped their four-day passes for next year.
Once inside the room, we all had to split up to get seats, as they were scarce. But then, for the next seven hours we witnessed greatness. First up, Warner Brothers brought Steven Spielberg and the cast of Ready Player One for a panel moderated by Comic-Con regular Chris Hardwick and a trailer, which was absolutely incredible. Next up: Blade Runner, with Harrison Ford, Ryan Gosling, director Denis Villeneuve and the rest of the cast with a trailer exclusive to Comic Con. I welled up with tears as I realized that we had given our kids this gift—to be in the same room as Steven Spielberg and Harrison Ford. Then came the Justice League: Ben Affleck, Gal Gadot, Jason Momoa, Ezra Miller and Ray Fisher. My sons were absolutely on the edge of their seat for the entire two hours. For me, seeing Gal Gadot in all her beautiful, strong glory was a privilege.
Following the WB panel, we were treated to Entertainment Weekly's "Women Who Kick Ass" panel with Charlize Theron, who was brilliant and beautiful. She spoke about her new movie Atomic Blonde and why she thinks it's so important for women to be seen as warriors in film.
Next up: Stranger Things. The cast was adorable, as expected. Moderated by Patton Oswalt, the panel didn't give much away about season 2, but told cute stories about filming, how they dealt with overnight celebrity, and showed the exclusive trailer for season 2. It looks incredible. The creators, the Duffer brothers, were so enthusiastic about their project, it was contagious. Millie Bobby Brown spoke about the challenges she faced playing Eleven—both physical and mental. She's one incredible young lady.
HBO took over for the next panel, presenting the creators and cast of Westworld. Evan Rachel Wood and Thandie Newton shared their great passion for their roles, and for the complicated layers and strength of their characters.
Then came the panel everyone in that room had been waiting for: Marvel. First up, Thor: Ragnarok. This panel included Chris Hemsworth, director Taika Watiti, Tom Hiddleston, Mark Ruffalo, Cate Blanchett, Jeff Goldblum and more. Then Black Panther graced the stage with director Ryan Coogler, Chadwick Boseman, Danai Gurira, Lupita Nyong'o, Forest Whitaker and Andy Serkis. As the panel ended, Kevin Feige, the force behind creating the Marvel Cinematic Universe, teased that the panel was over before surprising the room with never-before-seen footage of Avengers Infinity War. IT WAS EPIC!
We left the room absolutely thrilled and exhausted; but there were thousands of people who waited in line behind us and never got in.
We recapped the evening over dinner. The Con (as the cool people call it) is becoming impossible to navigate; what was once an organized, reasonable experience has gotten completely out of control. People made counterfeit wristbands preventing those who had waited for 24 hours from getting in. While wristbands were being given out, sneaky people managed to get two and sell them to the highest bidder. Every single off-site event had hours-long lines to get into. We spent thousands of dollars to travel across the country to basically wait in line. I can't imagine what an overwhelming task it is to manage hundreds of thousands of people with multiple lines, but something has to change. Christy and I (both big Disney fans) thought maybe implementing a fast pass situation might help. Waiting in line, in almost inhumane conditions (bathrooms with no doors, no shade, and limited access to food and water) isn't acceptable to me. Wasting so many hours sitting in line is a total bummer.
Did we have an incredible experience in Hall H? Yes. Did we see things that no one else will ever get to see? Yes. Did our kids rate this vacation a 10 out of 10? Yes. Will we do it again? That remains to be seen. We've got a love/hate relationship with Comic Con now, too, and it might be time for us to break up unless they can get their act together.
Watch Samantha's Facebook Live of her San Diego Comic-Con experience.