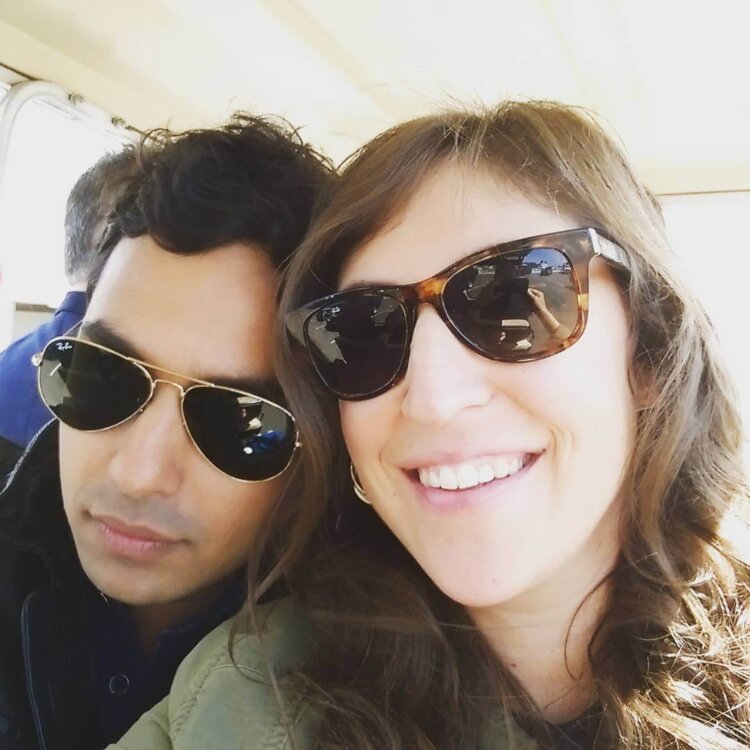 For me, one of the neatest side perks of being an actor on The Big Bang Theory is going to San Diego Comic-Con.
A little back story: I grew up in a house full of comic book collectors. Both my father and my brother were obsessed with comic books, and I spent a great deal of my childhood either sitting and waiting for them in comic book stores, begging my brother to let me read his beloved comic books, or, eventually, reading them myself and falling in love with the format. I even wrote my college application essay on Art Spiegelman's graphic novel series Maus, an autobiographical exploration of the Holocaust told with mice as the Jews, cats as the Germans, pigs as the Polish, etc.
When I first joined Big Bang as a regular cast member, I was asked to go to Comic-Con between the fourth and fifth seasons of the show. I had never been to Comic-Con, nor had my dad or brother. We were more private geeks; we didn't think to congregate with others like us except in our local comic book stores and such.
My fellow cast members warned me it would be a madhouse, and they were right. Thousands and thousands of people descend upon the San Diego Convention Center over a long weekend and our show is thrust into the fray of it all.
Now, many people wonder why we even go since we are not a comic book or science-fiction show, and they are right to wonder. What I marvel at is that we are a show about the people who go to Comic-Con and thus we get some sort of special status there, which I think is amazing. Our show has featured the guys going to Comic-Con and smaller conventions as well. Sheldon and Leonard and Howard and Raj are the audience of Comic-Con and we get to represent, as it were, the general audience as guests at this amazing convention.
I realized that this was a convention of people like me and my dad and my brother, and all of the other people who were teased for liking weird things. I saw people like the guys I played chess with in junior high, and people like the weird kids in high school who liked British punk music before anyone knew what it even was. It's a convention of misfits and I love it.
I have a few rules at Comic-Con:
I don't go out in disguise. It's too complicated to figure out, and it's too weird for me. I simply gaze from afar and recognize how grateful I am to be in this position to even be there at all.
I always look like me. Although I have to be in hair and make up for our appearances, I insist on wearing Converse with whatever outfit I choose. In fact, I build my outfit around my Converse since they are a huge part of the style that is me in all of my geekiness. I let the hair and make up people responsible for making us up that I don't want to be all glammed out and I encourage them to do retro-style eyeliner and tons of mascara; things that are very "me" if I was more skilled at doing my own make up.
I accessorize like me. When I'm at Comic-Con, I like to wear superhero buttons and things in my outfit that my stylists would never let me wear anywhere else. Because at Comic-Con, it's just me being me. This year I wore my "Nerdy" button (it just says "Nerdy") and I also wore my "Mr. Bill" pin. I have worn buttons with weird sayings and characters since junior high and even though it's not allowed on any red carpet, Comic-Con is the place to make it happen.
Being a "celebrity" at Comic-Con is a bit odd for me. I'd prefer to be roaming around the booths and collecting goodies and buying T-shirts and messenger bags with my favorite characters on them, but instead, celebrities see the back loading docks of the convention center and the yachts where we do interviews for various entertainment outlets and thank the fans for supporting our show.
Being part of the cast panels we have done or the writers' panels like I did this year is tremendously fun and also super nerve-wracking. There are so many people on the panel, and you are often asked hard questions by super fans; it's such a huge hall and the sound has to be pumped so loud that we can barely hear each other up on stage. But it's always amazing to hear the roar of the crowd for our writers and our cast. People love our show, and the fans at Comic-Con understand deeply what our show represents: a group of outcasts and nerds who have been teased forever for being who they are but who are finally in a social group that accepts them, loves them and figures out how to just exist as weird outcast nerd adults. (To see this year's writers' panel, featuring Mayim & Kunal Nayyar reading fan fiction penned by Big Bang writers, click here.)
I had never watched Big Bang before I auditioned for it, since I was busy birthing and breastfeeding and raising two kids; my television has collected cobwebs for years. But I do understand the appeal of our show. And Comic-Con is the place I get to see how much this show means to so many wonderful people. Misfits, outcasts, nerds, geeks, comic book aficionados: All of us are at home at Comic-Con.