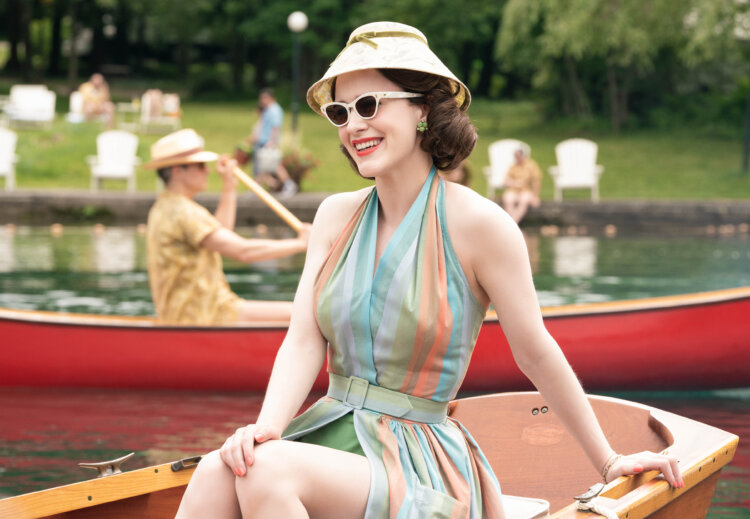 Whether manning the switchboard at B. Altman's, brunching at Barney Greengrass, or slinging jokes at the comedy club, housewife-turned-comedienne Miriam "Midge" Maisel (Rachel Brosnahan) is always dressed to the nines. And she has one woman to thank for her covet-worthy 1950s style: costume designer Donna Zakowska. Nominated for an Emmy for her season 1 work on The Marvelous Mrs. Maisel, Zakowska blends detailed time-period research with her own unique style sensibilities to vibrantly outfit Midge and her Upper West Side cohorts with ensembles she and her team custom make.
Creating what she calls "visual building blocks" in season 1, Zakowska used that foundation to design an almost entirely new wardrobe for Midge in season 2. (No outfit repeats here!) But Zakowska viewed the new season's looks less as a complete revamp and more as a necessary transition.
"Sometimes I think of season 2 as season 1 1/2," she says. "I feel like her two identities are rather strong. I think she's still playing with being a mother, wife, and then being a performer—the older Midge image of herself and then the development of the newer one."
Despite these dueling identities, Midge's look is, as ever, flawlessly put together. Here, Zakowska explains five of the season's standout (and, in some cases, stand-up) looks:
Parisian Charm
Ask Zakowska to play favorites among the colorful creations in Midge's closet, and she'll choose this sweet confection—sage green suit, painted pink blouse and matching beret—that our heroine wears to fetch her mother Rose (Marin Hinkle) from France. "There's something about those pastels that, in my mind, referred a little bit to the French concept of romance," says Zakowska, who studied painting at the country's famed Ecole des Beaux-Arts. Practically speaking, the luminous hue also serves as a nice counterbalance to some of the episode's darker scenes. "I knew a lot was going to happen at night, so I wanted there to be a lightness to it color-wise."
Sophisticated Stand-Up
One of Zakowska's season 2 aims was to refine Midge's comedienne uniform, opting almost exclusively for shades of black. But she wanted there to be variation in the black, hence this dress finished with a dainty lace overlay. "That probably is the most romantic of the black ones," says Zakowska. "It's the softer one. I was trying to make her a little bit more accessible with the lace." Accessible, sure, but not particularly mobile. "It might be one of my favorites but probably from the movement point of view, it might have not been one of Rachel's favorites," she says. "It was actually a tricky one for her to wear."  
RELATED: 5 reasons we love The Marvelous Mrs. Maisel
Catskills Cute
Given Brosnahan's small stature (she's 5'3"), Zakowska typically avoids large prints that could overpower the petite performer. But she disregarded that rule when it came to this playful frock, which Midge wears to her lakeside retreat. "I wanted that dress to be all about the joyousness of summer, the joyousness of leaving the urban world—her recapturing her childhood, being with her parents. It had a sort of nostalgic quality for me," says Zakowska. "That sunflower yellow and that little hat really expressed where she was psychologically."
And what may look like a simple summer dress, says Zakoswka, is actually an intricate construction.
"I did a lot of building of transparencies, because that's another sort of beautiful thing … that a print looks very beautiful when it's a transparency, then you underlay it with colors," she explains. "I love light and what light does to fabric and how it works with light. I think it's a big part of my work in a way."
Leisure Suit
While dresses may be the sartorial stars of The Marvelous Mrs. Maisel, the show's jaunty casual wear is an invaluable supporting player. Just look at this checked romper Midge dons for a round of ping-pong at the Catskills!
"That really existed," says Zakowska of the whimsical outfit. "That's, like, '58, '59 on the mark. It came from the research and then, of course, I brought it into my color world."
While there isn't a huge body of Catskills-specific fashion research to pull from, Zakowska cites the number of home movies floating around as valuable resources.
"It really was sort of wonderful the way fashion actually was a big part of the Catskills," says Zakowska. "It was an opportunity for them to dress up, to go out to dinner. They even had fashion shows."
RELATED: Why Marin Hinkle wants to be more like Midge's mom, Rose
Mixed and Matched
Zakowska clearly has a keen eye for unexpected color pairings—like in the case of Midge's Broadway date with Benjamin (Zachary Levi), where she paired a rich violet dress and hat with a teal printed bag and heels. "I was trained as a painter, and so one of the things that excites me is the use of colors and colors together and trying to find an unexpected way of mixing colors," says Zakowska. "That dress, in a funny way was, for me, reminiscent of the red dress from season 1 when she meets Joel. So this is like a variation on it, because here it is again where she is trying to be very strong with this man. But the key then always will be, 'How can I work with color?' I'm always asking that question. 'What have I not done? Or how can I even do something that has a sort of uniqueness?' That just excites me."