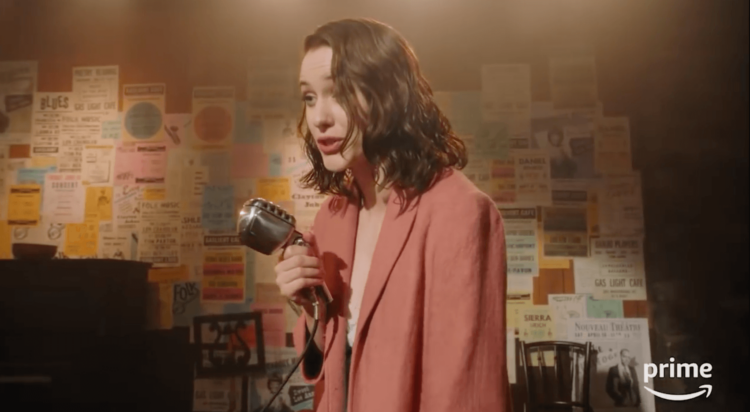 With Amazon Prime, you get two-day, or even later-that-same-day delivery of everything from bug repellent to the latest political tell-all…but Amazon's also delivering when it comes to original entertainment. Transparent put the "network" part of Amazon on the map, but the buzz of the moment is The Marvelous Mrs. Maisel.
The series follows a 1950s Jewish housewife (played by Rachel Brosnahan) who discovers the thrill of her true soul profession: standup comedy. With killer performances, snappy writing, brilliant costuming and set design, there's a lot to love here. Plus, it doesn't hurt that the show has won two Golden Globes (for best actress and best comedy or musical series).
Here are six reasons we love The Marvelous Mrs. Maisel…
1. Because Miriam "Midge" Maisel suddenly realizes the life she has isn't the life she wants. We see her achieve what she thought was her dream: marrying her college sweetheart and having two children. But then we saw that life crumble, due in part to her independent spirit and her husband's inability to deal with it. We've BEEN THERE, girl. Well, not all of us with the marriage and children, but most of us have probably known partners (or friends) who aren't as interested in our shine as they are in seeing us revel in their own.
2. Because it reminds us that many things — like exercise and making a telephone call — used to be a lot more complicated and ridiculous than they are today.  Watch for the moment when Midge's parents use their "speaker phone." And the exercise scene, depicted below, seems like it must have been a total bootcamp to achieve. To get everyone that coordinated, in this old-style routine, and have the two actresses conduct a conversation while they're doing it? Marvelous.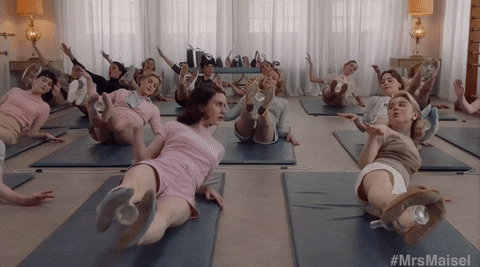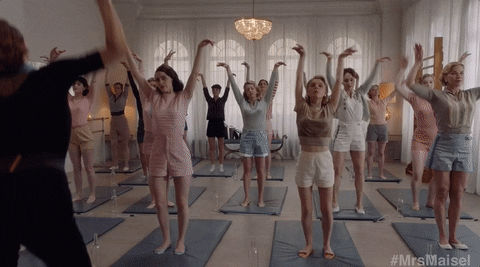 3. Susie Myerson — manager and friend to Midge and the wisecracking Jiminy Cricket inside us all. We all need Susie (Alex Borstein) to remind us that bombing is part of comedy, that we need to use our real voices, that we need to know who we are before we go out there in the world, and when we're ready, to go and get it girl.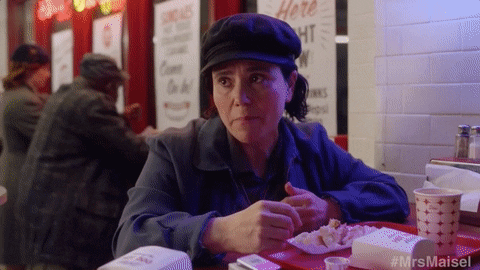 4. Because of the outstanding cast and guest players. Tony Shalhoub is especially marvelous as Midge's father, who is trying desperately to retain control of his house as unexpected chaos descends. Alex Borstein is phenomenal as Susie Myerson, who becomes Midge's friend and manager. And other beloved faces — David Paymer, Wallace Shawn, Kevin Pollak, Jane Lynch — live in the Maisel universe. And we're happy to have them all.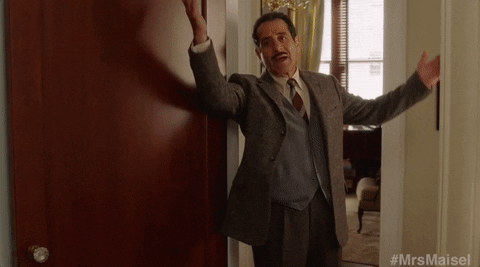 5. Because this series is helmed by Amy Sherman-Palladino (and husband Daniel), mistress of the fast-talking female heroines of Bunheads and Gilmore Girls. Sherman-Palladino has said in interviews that her father was part of the borscht belt Jewish comedy circuit. You could even view the Gilmores as the WASPy training ground for creating the Jewish Midge and family: Emily Gilmore and Midge's mother Rose would probably have a lot to talk about. Plus, a bit of trivia — Alex Borstein was actually supposed to be Sookie St. James on Gilmore Girls, but couldn't get out of her contract with MADTV, where she was a cast member — so Melissa McCarthy stepped in, making the role her own, and Borstein went on to play a few minor characters on GG.
6. Because Midge is funny, feisty and fierce. Some have said that this character is inspired by the groundbreaking women of standup, including Joan Rivers and Phyllis Diller. Midge is not the most attentive mother, but there's a sense that society had already carved out that role for her and she filled it before she realized that she didn't want it. The kids are OK — they're with their grandparents and their father most of the time (we assume). But we're focusing on Midge, who never met a microphone or a platform she didn't like, and who is driven — above all other things — to learn and perform comedy. "I want to be really good at this," she tells Susie. And it doesn't hurt that her clothes are amazing. But whether you're in it for the fashion, the comedy, or the failures that go along with a hero's journey, Midge Maisel is a character to watch.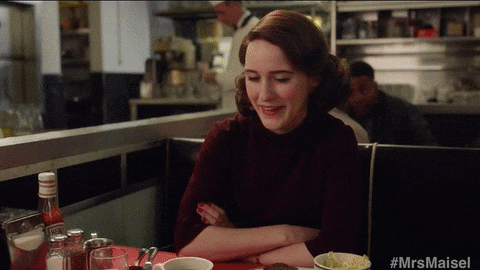 Watch the first season of The Marvelous Mrs. Maisel on Amazon.