Not too long ago we tried, and fell in love, with Frank and Oak's Style Plan. The style box provided us with trendy staple pieces made ethically and sustainably—what's not to like? Recently, the Canadian clothing company upped their game with a new way to produce denim. Hydro-Less Denim, as it's aptly named, takes up to 97 percent less water to create than traditional denim. From growing the cotton to washing and fading, it seems Frank and Oak have innovated the perfect pant for ethically conscious consumers…but are they comfortable? Stylish? Will they fit the same? I decided to take three different styles and washes of their new jeans out for a spin to see how they felt, and Mayim gave one of their denim jackets a try. [Full disclosure: Frank and Oak sent us products in exchange for an honest review.]
Mayim's Jean Jacket Review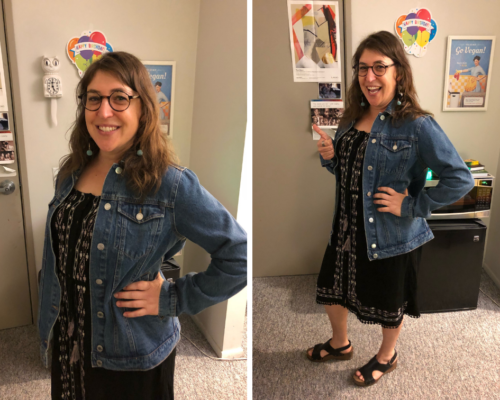 I love the denim. The fit is a little boxy—it's possible a small would fit a little better, but I had asked for a medium. I do love the style because it feels very old-school like the kind of jackets I wanted when I was in junior high school, but that only the cool guys wore. It's also kind of feminine, and I definitely wear denim jackets over skirts and dresses, so this would be an awesome addition to my closet!
The Martha Denim Jacket in Blue $59.99 [currently sold out, but you can add yourself to the waitlist.]
Natalie's Denim Pants Review
Ordering pants online is, for me at least, one of the toughest things to get right. With six new styles to choose from, all named after badass ladies, I tried to narrow it down to the fits I thought might look most flattering on my body. I went with the Debbie (skinny fit), the Stevie (tapered fit), and the Billie (relaxed fit). When they arrived they were a little too big, so I exchanged them for one size smaller and they fit much better. I decided to give them all one solid wash and dry before road-testing them, and I'll admit to liking the fit even better after doing that. I don't believe they shrunk, but I do think they felt softer.
I managed to get out on the town with the new Frank and Oak Hydro-Less denim jeans on the last summer-y day, and I can personally attest to the breathability of these pants. And all three styles had just enough stretch that they felt comfortable to move around in.
The tapered fit Stevie in the light indigo wash was probably my favorite of all three styles. They're a nice, high-rise that I found very flattering and versatile. I ended up cuffing them because I'm a shorty, but they do look nice uncuffed.
Pants: Stevie in Light Indigo $79.50
Top: Bouclé Dolman Sweater in Pale Red $79.50 [currently sold out but you can add yourself to a waitlist if you really love it, which I certainly do.]
I didn't love the Billie style, but I don't have a history of enjoying a relaxed fit jean, so your results may vary. The dark rinse is definitely pretty, though! This style looked super cool on the model, so I feel like taller folks will have better luck than I did.
Pants: Billie in Dark Rinse $79.50
Top: Ribbed Mockneck Cotton-Blend Top in Barn Red $39.50
The final pair of jeans I reviewed was the Debbie. Named after my favorite rock star, Debbie Harry, these high-waisted skinny jeans made me feel kinda badass. They fit exceptionally well, and the navy rinse pairs well with a variety of tops. I can imagine myself dressing these up or down which, to me, is the mark of a great jean.
Pants: Debbie in Navy $69.50
Final verdict? Excellent jeans. They're clearly well-constructed and designed with a woman's body in mind. But what's more, I feel very good about the Hydro-Less process and remain impressed with Frank and Oak's accomplishment. They are working towards a goal to have a majority of their products made sustainably by the end of this year, and Hydro-Less denim is an important step. Frank and Oak has more details about the benefits of the Hydro-Less process, as well as links to products, on its website.
Mayim and I both enjoyed our items from Frank and Oak not only because they made us feel good, but because they made us look cool. They've really nailed a minimalistic style that can last for years, and with the way the products are made, I'm certain they'll hold up just as long.
Check out Frank and Oak's full Hydro-Less collection of denim for women and men, and keep an eye out for their rotating, seasonal items.