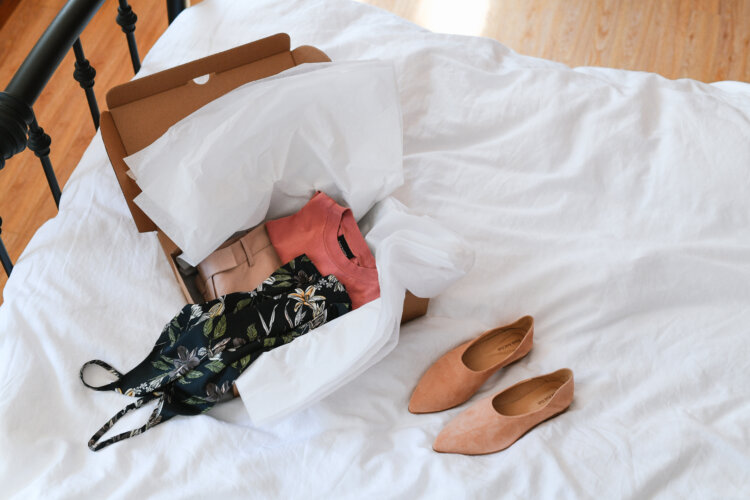 Frank And Oak is a Canadian fashion company that recently launched Style Plan, something they're calling the "most sustainable subscription box." Their goal is to send personalized boxes of the latest, seasonal pieces that are also eco-friendly.
I do my best to be conscious when shopping for new clothes, but it can be hard to find sustainable pieces out here in the Midwest. The shopping mall closest to me is fairly small, and most boutiques downtown cater to people in a very different income bracket than mine. So, I usually take my dollars online, where it's easy to fall prey to fast-fashion companies or whatever retailer has the best online sales. I was excited to try Frank And Oak because their philosophy and practices ensured I would be receiving high-quality items made ethically and with the environment in mind.
Everything about Frank And Oak was easy. It costs $25 for a styling fee, which is deducted from any items you decide to keep. (Frank And Oak waived the styling fee in exchange for an honest review.) The sign-up process was a breeze. I entered my basic information, answered a few questions about my size and style preferences, and then I was off to the races. In about a day and a half I received an email telling me I had the option to view the pieces the stylist had selected for me and make any edits I felt necessary.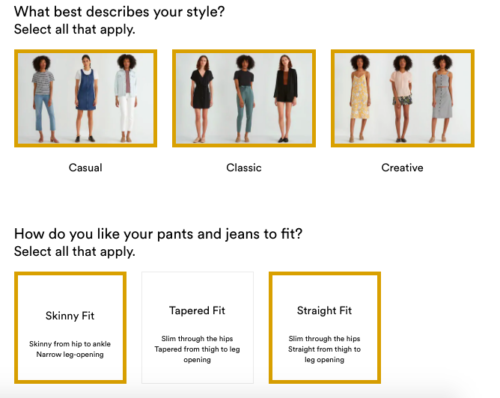 Each box comes with at least three items with the option to select more before shipping. Upon receiving an email letting you know your box is ready, you're taken to a selection screen where you're able to choose exactly what items will be sent to you. Each item ranges in price from $29-$150. This kind of flexibility really appealed to me, and as much as I like the aspect of surprise in similar services, the freedom to choose what I wanted was nice.
Frank And Oak's style, with pieces designed exclusively in their Canadian offices, can be categorized as minimalist and chic, with a clear influence from current trends. When selecting my three items, I noticed that almost everything could be worn together, or would integrate easily into my existing wardrobe. They also specify what fabrics are used, like their organically grown cotton, or Lenzing TENCEL,™ which uses wood from sustainable eucalyptus plantations for their raw material.
I ended up selecting one top and two bottoms for my first Style Plan box. Once I made my choices I was sent a tracking number and in another day and a half my items had arrived.
My first impression upon seeing the box was how tiny it was! They really packed the items well with no excess packaging, and the box was 100 percent recyclable (which I love).
OUTFIT ONE
The arrival of my Style Plan box coincided with a business trip to New York City, so I decided to take this outfit on a test drive. I hoped the fabrics would be pretty breathable, given that the humidity in the city was forecast to be at about 97 percent, and they were. The mock neck top (which I normally don't go for, but it was too chic to pass up ) looked excellent tucked in, and you could even cuff the sleeves.
I'm totally obsessed with the wide leg pants. They're flowy and cool, and the stripes make me look at least kinda tall. Because the waist is elasticized they're very comfortable and can be styled to look both casual and dressy.
Printed Wide Leg Pant in Navy: $59.50
Ribbed Mockneck Cotton Blend Top in Barn Red: $34.50
OUTFIT TWO
Like I said, I only chose one top but it ended up looking great with both bottoms. These TENCEL™ shorts also have an elasticized waist and are super breathable. They're a little loose-fitting, but the way they're structured enables them to be paired with a dressier blouse as well as casual tops. That versatility certainly seems to be a theme with the pieces from Frank And Oak.
Pull on TENCEL™ Short in Dark Purple: $49.50
The total for all three pieces came to $143.50 and I'm happy to say I kept my entire box!
Overall, I found the pieces to be fairly priced given the sustainable fabrics. I'm willing to pay a little extra for something that benefits the environment. The construction of the garments is also top-notch, and the fact that they so seamlessly blend into the rest of my wardrobe is a definite bonus. I don't think you need to be into a certain kind of style to benefit from the clothing Frank And Oak has to offer. Most items, while fashion-forward, are also quite timeless. I will definitely be recommending Style Plan to my friends and family when they compliment my new clothing items (I know they will!).
Interested in trying Frank and Oak's Style Plan? Click here to sign up for the women's Style Plan subscription box and get up to 20% off with free shipping & returns. Only pay the $25 styling fee if the entire box is returned!
And for my past clothing subscription reviews, see here.