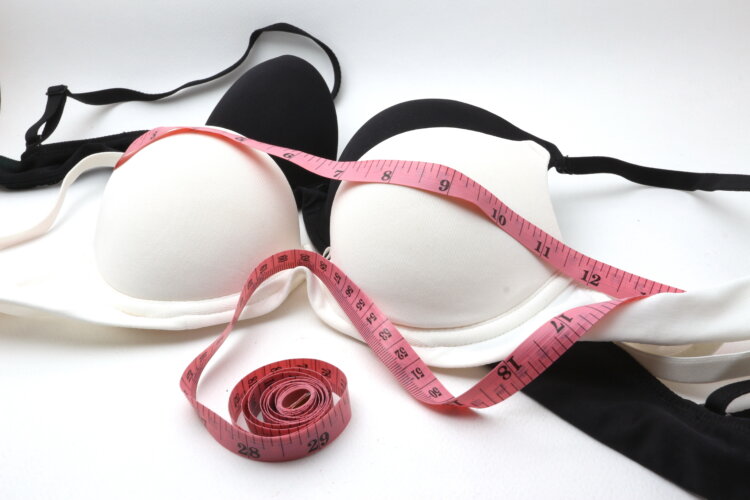 Finding a bra you love might feel like a brutal task, especially if you're pregnant or need a nursing bra.
But the right fit is out there, and expert bra fitter Kimmay Caldwell knows what you need to feel good in your lingerie in that pregnancy and postpartum period. She's been fitting people for bras in New York City since 2005. "To be honest, it was a college job but it ended up changing my life," she says.
Now, coach Kimmay works with people to discover the bras (and the confidence) they want. Here, she shares with Grok Nation readers several tips on how to find the right bra for you.
Pregnancy & Bras

"When pregnant, most commonly the biggest shift in your bust happens in the first trimester," she says. "So don't wait too long to go in for a fitting or check in on your size. I suggest getting fit for two to three bras that fit well on the middle hook so that you can adjust the band in as it stretches, or make it looser as your body expands."
Every pregnancy is different, but Kimmay says that it's important to get a bra that can grow with you. Try a stretchy cup, and no underwire.
Don't skimp on support. During pregnancy your breasts will be heavier and a snug band and firm fit often mean comfort. Caldwell recommends checking in on your size throughout the pregnancy, rotating bras during pregnancy and finding a good mix between softness and flexibility and snugness and support.
"Many people start wearing nursing bras when they really just need maternity bras during pregnancy," she says. "Instead, go with some basic, well-fitting, bras while you and baby are growing."
Breastfeeding & Bras
"First tip is to get your nursing bras before you breastfeed. I typically suggest around week 30," says Kimmay. "You'll want to get a few well-fitting basics to wear during the day, and at night." At night, nursing bras can provide support for larger breasts, and also allow you to easily wear breast pads to avoid any leaking.
"Just make sure if you're wearing one to bed, it's stretchy and wire free!" she notes.
You might also want to get one that is extra adjustable to accommodate your bust after you give birth.
Kimmay stresses to be sure to feed from both breasts evenly, if you can, to avoid having one very full and one not so full breast in your bras. In either case, you want to fit to your fuller breast.
"Skip the super stretchy/barely supportive styles for day time," she says. "Your bust is full and heavy when nursing, so you'll want something that is well-made and uses supportive materials. Keep in mind that every pair of breasts and every pregnancy is different."
Differently Sized Breasts
"Breasts are like hands and feet—they're never perfectly symmetrical. Always make sure to identify and then fit your fuller breast," Kimmay says. "You can leave a little room on the smaller side and adjust the strap to keep the cup flush. If you are very uneven or simply want to even out your shape, you can try putting in an insert."
Kimmay recommends experimenting with different sizes, shapes and materials to get the right fit.
"You can even try a bra that has removable pads, so that you can leave in one pad and take out the other," she says.
Post Breastfeeding  
Your body just made a baby, and that's incredible, but sometimes things change.
"Most likely, even if the size is similar, your breast tissue will be different and a different style bra may support you better," Kimmay says.
If you loved a plunging neckline bra before giving birth and breastfeeding, now that your breast tissue is soft, it could spill over the edge or not fill up the top of the cup.
"Adjust the style as necessary, perhaps trying a balcony or full coverage style, or a more flexible molding that adjusts with your body," Caldwell recommends. "I highly suggest that you go in for a bra fitting and keep an open mind about new sizes and styles. You may be tempted to put your old pre-pregnancy bras back on, but you're in a new stage of life and deserve the support to go with it."
Other Bra Tips

Include at least two to three basics that work with 70 percent of your wardrobe, usually in a skin tone color (that matches yours) or black, strapless or convertible.
Have sports bras.
Incorporate non-underwire for weekends, travel, sleeping, or a fun bralette.
Add a "hurray" style that brings out your inner goddess. That may mean lace, or a fun color, or a cool print—it's up to you.
Check out Kimmay Caldwell's other tips on how to find a bra that's right for you.
Bra Recommendations