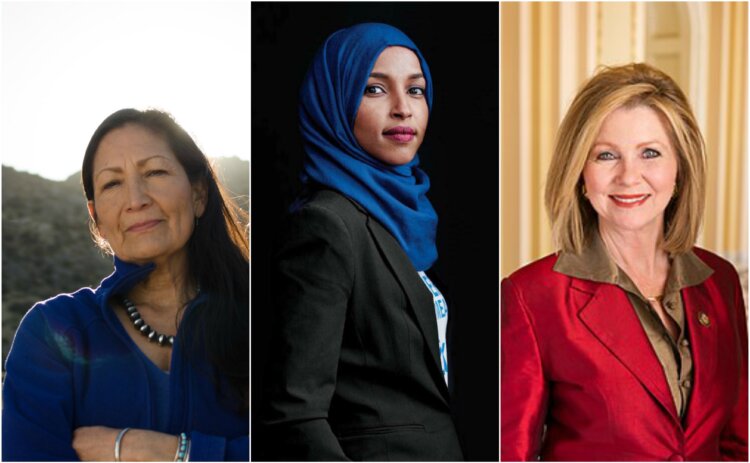 For months, people across the aisle have been pushing for everyone to get out and vote. And they did (well, in areas where there weren't any obstacles!). In record numbers, in fact. While official numbers are still being confirmed, polls indicate that around 114 million ballots were cast in this year's election, almost double the amount cast in 2014 (though not as high as a presidential election). But who received those votes? Women!
In the end, the Republicans maintained control of the Senate, and even expanded their numbers. One of the big GOP wins of the night saw Marsha Blackburn defeating Democrat Phil Bredesen in Tennessee, becoming the first woman to represent the state in the Senate.
Democrats had a number of groundbreaking victories at local, state, and national levels. In addition to now having control of the House, Democrats elected a good number of women and people of color. Many of the women we highlighted ahead of Election Day ended up winning, becoming pioneers in government! Sharice Davids and Deb Haaland became the first Native American women elected to Congress. In Michigan, Rashida Tlaib (Michigan) and Ilhan Omar (Minnesota) became the first-ever Muslim women elected to Congress. And in New York, Alexandria Ocasio-Cortez became the youngest woman elected to Congress.
At the state level, Anna Eskamani was the first Iranian-American to win a seat in Florida's state legislature, immigrant Padma Kuppa won her district's seat in Michigan's state house, Key West's Teri Johnston became the first openly lesbian mayor in Florida, Democrats Sylvia Garcia and Veronica Escobar became the first Latina congresswomen in the state of Texas, and Ayanna Pressley became the first Black woman elected to Massachusetts' state house.
In Georgia, everyone was laser focused on the Governor's race between Republican Brian Kemp and Democrat Stacey Abrams (who, if she wins, will be the first Black, female Governor in the nation). At the moment, it's too close to call, as a number of votes have yet to be counted, and there are allegations of various voting concerns (lack of machines, incorrect voter information, etc…). Abrams has vowed not to concede the race and is hoping for a runoff.
And in MA, voters made their voices heard, electing to keep protecting transgender citizens, making YES on 3 (a ballot question watched by many across the country) a reality.
While it may be difficult to call this election a solid blue or red wave victory, it is most certainly a historic election for women.