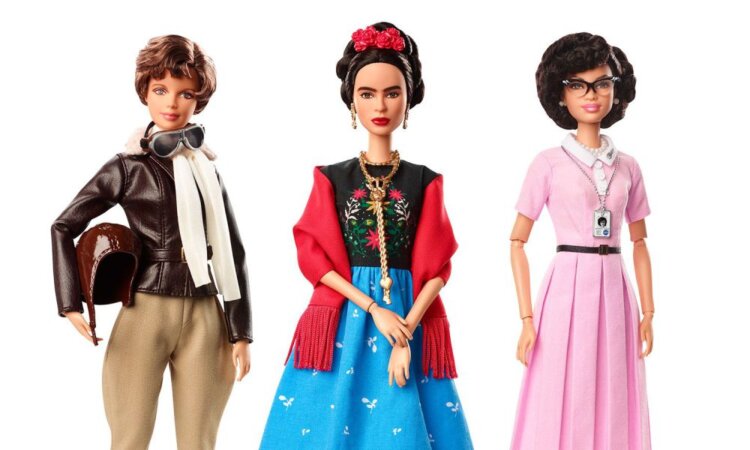 How was International Women's Day celebrated worldwide, in countries like Brazil, Argentina, Poland and more? Check out the marches and gatherings from all over the world (via Washington Post). The New York Times decided to celebrate women's lives by running obituaries of worthy women who had been overlooked at the time of their deaths. "Even in the last two years, just over one in five of our subjects were female," the Times admitted. In this feature, the Times shared obits for Charlotte Brontë, who wrote Jane Eyre, and Ida B. Wells, who campaigned against lynching, and others whose "deaths went unremarked in our pages, until now."
For those of you who have been looking for practical impact of the Time's Up movement – which is holding Hollywood to higher standards of gender equality and proclaiming zero tolerance for sexual harassment in the industry – Oscar-winning actress Reese Witherspoon announced that the Time's Up movement has helped 1,500 women with sexual harassment suits against their employers. So it's more than just pins at awards shows and the occasional misspelled temporary tattoo on Emma Watson's arm. (Sorry, Emma, we had to!)
Jennifer Lawrence is spending the next year with Represent.Us to help get young people politically engaged with stopping political corruption, she said in an interview with CNN's Christiane Amanpour.
Also in honor of International Women's Day – and just in time for World Barbie Day, which is today, March 9! – Mattel announced that there would soon be Barbie dolls who look like famed artist Frida Kahlo, aviator Amelia Earhart or mathematician Katherine Johnson, because "we know that you can't be what you can't see," Lisa McKnight, the senior vice president and general manager of Barbie, said Tuesday in a press release. "Girls have always been able to play out different roles and careers with Barbie and we are thrilled to shine a light on real life role models to remind them that they can be anything." Of course, the message with "Barbie dolls who look like famous women" seems to be, "you can be anything as long as that 'anything' is shaped like a Barbie doll." While this move is in some ways, progress—helping girls who might be Barbie-inclined to see famous and diverse women represented as aspirational models—it doesn't help Barbie walk the path toward becoming a feminist icon. Of course it would be hard for Barbie to walk anywhere with those proportions. Also, according to the Daily Beast, Kahlo's family is upset, releasing a statement that "Mattel had no right to use her image for the doll, and criticized the inaccuracies in the doll's likeness to Kahlo." Mattel insists that it obtained the rights to Kahlo's image from the Frida Kahlo Corporation. (If you're interested in more Barbie-ness, you can read my piece about Barbie, Jewish Identity and Films that Create Conversation and see what Barbie would look like in real life.)
From a famous doll to a notorious dictator…According to the New York Times, North Korea's leader, Kim Jong-un, has invited President Trump to meet for negotiations over its nuclear program, and Trump has accepted. South Korean official Chung Eui-yong, told reporters that the president would "meet Kim Jong-un by May to achieve permanent denuclearization." While permanent denuclearization sounds like a good thing, what makes me nervous are these two notoriously volatile temperaments involved in negotiations of a nuclear nature. Hopefully they won't negotiate via Twitter.
Trump also signed orders imposing "stiff and sweeping new tariffs" on imported steel and aluminum. If that sentence made you fall asleep, you're probably not alone, but should probably wake up because these few boring words may have vast impact on the world economy. The New York Times noted that "Business groups have warned that the effect could be felt across the global supply network as consumers face higher prices for automobiles, appliances and other goods." Senator Ben Sasse (R-Nebraska) said the tariffs were bad for farmers and ranchers, as well as moms and dads "who will lose their manufacturing jobs."  Trump's aides said "most Americans would hardly notice any impact."
And the nation continues to feel the impact of the Parkland shooting; this week Florida's Republican-controlled Senate narrowly passed legislation that will ban people under age 21 from buying guns, will also require a three-day waiting period for most gun purchases, and would ban the sale or possession of bump-stock devices. Now the bill needs approval from the state's House of Representatives. According to the Daily Beast, the bill also includes "a $67 million, voluntary opt-in "school marshal" program that would let school districts allow some staff members to carry concealed weapons on campus."
What are you talking about this week? Other than the relaunch of Grok Nation, of course!! Tell us what's on your mind and we'll discuss…
Time's Up and International Women's Day Coverage (AP, via Washington Post)
Emma Watson's misspelled Time's Up tattoo (Hollywood Reporter)
15 Remarkable Women We Overlooked in Our Obituaries (New York Times)
Frida Kahlo's family is enraged that she was made into a Barbie doll (The Daily Beast)
Kim Jong-Un invites Trump to North Korea (New York Times)
Trump's Tariffs Announcement (New York Times)
Florida passes gun control legislation (The Daily Beast)