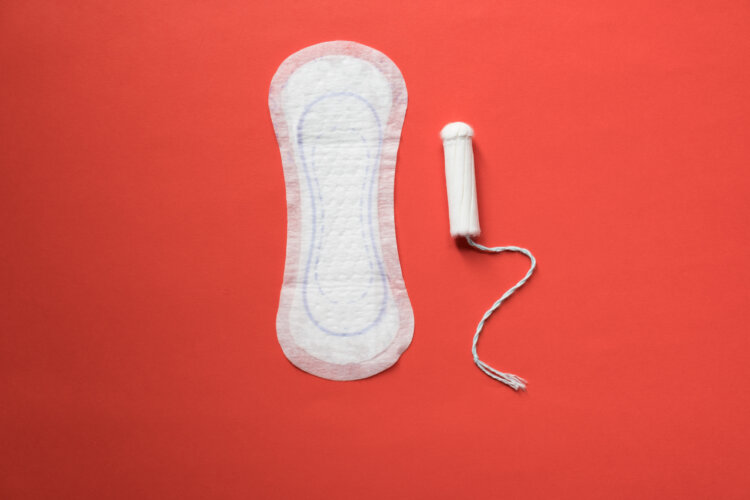 Many young women and girls do not have the means and ability to get the necessary menstrual products they need. That's a problem a new bill in Massachusetts hopes to solve, by providing free menstrual products to sixth through 12th graders in need—at school, in homeless shelters, and even in prison.
Those who menstruate can use over 11,000 disposable pads and tampons over a lifetime! For anyone who hasn't been down that aisle at the store lately, these products can cost over $10 a month. That extra $10 might not be available to families struggling to cover the cost of housing, food, transportation and childcare. Some girls who don't have access to proper period protection can even end up missing school, negatively impacting their attendance records and grades, all because they couldn't afford a basic necessity. Those who are homeless have it even harder.
Girls and women in state prisons also have trouble accessing or affording safe and adequate menstrual production. Many facilities provide limited quantities or options, and what they do offer can be too costly for those who make under a dollar an hour at their prison jobs.
All of these already vulnerable populations deserve access to quality products without worry, fear, or stigmatization. Menstrual products are not a luxury. Thankfully, some in Massachusetts are doing what they can to ensure that anyone who needs these products can access them. The MA chapter of the National Organization of Women (NOW) is behind the bill, which already has a groundswell of support from both state representatives and community members alike.
Massachusetts State Representative Lindsay Sabadosa signed on to co-sponsor the bill after hearing from sixth graders in her district. She explains that the students were looking at state legislation as part of a class project and had to pick something significant to them. After reaching out to her via social media, the sixth graders had a phone call with Sabadosa, telling her about the bill. "It was really fun to be able to respond and say, 'Yes. I'm totally on board, and thank you so much for your advocacy around this,'" she says. "When you file legislation you're not always sure that the group that it impacts is going to be the one doing the advocacy. You hope, but you never know. So, to have sixth graders say, 'Yes. Having menstrual products in school is really important to us,' is very satisfying."
If you live in Massachusetts and want to help get this bill passed, there are a number of things you can do. And, if you happen to live elsewhere where this isn't already in practice, you can email your own state reps to let them know what is happening in MA, and that you'd like to see it where you are.
Contact your representative
Find out who they are if you don't already know, and tell them where you stand on the menstrual access bill (HD2272/SD1381). Representative Sabadosa explains that although the House deadline to cosponsor has passed, the Senate has no such deadline. "People can call their Senator and ask them to sign on, and they should," says Sabadosa.
Provide testimony
Tell your story—especially if you're a member of the groups the bill would service. Sabadosa says that the hearings will most likely happen this spring or summer, once the budget has been settled. She encourages folks to come out and share their stories, either by providing spoken testimony during the bill's hearing or emailing/sending in written testimony. If you've experienced hardships as a student, or have been homeless or incarcerated, consider sharing your story to help get this legislation passed.
"I'm going to make sure I reach back out to the students and say, 'Hey, there's a public hearing and wouldn't it be a great school field trip for you to come and testify?, because it may seem scary, but that's what the hearings are," Sabadosa says. "People come in and they talk about why legislation is important to them."
Support the hearings
If you can't or don't want to provide testimony, you can still show up at the hearings to show your support. And, like with any state-related legislation, talk to your neighbors, co-workers, fellow parents in the carpool line, and anyone who can help push this bill through!