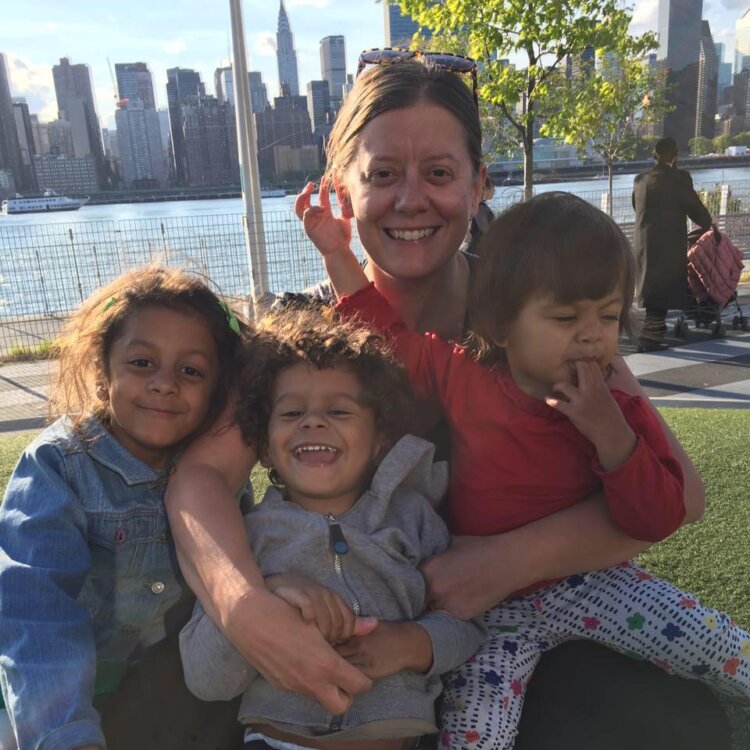 It all began with one mother trying to help out another. When mother of three Julie Schwietert Collazo heard the story of Yeni González, a Guatemalan migrant whose children were taken from her at the border, the Queens, NY writer knew something had to be done. While González was in an Arizona prison with a $7,500 bail, her children were in foster care in NY, 2,300 miles away. Schwietert Collazo spoke with some local friends and posted about it on Facebook, starting a fundraising campaign to pay for González's bail.
Now, only a month later, Schwietert Collazo has reunited González with her family, raised money to release 10 more migrant women from jail, and co-founded Immigrant Families Together, which will continue reuniting families separated at the border. What started out as a Facebook post and the desire to help has become an astonishing movement.
Schwietert Collazo started by creating a Facebook fundraiser for Yeni González, but she didn't stop there. Once González was released, she needed a safe way to reach New York, as air travel wasn't possible without the proper paperwork. Schwietert Collazo and friends created carpool schedules that helped transport González from prison in Arizona to New York, where she was eventually reunited with her children.
But Schwietert Collazo didn't stop there. She found more mothers and kept raising money, organizing cross country transportation and housing, and soon became a regular at the ICE center, where she showed up almost daily to pay yet another migrant woman's bond.
It's no surprise to anyone who knows Schwietert Collazo that she is the one behind all of this. Doing the right thing is just a part of who she is: a badass with a good heart. And it's her belief in the do-good spirit of others that allowed her to know she would be successful in reuniting these families. "I wasn't surprised by the speed with which the momentum built around this project," she says. "I knew that just within my own network, both online and off, there was mass discontent and a shared desire to actually do something concrete in response to inhumane Trump administration policies."
What has surprised her? It's the speed at which a core group of people came together to form what is now Immigrant Families Together. According to Schwietert Collazo, these are "…people working hours a day (and night!), who showed up with the right skills at the right time, and who have had no problem taking an idea or task and running with it, without needing hand-holding, without ego, without hesitation. And I didn't know most of these people at all before IFT. I've never been part of a team that works in quite this way, and it's really heartening."
RELATED: Families are being separated at the border: Here's how you can help.
The outpouring of support and funds from Schwietert Collazo's community has been incredible to see, particularly as they grew beyond her immediate circle and expanded to people like actress Kristen Bell (The Good Place), who raised money for IRT as part of her birthday, and encouraged others to do the same. Schwietert Collazo notes that celebrities have been very helpful in mobilizing others who might not otherwise know about this issue. But Schwietert Collazo says they have had political support as well, which is important when it comes to immigration. Elected officials "…have literally shown up, again and again, to bear witness, to intervene when necessary, and to speak up, even going so far, in some cases, as to make public calls for abolishing ICE," she says. "They have facilitated the family reunifications at Cayuga Centers in New York, and they have readily engaged their agendas on developing, proposing, and/or supporting policy at the state and federal levels. In addition, the Mayor's Office of New York has been instrumental, working hard not only to provide tangible support (mainly in the form of pro-bono attorneys) to the women and families who end up in New York City, but also working to anticipate the coming shifts in DHS/ICE policy that will likely result in mass releases without a coordinated plan for post-release care."
Schwietert Collazo is quick to acknowledge all the work others have done to help keep her campaign afloat and turn it into the movement it has become. Like a true badass, she isn't in it for the recognition. That said, it's not likely things will be settling down for her anytime soon.
In the past month, Schwietert Collazo's apartment has become a nonstop hub, something she very much welcomes, as does her entire family. She notes that her children, ranging in age from three to eight, have basically given up their beds and room for visitors and that their summer has become untraditional, to say the least. "They've conceded that Mom and Dad are going to spend this summer on the computer and phone instead of next to the pool," says Schwietert Collazo. "In some ways, that's hard for them—they're young. On the other hand, they love that they have so many 'new friends,' and that our home is always full of kids."
In addition to donating to the various fundraisers to help pay the bonds for these migrant women, what can folks can do to help? "Look beyond the issue of family separation and begin to look for ways that they can interrupt cycles of violence and injustice in their own communities, within their own small circles," says Schwietert Collazo. "All of these issues are interconnected, and to dismantle the systems of oppression that give rise to these acute moments of crisis, we have to start chipping away at the other systems that prop this one up."
RELATED: Separating children from their parents is indefensible