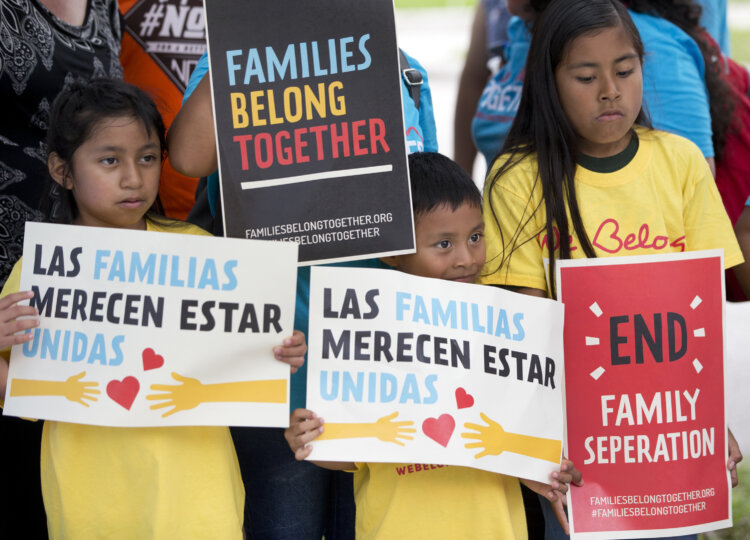 Many of us have struggled over the past week as report after report came in about infants and children being taken away from their parents at the border. As a mother, I can't even imagine the heartache and grief these parents must be feeling. They're attempting to find refuge and sanctuary, but instead are treated in a despicable and inhumane manner.
If you're like me, you're searching for ways you can help, because you know it is not right to stand by in silence as nursing infants are ripped from their mothers' breasts and parents are lied to, being told their children are being given a bath, yet do not return. Read on for ways you can make a difference.
Inform yourself
There is a lot of emotion and heart with this issue, but it pays to back those feelings up with the facts:
Get in touch with your representatives
The ACLU has an easy-to-follow guide to help you get in touch with your representatives. Raise your voice and remind your elected official that they work for you, and your thoughts matter. Also remind them—and your community—that midterm elections are around the corner and voters have the power to make change. (You can also donate to the ACLU here.)
Donate to organizations on the ground
One of the quickest and easiest ways to help right now is by donating money. ActBlue has a list of various vetted/verified organizations that can make the most impact with your donation. From ActBlue's site you can make donations to multiple groups at once! Below are some of the organizations doing the most pressing work.
RELATED: Mayim says children being taken from their parents at the border is indefensible
The Refugee and Immigrant Center for Education and Legal Services (RAICES): This Texas nonprofit will use the money raised to pay the bond—between $1,500 and $10,000—for parents who are being held in detention, and will also pay for legal services for immigrant children in the Texas court system. RAICES has a current Facebook fundraiser that has gone viral and has already raised $1.5 million.
The Florence Immigrant and Refugee Rights Project: This Arizona-based organization provides free social and legal services to immigrants who are detained in the state. In addition to donations, they're looking for lawyers who can practice in Arizona and can take on related cases pro-bono.
Offer your services
Although making monetary donations is one of the fastest and easiest ways to help, offering up your time and expertise is useful here as well. A few organizations are looking for people with special skills to come down to the border to help.
The Texas Civil Rights Project: This Texas-based organization is seeking volunteers who "speak Spanish, Mam, Q'eqchi' or K'iche' and have paralegal or legal assistant experience."
The American Immigration Lawyers Association is looking for lawyers to volunteer to help represent the women and men with their asylum screening, bond hearings and ongoing asylum representation.
Freedom for Immigrants: If you feel called to help in a more concrete way, you can volunteer to be a detention center visitation volunteer.
Border Angels: Another organization that is actively looking for volunteers to help at the border maintaining water stations and providing assistance to immigrants and migrants.
Attend a rally or vigil
As more and more children are forcibly separated from their families at the border, we need to be louder and louder. This cannot stand in America. Add your voice to the chorus demanding an immediate fix. Families Belong Together has a list of when and where rallies and vigils are taking place across the country.