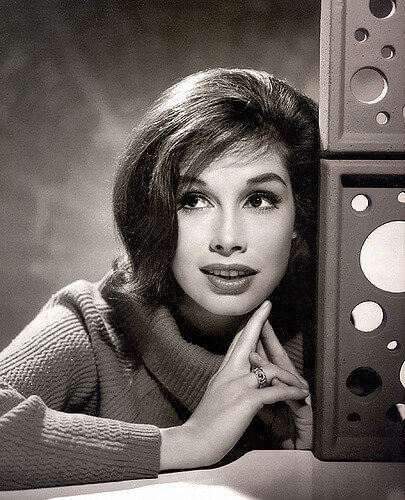 Another groundbreaking woman is gone…toss your hats up in the air to honor Mary Tyler Moore, who passed away earlier this week at the age of 80. As a TV actress, Moore was perhaps best known for starring as Mary Richards in The Mary Tyler Moore Show, a groundbreaking sitcom that was one of the first to have a single, 30-something, career-woman at the center of it.
Moore helped pave the way for sitcoms that featured women as more than "just" moms or wives. They could be single women who worked! And talked about dating! And birth control! Today's "modern woman" might not quite grasp the impact Moore had during her time, so it's important to remember and thank trailblazers like Mary. This week, we asked our favorite feminists what Mary Tyler Moore means to them.
Sarah Buttenwieser: "To watch The Mary Tyler Moore Show was a childhood ritual and when I re-watched years later I understood that my independence seemed like a given to me, in part because of Mary. I noticed how many times she was vulnerable — not weak, not depressed or incapable but emotional. Her strength as Mary Richards factored so much nuance in (for a comedy!), like competence and vulnerability.
And then, Ordinary People.
Plus, her willingness to be a role model about her own struggles. I could go on and on. I'll stop. My sadness at this news was immediate and large. As is my gratitude."
Sa'iyda Shabazz: "I remember watching reruns of The Mary Tyler Moore Show on Nick at Nite. I loved the fact that she was the only woman regularly present in the room. I liked that she had a job as something other than a teacher. I liked that she wasn't married and lived in her own apartment. She was a trailblazer, especially for women in journalism.
Then when she was diagnosed with Diabetes, she became an activist for advancement in the science of Diabetes research. She will definitely be missed!"
Shaindel Beers: "The last episode of The Mary Tyler Moore Show aired four days before I was born, but I grew up watching reruns. I loved that she was always hopeful and spunky, and — although it's a weird word that seems condescending, dare I say it? — feisty! A lot of things made me feel like I could be the kind of feminist I grew into. Thank you, Mary! We're gonna make it after all!"
Meg Galipault: "I grew up in the '60s and '70s, most of it without my mom. When Mary Tyler Moore played Laura on The Dick van Dyke Show, I pictured her as my mom. Later, when The Mary Tyler Moore Show was launched, she became one of the few role models for girls like me who were baby feminists. She was awkward, funny, and the smartest person in the room. Yes, my 12-year-old self aspired to be her. I still do.
Lisa Schamess: "In my family we made tacos and put the TV in the kitchen to watch the whole Saturday TV line-up on CBS. It started with All in the Family, then The Jeffersons, The Mary Tyler Moore Show, Bob Newhart, and Carol Burnett. I remember the logo for MTM productions was a kitten mewing adorably, instead of an MGM lion.
I think Mary Tyler Moore was one of my earliest models for radical vulnerability — that a woman could get out there and do great things but also cry easily and be at a loss as to how to get through life, many times a day. Super competent and super vulnerable. That's how I remember Mary."
Amanda Rose Adams: "Mary Tyler Moore was not just an entertainer, she was an entrepreneur. She took risks with her image and in business. MTM along with Lucille Ball and Carol Burnett taught me that women can be funny, engaging, direct, and powerful. A great talent doesn't hurt, but Mary Tyler Moore did the hard work and led by example. The little kitten that meowed at the end of the Newhart credits – well that's pussy power right there, folks. Some women roar like MGM lions, others smile and nod while they plan to take command. It takes all types, but Mary Tyler Moore was an exceptional woman with a resilient sense of humor and humility at a time when being powerful and female was a novelty, and millions of little girls like me were watching. Power plus grace is how I will remember her influence."
Debra A. Klein: "Mary Tyler Moore was the first self-sufficient adult woman on TV.  She had her own apartment, a career that was interesting, friends, and graceful grit. And random handsome actors wanted to marry her every other episode but she simply didn't care.
There was no other program on TV that centered on a happily unencumbered woman, and each week, Mary [Richards] and her neighbor, Rhoda, demonstrated how a life without a husband and children was possible. We had no roadmap on how to do this back then.
One of my favorite episodes was one in which she didn't like a guy's kid from his previous marriage. The idea of a woman being allowed to not like the personality of a child was unthinkable, yet they addressed it head-on.  And her career choice definitely made an impression, my first jobs were all in TV news — we all wanted to be Mary — a woman happy with her self-sufficiency, and who dated for the fun of it, not to marry. She was television's first modern woman."