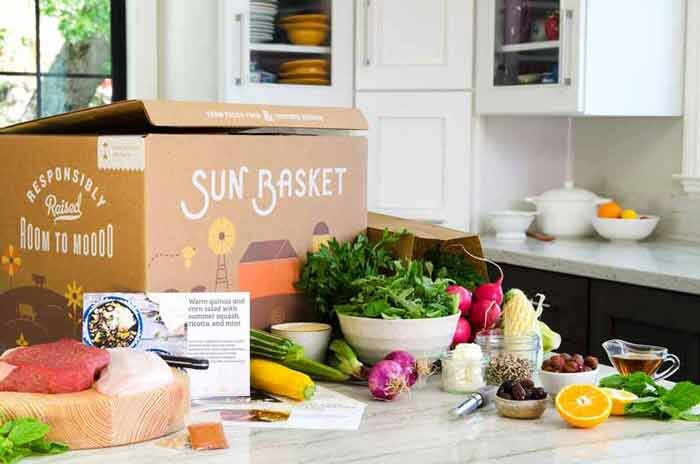 One of the perks of trying so many different meal kits is getting to taste a variety of dishes. Sun Basket advertises itself as a "healthy" delivery service option. It offers an abundance of dietary options, such as gluten-free, vegan and paleo; and every recipe is sourced with organic produce and clean ingredients.
I like to consider myself a healthy-ish person, so I was looking forward to trying this box. But after signing up and moving on to selecting my meals, I realized they're much less fun than the boxes I've done in the past. Typically, I'm like, "Oh, a pancetta pizza? Yes, please!" "Creamy, cheesy pasta that probably has way too many calories? Sign me up!"
It's not as exciting to put salads and healthy food into your box, for sure. But these foods are good for you, so I begrudgingly made my selections.
Each menu option is labeled diabetes-friendly, soy free, dairy free, vegetarian, vegan, etc. Most of the dishes were either 20 minute meals or one-dish wonders—and if you've been following these reviews, you know I'm not exactly the best cook, so I appreciated the ease these promised.
In the end, I selected the Greek Meatballs, Summer Steak and Stone Fruit Salad, and Seared Chicken Breasts. I chose the three meals per week option for two people, but you can also get it for four. (Sun Basket sent my box in exchange for an honest review.)
The box came as scheduled and was packed in an eco-friendly way. Bonus points! Everything was recyclable or compostable, and since excessive packaging is one of my biggest concerns with this food service delivery trend, I appreciate Sun Basket's attention to detail there. I cooked all three meals for my sister and myself and we had very different opinions on this service.
Seared chicken breasts with salsa verde and white bean salad
Cooking meat is probably my least favorite thing to do in the kitchen. Aside from maybe ground beef, I am constantly under- or over-cooking it. Plus, I'm always paranoid that I haven't handled it correctly and I'm going to give myself food poisoning. Luckily, none of that happened here. I was a little concerned I had burned the chicken, but when I plated and put it next to the image, I feel like I was right on target?
The salsa verde that garnished the chicken, plus the method for cooking the chicken, made the whole dish juicy and flavorful. Even though I'm not a big fan of corn or beans, I ate most of the salad. My sister enjoyed the chicken, too, but she doesn't like basil, so she wasn't bowled over by the salad either. Basically, I should have looked at this recipe closer before selecting it, but I think the brightness of the image lulled me into ordering it.
Summer steak and stone fruit salad with walnuts and ginger-basil dressing
I love, love, love a good steak salad from a restaurant. (My favorite is at The Smith in NYC. Yum!) I rarely make it at home though because salads at home—as a general rule—are never as good as salads in restaurants. And because of the cooking meat reason from above. But I was very intrigued by this steak and stone fruit salad from Sun Basket.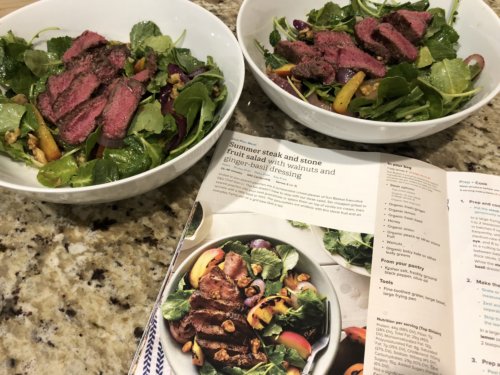 And it was a successful at-home salad! I received a peach in my box (I assume you are sent whichever stone fruit is most fresh at time of shipping). It was a little on the small side, which was my one complaint about this meal: It needed more grilled peaches. I had to cook my peaches in a skillet because I don't have a grill. I was worried it wouldn't char properly, but it did. The steak, peach and walnuts all paired nicely with the baby kale and the ginger dressing.
My sister, on the other hand, was not a fan. As I mentioned earlier, she's not a fan of basil. I thought I could sneak this dressing past her, but she immediately identified the herb and was not pleased. She said I should have left the basil out, but I wanted to keep the recipe pure for you, dear readers. You're welcome.
Greek meatballs with tomato-cucumber salad and lemon-tahini dressing
Unbeknownst to me, this meal was sponsored by Mamma Mia! Here We Go Again. I could not think of a more delightful way to eat Greek meatballs than with the endorsement of Cher. I waited to eat this last and when I started to prep it, I was a little nervous the spinach might have gone bad. I had to pick out a few pieces, but mostly it was fine!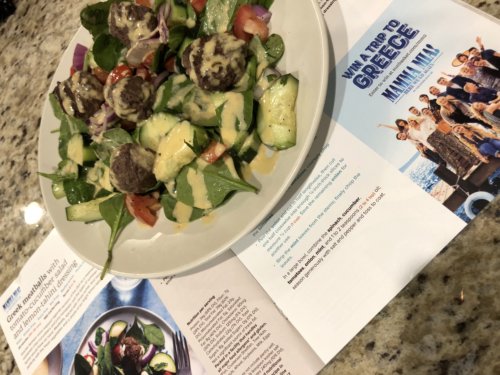 Overall, it was a great dish. Because of the meatballs, it was a hearty salad—but with tomatoes, cucumbers and the lemon-tahini dressing, it felt light and fresh. I could easily see myself making this again, but I'd go lighter on the seasoning in the meatballs. They were made with a Sun Basket za'atar spice blend, which included sumac, sesame seeds, fennel seeds and dried thyme. It was certainly flavorful, but overpowered the dish a tad. But—it didn't have basil, so the sister was happy!
Even though I wasn't crazy about the first dish because of my personal preference and bad selecting abilities, I would definitely try Sun Basket again. I do Whole 30 once or twice a year, and I could see this being a great way to mix up a sometimes boring diet plan. Or if you are wanting to kick off a Paleo or Vegan diet, this could be a great way to start.
Have you tried Sun Basket? What was your experience like? If you'd like to try it, use this link to get $35 off meals!
Read all our past meal service reviews here, and let us know if there are any you'd like us to try next.