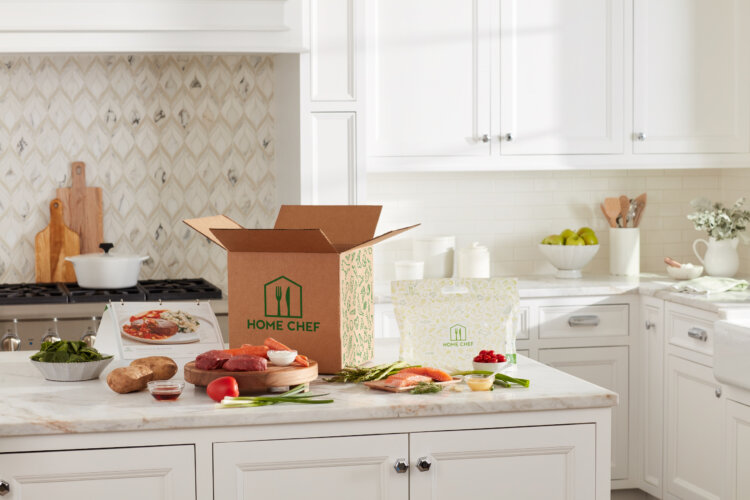 After testing five meal subscription boxes, I've learned that they're not that different. You get the box (some are doing a better job of making their packaging eco-friendly than others), you prepare the food, and you eat it. Do meal kits suddenly make you enjoy cooking if you've simply tolerated it before? In my case, no. But do they make dinnertime easier by removing the planning, shopping, and prepping? Yes. And for me, that's the greatest benefit. Because of its ease of recipes, HomeChef really shined in this way.
When first signing up, you can select anywhere from two to six meals per week, plus you can choose recipes for two, four or six people. This provides quite a bit more flexibility than other programs I've tried. After selecting three meals for two people, you're asked if you prefer meat, seafood, or vegetables. I opted for all three. You can then choose if you want low-cal or low-carb meals (I said no, but I probably should have said yes…). Finally, you can indicate items you'd like to avoid, such as pork, nuts, soy or wheat.
After noting if I wanted a Tuesday, Wednesday, Thursday, or Friday delivery (I imagine this changes based on your location), I got to select my recipes. I chose French Onion Shrimp and Grits; Penne Pasta with Sun-Dried Tomato Cream; and Coq au Vin. A week before I was set to receive my box, I got an email saying that because of a supplier issue, the chicken for the Coq au Vin would be boneless. Because the recipe card was already printed with bone-in chicken, they included details for recipe variations in the email.
My box arrived as expected—and it was very similar to other boxes in terms of the recyclable ice packs and limited cardboard usage. Each recipe's ingredients were placed in a recyclable plastic bag, which may be a little unnecessary, but was nice when I went to make a recipe and just had to pull a bag out of the fridge and had everything on hand. The recipe cards had three-hole punches and they included a folder so you could save your recipes. I really liked this addition—theoretically, it would help you build your meal repertoire.
French Onion Shrimp and Grits
I've often eaten grits at New York City brunch spots, but I've never made them at home. I had no idea they was so easy! After whipping up the grits, all that was left was to cook the shrimp and mix up the "french onion" part of this, which required caramelizing shallots and mixing them into sour cream. From start to finish, the recipe took me less than 20 minutes.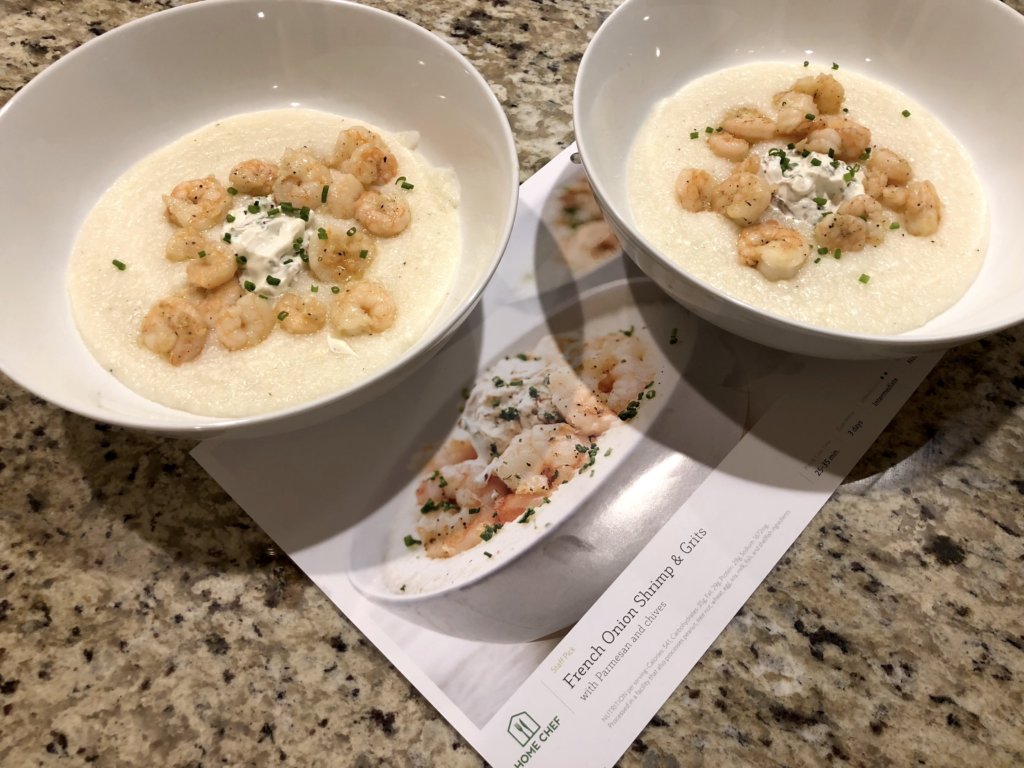 And it was quite tasty! It wasn't the most flavorful—I think it could have been a touch more complex on seasoning or additional ingredients—but I enjoyed eating it and it's hard to complain when a full-on meal takes you less than 20 minutes. The shrimp was pretty low quality, though. There were pieces of tails and veins mixed in the bag, so I had to sort and clean the shrimp thoroughly before using—and that probably should have been included in the recipe.
Penne Pasta with Sun-Dried Tomato Cream
This recipe from start to finish also took about 25 minutes. What I found most interesting was how Home Chef had me cook the pasta: instead of just plopping the pasta into a pan of boiling water, draining, and adding ingredients—like I'm used to—you put water, sun-dried tomatoes, tomato paste, vegetable stock, and the pasta to a pan and it's all absorbed. I wasn't convinced all the liquid would go away, but it did!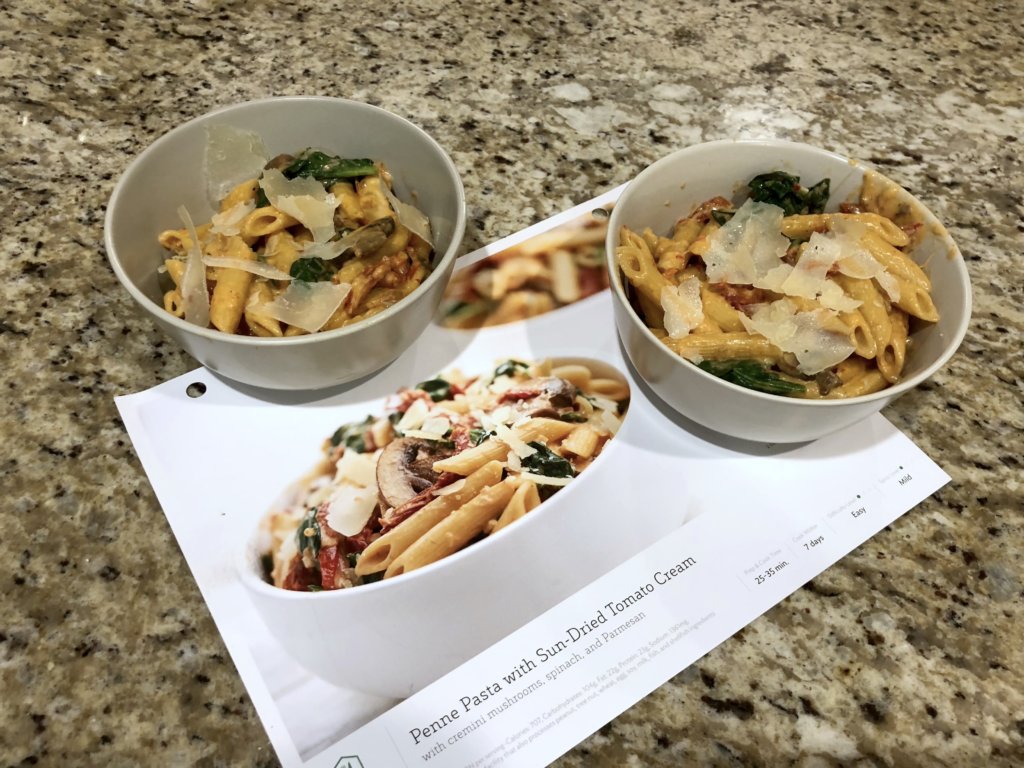 I rarely have pasta at home because I reserve it for a special occasion when I'm eating out. That being said, I would definitely make this recipe for an at-home treat in the future. In addition to my sister and I both eating seconds the night I made this, there was enough left over for lunch the next day. This meal was the most bang for our buck… and definitely a recipe I'll be saving in my three-hole punch binder!
Coq au Vin
Luckily, I remembered the email about the change in chicken because I would have had very burned chicken if I followed the original instructions. It was a little bit of a hassle trying to figure out which parts of the recipe remained the same and which changed, but I figured it out (I think).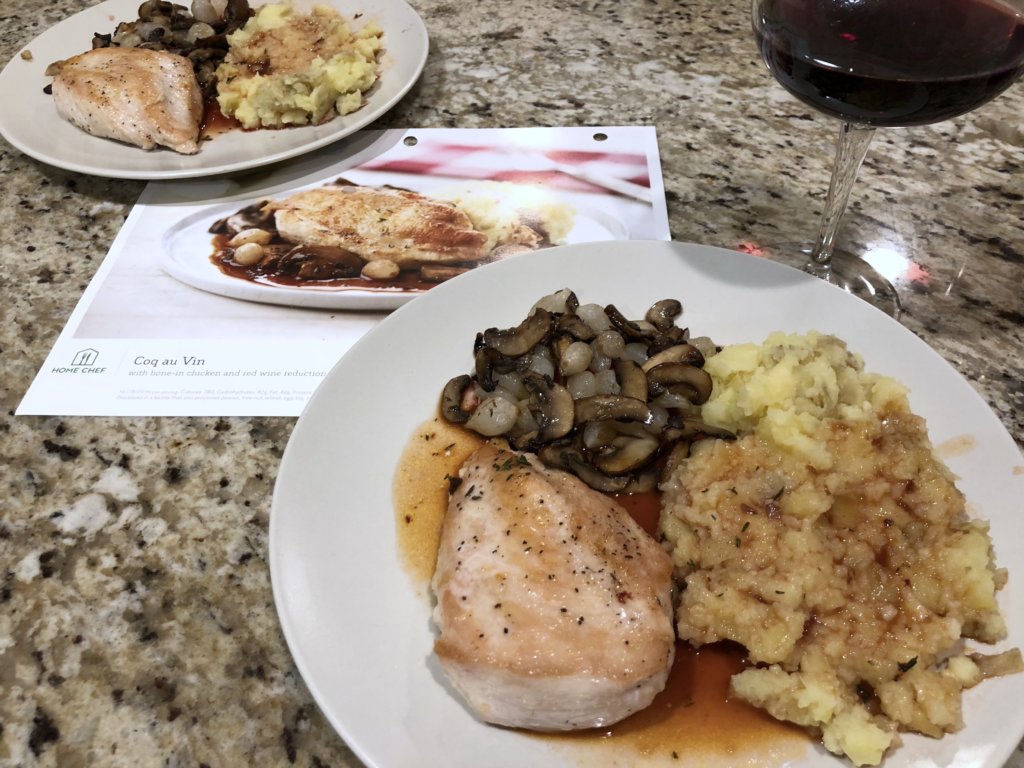 This meal was the least satisfying of the three. Although the wine reduction looked creamy in the photo, in reality, it was more of a wine juice… which isn't super appetizing? But maybe I was having an off cooking day because even the mashed potatoes, which I typically nail, were lumpy and not incredibly flavorful. The chicken was juicy and I definitely finished my plate, but I would not save this recipe in my three-hole punch binder.
Overall, I enjoyed the ease of the recipes for Home Chef. I would be open to trying this box for future weeks, especially when I'm feeling lazy about doing my own meal-planning.
Have you tried Home Chef? What was your experience? If not and you'd like to try it, use this link to get your first three meals free.
Check out our past reviews here, and be sure to let us know in the comments below if there are any meal delivery kits you'd like to see us review next.