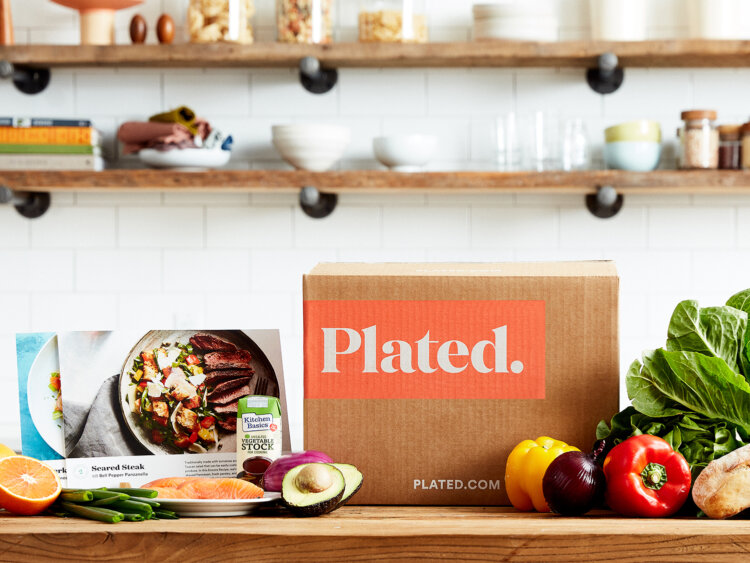 There are so many food meal services on the market; some claim to make dinner prep faster; others profess to save you money; and many will apparently teach you to cook like a pro. We've been on a mission to test out these claims. We've tried out Blue Apron, Green Chef, and Dinnerly.
I feel a little bit like Goldilocks trying out these meal services. This one is too expensive; this one's too complicated; this one's recipes are too basic. But I think I found the one that's just right: Plated. Now, everything wasn't perfect—but it interested me enough to keep going. Plated offered me my first box to try for this review, but I was intrigued enough with the recipes and the ease of making them that I kept going beyond my first week and have continued paying for meals for a few weeks on my own.
But let's back up to how I got to this "perfect" box: When you sign up for Plated, you can select whether you want recipes that serve two, three or four people; and for each box, you can decide if want to receive meals for two, three or four nights a week. I went with serving for two, three nights a week. Without discounts, that would be $71.70 per week. Currently, new customers receive a discount for the first four weeks. (As mentioned above, Plated provided my first box for free.)
Once billing and shipping info is set, you get to select your recipes. This is where the fun begins. Plated has 20 weekly recipes to choose from, and many of them intrigued me. The recipes were things I probably wouldn't have made on my own, but didn't sound overly fussy or complex. For my box, I selected Farro and Arugula Salad With Melted Leeks and Toasted White Beans; Chicken and Coconut Soup with Mushrooms and Sticky Rice; and Smoked Salmon Pizza with Whipped Goat Cheese, Capers and Tomatoes.
About 10 days before my box was set to arrive, I got an email saying that smoked salmon was unavailable due to a supplier shortage. It explained that their chefs had updated the recipe with fresh salmon, but if I wasn't "too keen on the thought of a fresh fillet," I could swap out my box. I love, love, love smoked salmon. Fresh salmon on the other hand … I crave it once in a blue moon when it's prepared perfectly at a restaurant, but on a pizza?? No thanks. Luckily, I had enough time to swap out the recipe and I got the Vietnamese Caramel Chicken with Roasted Chinese Broccoli and Basmati Rice.
Here's how they all came out…
Farro and Arugula Salad With Melted Leeks and Toasted White Beans
I love a good farro salad, so I was excited about this one. There was a fair amount of cooking involved—you had to prep and cook the leeks as well as toast the white beans—and I typically think of salads as an easy meal. That being said, it took me about 30 minutes from start to finish. The recipe card said 25-35, so that proved to be true.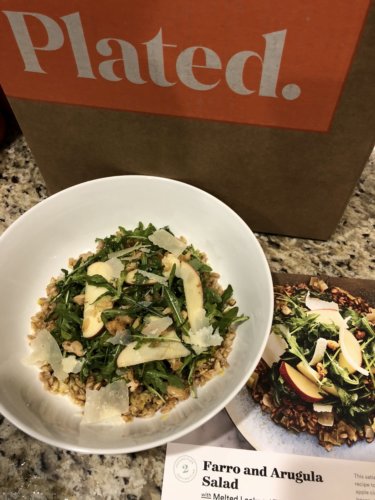 All in all, this was delicious. The farro and arugula paired with the parmesan and apples provided a complex flavor, and the crunch of the toasted white beans pulled it all together. If I ever feel like spending 30 minutes on a salad, I would make this again.
Chicken and Coconut Soup with Mushrooms and Sticky Rice
I chose this recipe because it was a little out of the ordinary for me. I didn't look at it and think, "Oh, that sounds delicious." But I did think "that sounds interesting," and one of the perks of trying these boxes is trying food that's a bit out of your comfort zone.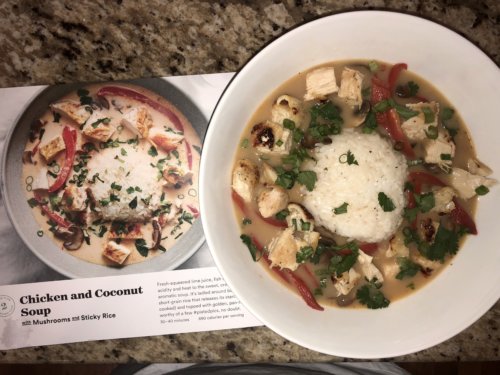 Overall, the flavor was good, and the recipe was easy. It was a stovetop-only recipe, which was nice since the weather is getting warmer. The only thing about the recipe I didn't really like is the chicken was skin-on and it was meant to be crispy. I'm not sure I got it crispy enough… and if you're a slow eater (like me) it got soggy after a little bit. I would be interested in trying this soup again with tofu instead of chicken. I'm glad that I tried it, but it certainly did not become my favorite food.
Vietnamese Caramel Chicken with Roasted Chinese Broccoli and Basmati Rice
The day I was planning to make this chicken recipe, I told the Grok Nation staff in a video chat. They were all very interested (read: perplexed) by the "caramel" part. I don't think I fully read the name when I selected the item—the picture looked nice—so after their trepidation, I was nervous.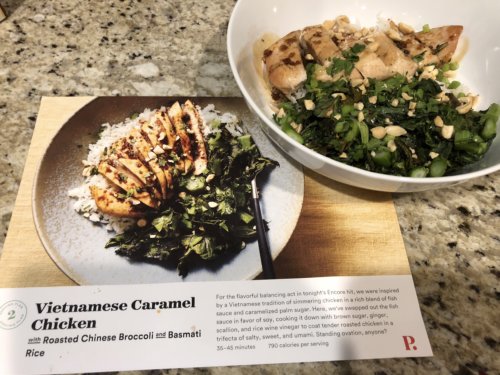 Even though it seems weird to have a savory dish with "caramel," this was pretty good! Aside from me not paying attention to the rice and burning it, the recipe was another easy one. You are supposed to coat the chicken in the caramel sauce and then pour the extra over the top. My only regret with this recipe is pouring ALL of the extra sauce over the dishes. It ended up making the dish overly sweet, and I think it would have been a less is more situation.
So final thoughts: I like Plated! As I said at the top, I've received it for a couple weeks beyond this initial review week. There was a mushroom cavatelli in one of those boxes that's absolutely delicious. Past the new customer discount, I'm not sure that I could swing $70/week for only three meals (and not many, if any, ended up with leftovers), but I could see it being a good once-in-a-while splurge.
Have you tried Plated? What was your experience. Be sure to let us know in the comments below, and tell us if there are any meal delivery kits you'd like to see us review.
If you'd like to try Plated you can save $25 off your first two weeks (save up to $50!) by using this link!