If you've ever wished there was a fast, easy, way to get dinner on the table for the family (or just yourself), we may have found the meal kit delivery service for you.
Because there are so many options out there in this market, we've decided to review them for you at Grok Nation. First we started with Blue Apron, then Green Chef, and now we're putting Dinnerly to the test.
When I first heard about Dinnerly (most likely from an ad on Facebook), I was intrigued by the concept: It touts itself as "the most affordable meal delivery service"—which as someone who pays NYC prices for groceries, I appreciate—and every recipe has six ingredients or less and can be made in 30 minutes or less, which as someone who is a lazy chef, I really appreciate.
So when I kicked off these meal kit reviews, I knew Dinnerly was one I wanted to try. When I went to sign up, I chose between a two- or four-person box. Each box has three recipes and is $5 per portion, plus $8.99 shipping. So for my two-person box, I would have paid $38.99. (Dinnerly provided me a box for an honest review.) I then selected what day I wanted Dinnerly delivered. It's important to note that Dinnerly delivery options vary by area, so you should double check availability.
The day before my box was set to arrive, I received an email reminding me that it was coming—and telling me what I would need from my own kitchen: one egg, oil, sugar, salt and pepper. I'm glad I paid attention to this part of the email because I was out of sugar and eggs.
So after a grocery run the next day, I received my box via FedEx. When I opened it, the first thing I noticed was it had substantially less packing materials than the other boxes I've received. There was a small note inside saying that the Dinnerly team is looking for ways to reduce packaging, so even though it seemed like a very small ice pack for such a large box, the insulated pouch would keep everything cold. Even better: The pouch was made with repurposed plant fiber from U.S. textile mills that can't be used for shirts and sheets, and the plastic lining around it is recyclable.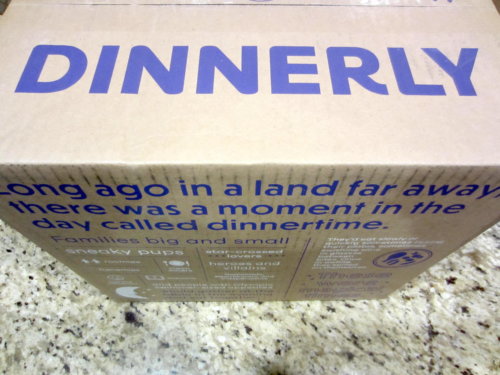 As promised, everything was cold (despite the box coming very late in the day), and I appreciated the attention to reducing waste. However, I had not read the day-before email as closely as I thought because I searched and searched the box for the recipe cards… before realizing they were in the email. I am in favor of the reduction of paper waste, so I tried not to be annoyed when I had to unlock my iPhone every 30 seconds to read recipe details.
While Dinnerly may be one of the cheapest meal kit services, it's also the least customizable. There are no options for vegetarian, pescatarian, paleo, etc.—and the three meals for the week are the same for everyone. My delivery week I received Potato Rosti with Spicy Chickpeas and Wilted Kale; Creamy Chicken Tetrazzini with Peas; and Meatloaf and Carmelized Cabbage with Roasted Sweet Potatoes. All in all, they were extremely easy, and fast, recipes to prepare.
Creamy Chicken Tetrazzini with Peas
Because the recipes on Dinnerly are made with six ingredients or less, they're not particularly complex—in technique or taste. I made this tetrazzini in less than 30 minutes, with one pan, which I'm always a fan of. However, the finished product was a little bland for my tastes. I ended up sprinkling red chile flakes on my plate to give it a bit more kick. My twentysomething sister, who exclaimed "it tastes like butter noodles!," loved it, so I'm certain kids would love it, too.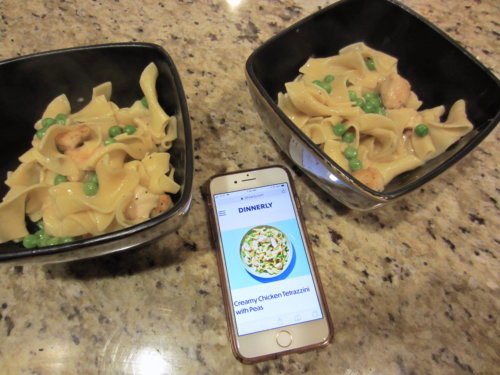 The nice thing about this meal was that it made a fairly large batch of pasta, so we were able to get three portions out of it.
Meatloaf and Carmelized Cabbage with Roasted Sweet Potatoes
I am not a fan of meatloaf and, to be honest, I can't recall if I've ever even had meatloaf. My mother never made it for us growing up—which is unusual considering I'm from middle America—and when I was slightly older and found out it's made and dosed in ketchup, I had no desire to try it. (I like ketchup where it belongs: on the side of french fries.)
All that being said, I was wary of this recipe. I'm also wary of showing you images of this dish because it did not turn out in what you could call an "appetizing" way. But I promised to show you real images when I started this journey, so here goes…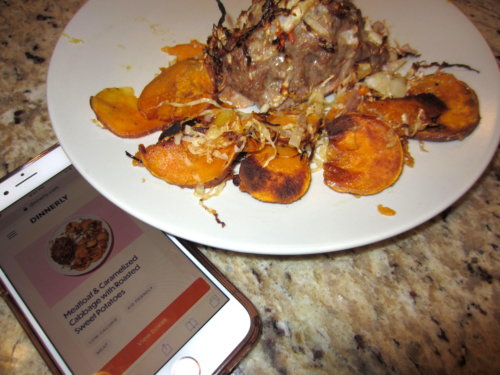 A big issue was I didn't read the instructions closely (maybe if they weren't on my phone I could have, but I'm not holding a grudge about that or anything) and used my mandoline slicer for the sweet potatoes and cut them way too thin, so most of them burned to a crisp. But aside from that, I'm not exactly sure why my meatloafs look like blobs of goo.
My aversion to meatloaf combined with the way my version looked (I mean seriously look at that) had me nervous to dive in. But it was actually quite good! The cabbage and sweet potatoes combined with the beef made for an interesting bite. I don't think I'll save this recipe for future use, but, like the tetrazzini before it, it was a simple dinner that didn't require much fuss.
Potato Rosti with Spicy Chickpeas and Wilted Kale
Have you ever heard of a "rosti"? This one was new to me. (Is it because I'm from middle America!?) Essentially it's a potato pancake, which I've struggled to make successfully before, but it turned out to be fairly easy. After grating the potato and draining out the extra water—I was glad I had a nut bag for this—I mixed with an egg and seasoning. I thought it might be difficult to flip since it takes up the entire skillet, but using the instructions provided about transferring to a plate, it was quite simple.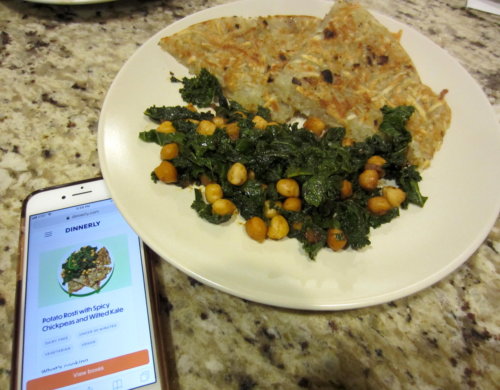 The rosti by itself didn't have a ton of flavor, but the kale and chickpeas were seasoned with a provided chipotle mix, so all together it was flavorful, but not overly spicy.
If you enjoy meal kits because they expand your palette and help you try new recipes, Dinnerly probably isn't the one for you. The dishes, at least for the week I received them, were a bit basic. But I loved that, with each recipe, I wasn't in the kitchen very long and had a full meal to show for it. I'm certain that kids would love these dishes, and you would feel good about serving it to them because they're healthy and balanced.
Have you tried Dinnerly? What was your experience like? If you haven't tried it but want to—and my meatloaf picture didn't scare you off—Grok Nation readers can use this link to sign up.
Be sure to read our reviews of Blue Apron and Green Chef before you go. And if you've heard of other meal services you'd like us to review, let us know in the comments!