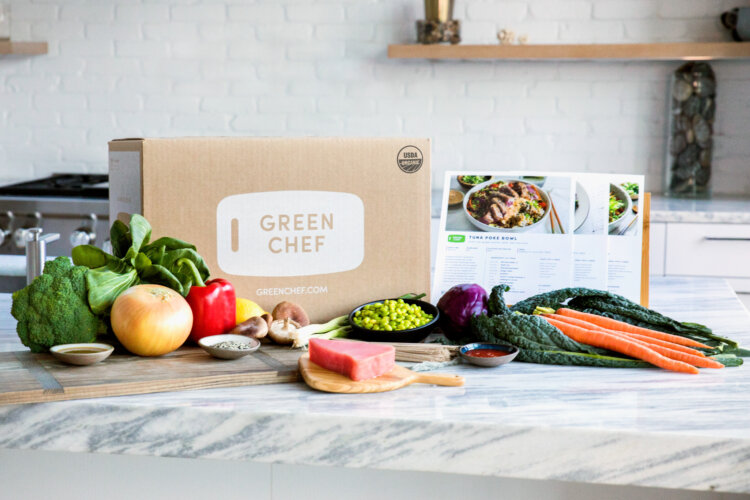 Dinnertime can either be a hassle or a breeze—depending on the type of cook you are (a.k.a. if you actually enjoy cooking or not). There are countless meal delivery services that claim to make dinner prep faster, to save you money, or to teach you how to cook like a pro. In an effort to put those claims to the test, we have begun reviewing meal kits.
First we took on Blue Apron, and now we're seeing how Green Chef stacks up.
Much like Blue Apron, Green Chef gives you the option to choose between two- and four-person plans. The two-person plan provides three dinners per week, while the family plan is only two dinners. I chose two-person, which offers the following options: omnivore, carnivore, gluten-free, vegan, paleo, vegetarian, and keto. For family plans, you can choose omnivore or carnivore. I was interested in the gluten-free, paleo, and keto options, but for the purposes of this review, I thought it would be better to try something "normal." The omnivore option showed me both vegetarian and "carnivore" meals, so I went with that.
The pricing depends on the type of menu plan selected; omnivore costs $11.99 per serving, totaling $80.94 per box. (Full disclosure: Green Chef sent me a free trial box in exchange for an honest review.)
The first thing I thought when opening my Green Chef box was "Wow—there are a lot of ingredients!" Of the three meals I chose, two had over a dozen ingredients each. I was thinking these recipes could be a bit intimidating. But then I realized everything is color-coded, so you can easily identify which ingredients go with which meal, and I was a little more at ease.
Many of the ingredients were pre-prepped: The garlic was already peeled, the carrot and onions were already chopped, the dressings were already made, etc. As someone who really hates to chop, I appreciated this.
Another thing I noticed when unboxing: the company's eco-friendly packaging. The insulated packing material is compostable and the ice packs are labeled with recycling instructions. Many ingredients were placed in paper bags or paperboard boxes. And although some of the ingredients are still placed in plastic containers and baggies, Green Chef provides instructions on their website for recycling all of it (alternatively, you could reuse some of it).
Now back to the food: If I saw the three recipes I selected—Sole Meunière, Feta-Stuffed Chicken, and Winter Farro Salad—on a menu at a restaurant, I probably would not have ordered any of them. They were the best-sounding options for the week, but I wasn't necessarily excited to try them. So I was pleasantly surprised by how much I enjoyed all three.
Sole Meunière
Remember what I was saying about these recipes having quite a few ingredients? This Sole Meunière dish had 13… and the cook time was supposed to be 30 minutes. I was suspicious, but I actually cooked it relatively close to the estimated time. Despite the fact that it seemed like a complex recipe, the whole meal went off without a hitch.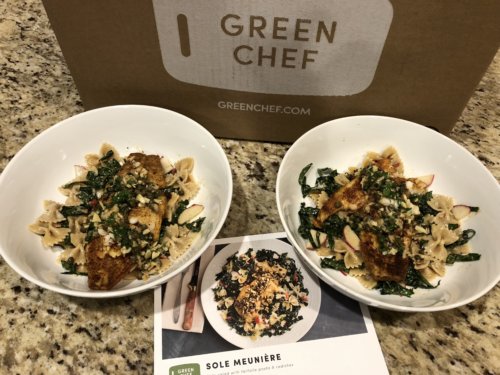 I didn't burn anything, I didn't get lemon juice in my eye, and I was able to plate it almost exactly as pictured. If the point of Green Chef is to make you feel like a fancy chef, this meal was very successful. If the point is to enjoy a delicious meal, it was also successful in that way. The fish was flaky, the pasta salad was a nice complement, and the flavors blended nicely. And as an added bonus, the pasta salad made a very large portion, so I had the leftovers for lunch the next day.
Feta-Stuffed Chicken
Based on my calzone stuffing skills with Blue Apron, I was dreading making this meal. Luckily, chicken is not as difficult as dough—I was able to stuff it and cook it without burning anything. (Okay, yes, my chicken looks a tad browner than the Green Chef images, but I promise it didn't taste burnt.)
This recipe was good, but probably not something I'll be craving in the future. Like the Sole Meunière, this dish had a lot going on flavor-wise—the chicken was stuffed with feta and olives, the roasted cabbage and mushrooms were seasoned with fennel, and the couscous was made with sun-dried tomatoes and carrots—but it didn't pull together quite as well.
Like the pasta, the couscous ended up being a large portion, so I combined the leftovers with olive-oil-massaged kale and had lunch for two days after.
Winter Farro Salad
The winter farro salad sounded, and looked, very strange to me. But it seemed healthy and I wanted to try a vegetarian meal, so I thought I'd give it a go. And honestly, it was kind of strange—but in a good way.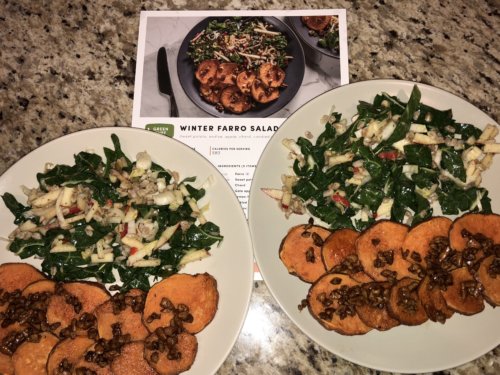 Both parts of the meal had spicy and sweet components. The sweet potatoes were roasted with a spicy honey drizzle; and the Swiss chard salad had roasted peppers along with chopped apples. I'm not the biggest fan of sweet potatoes in general, so I was nervous to dig into this, but it was surprisingly very tasty.
I was also very pleased with how well I was able to plate it. Either Green Chef has very approachable recipes or I missed my calling as a food stylist!
And once again, the chard salad made a large portion, so I had leftovers … maybe I just don't know the proper portion of salads?
The Final Verdict
Green Chef was a surprise to me. Based on the look of the dishes and the number of ingredients in my box, I thought I was going to be spending a long time in the kitchen and ending up with dishes I didn't even like. I was very wrong! The recipes were easy and relatively quick. All three meals were good, even if they weren't something I would necessarily try again.
Because of all that, I think Green Chef would be great for people who want to expand their food horizons and improve their cooking skills. I could also see this being popular with people who are already foodies and think these meals are totally normal at-home dishes. (Maybe I'm just basic and boring??)
Have you tried Green Chef? What was your experience like? If you haven't and want to try it, Grok Nation readers can use this link to get $40 off their first box!
Be sure to read our review of Blue Apron before you go. And if you've heard of other meal services you'd like us to review, let us know in the comments!