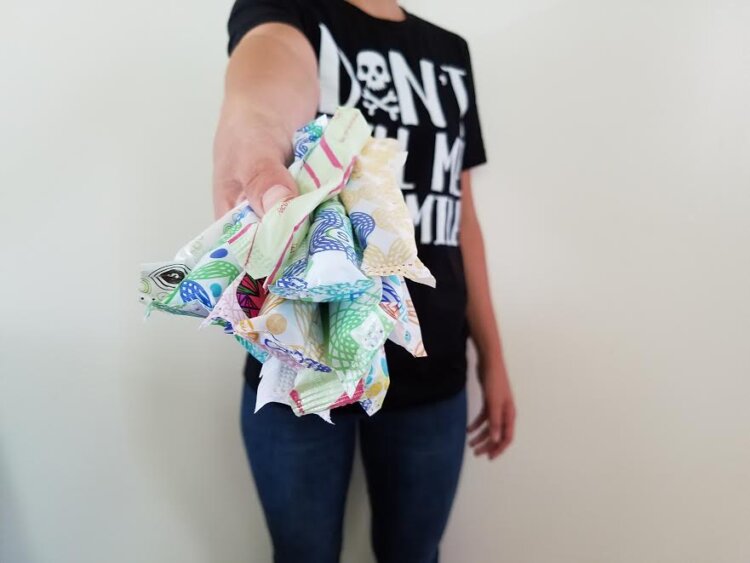 Today is Menstrual Hygiene Day, an international celebration that fights to destroy the stigma and shame surrounding menstruation around the world. Those involved also educate and raise awareness about the very real challenges faced by folks who have their periods.
Every month, women get their periods, and deal with the hassle of bleeding, cramps, and other side effects. Without too much thought we use pads, tampons, cups, period panties, or some combination for a few days until we have to do it all again four weeks later. But for many across the globe and right here in the US, access to period products and menstruation hygiene isn't that simple. From homelessness to domestic abuse, poverty, cultural stigmas, and more, there are a lot of challenges that can prevent girls and women from being able to address their monthly period needs.
"Period poverty," is what happens when access to menstrual hygiene products is limited due to inability to afford them. In cases like these, some girls and women resort to using whatever they have around them, from socks to dishrags. In some instances, girls are not going to school for a few days each month because they're unable to manage their periods in a sanitary way due to either lack of products or the proper facilities at their schools. It's been proven that missing that much school each year negatively impacts the future success for these young women, particularly in areas where girls are already struggling.
Thankfully, there are a number of organizations devoted to helping break down the stigma and providing access to menstruation products to those in need. In honor of Menstruation Hygiene Day, we're sharing a few of them with you. Read on to learn more—and how you can help!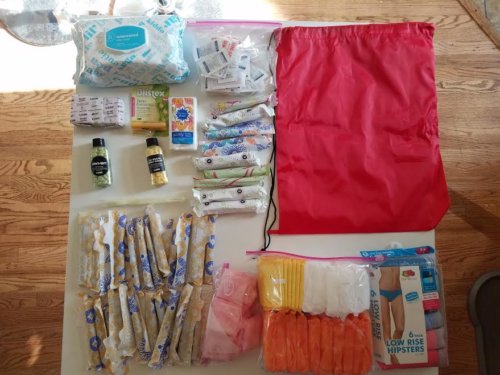 Period Kits for the Homeless
Started in Denver, CO by Ashley Beirne, Period Kits for the Homeless works to provide teens, adults and organizations with the period products they need. Beirne experienced period poverty first hand, growing up homeless, living in a Red Cross shelter. At times it came down to choosing between food or tampons.
Period Kits for the Homeless uses multiple approaches to reach those in need, including street outreach, as well as collaborating with food pantries, laundry trucks for the homeless, and day centers that provide meals and showers. In addition, they continuously collect tampons, pads, panty-liners, new underwear packs, over-the-counter pain reliever, personal wipes, and drawstring bags to create 3-month supply kits. In the past 6 weeks alone, they've collected over 15,000 products!
How You Can Help: You can donate directly to the group, start your own community collection drive, or purchase items from their Amazon wishlist.
Days For Girls
Women demolishing Chhaupadi menstrual sheds in Achham, Nepal https://t.co/ffSRrLwbMQ 👏❤️🌼💃🏻 pic.twitter.com/6fYCjjM39e

— Days for Girls (@DaysForGirls) April 9, 2018
This international organization declares itself a "Menstrual Movement," working across the globe to provide menstrual care products, health education, and income generating opportunities to countries in need. In less than 10 years, they've helped over one million women and  girls in over 110 countries. And all their hard work has left a lasting impact. After receiving access to Days For Girls kits, school retention rates in Kenya went up 23% for girls, and in Uganda, school dropout rates went down from 36% to 8% where kits were supplied.
Days for Girls offers a variety of kits, from menstrual cups to the "Supreme Kit," which includes reusable pads and liners, underwear, soap, washcloths, ziplock bags, and a drawstring bag. The reusable bag and pads are all brightly colored, and that's on purpose. The vibrant patterns camouflage any staining, and liners can unfold to look like washcloths, so they can be washed and hung outside without any embarrassment caused by lingering period stigma.
How You Can Help: There are a variety of ways you can get involved with Days For Girls. Are you crafty? Download the free pattern and start making reusable pads, liners, and drawstring bags! Are you a student looking for ways to make a difference? You can also start your own Days for Girls club, and work toward reducing the stigma and increasing access to products when it comes to menstruation.
#Happy Period
Calling themselves a "social movement of girlfriends," #Happy Period provides menstrual hygiene kits to anyone that is homeless, low-income, and/or living in poverty, including LGBT, non-binary, teens, veterans, and disabled people. Founded in Los Angeles by Chelsea Von Chaz and her mother Cherryl Warner in 2015, #Happy Period has gone on to form chapters all across the US.
There's a shopping component to #Happy Period as well, and proceeds from their official t-shirt go straight back into the organization so they can continue to purchase menstrual products for those in need. Plus, #Happy Period shirts do their part to help eliminate period stigma while supporting a good cause. Not only can you proudly walk through the streets with a shirt that lets everyone know "Hello, I'm Menstruating," (it also comes in Spanish!) but you'll be helping others access the hygiene items they desperately need.
How You Can Help: You can always donate (either money or products) to help #Happy period continue their mission. You can also start up your own #Happy Period chapter in your school or community.
Bloody Good Period
This UK-based organization focuses on a specific population in need: refugees and asylum seekers. Founded by Gabby Edlin, Bloody Good Period provides menstrual products to 15 asylum seeker centers in London. When she started the organization, Edlin had noticed that food pantries and drop-in centers were sorely lacking in period protection items. I an interview with Buzzfeed, Edlin explained that one reason she was called to help refugees in particular was in part to her Jewish heritage. She connected with the idea of being displaced — something that has occurred frequently to Jews throughout history — wanting to help those who are in a place of uncertainty and transition.
The idea behind the organization is that anyone — regardless of nationality or legal status — can have access to products that will allow them a "bloody good period."
How You Can Help: As with most of these organizations, cash donations are always appreciated. You can also purchase pads (tampons and reusable cups are not popular with this population for various reasons) and drop them off at one of their locations in the London area. Bloody Good Period is also always looking for volunteers, as they hope to expand their reach.