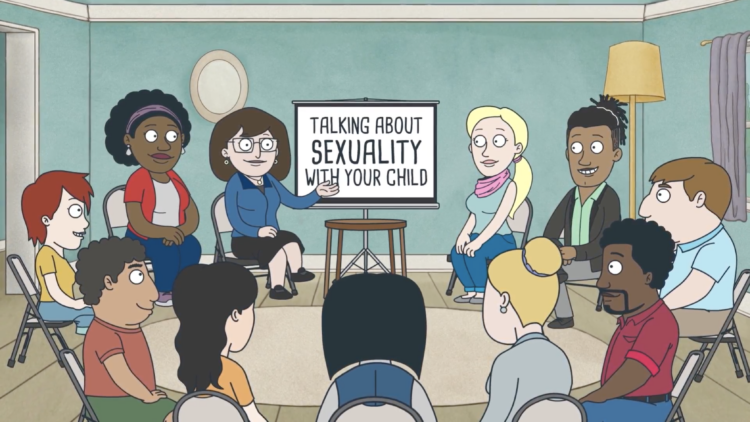 Talking about sex can be uncomfortable for parents and kids. However, with comprehensive sexual education in public schools at risk, it's even more important that parents discuss sexual health with their kids—from an early age.
But what to talk about and where do you even begin? There are many valuable resources available to help get you through "the talk" (Actually, that's a misnomer! It should be "talks"—experts agree that parents should begin talking to their children early and often).
We spoke with Nora Gelperin, Director of Sexuality Education and Training for Advocates for Youth. Gelperin is a Sexual Health Expert for AMAZE.org, a site that provides sexual health education resources for both parents and their kids, with a particular focus on videos and animation. The content that Gelperin and her team created for AMAZE is a solid mix of facts, presented in an engaging way—one that tries to ease the awkwardness that can arise when talking about sex.
"I hear a lot from parents who struggle with what is age appropriate," Gelperin says. "They worry that they will say the wrong thing, and that the information will be damaging. If kids are asking questions, they are ready for answers for those questions."
Gelperin suggests having "micro conversations" with your kids to start. Instead of a lecture nobody will listen to, utilize a time where you're together, but have it be low stakes. The car is a great place to have a conversation because you're not staring directly at each other, making things less intense and taking the pressure off both you and your child.
Then, start with "teachable moments." Instead of asking your child what they think about a certain topic, ask them what they've heard and go from there. Or use a movie, current event, or family experience as opportunities to break the ice and get dialogue going.
Kids of all ages are curious about the various topics surrounding sex, and that is both normal and natural according to Gelperin. But she notes that society has some shame and stigma wrapped up around sex and kids absorb those messages. In addition to talking, provide some resources in case something comes up that your child may be curious about, but not ready to talk about just yet. Gelperin recommends looking for books at library, having some at home, or providing vetted information (like at AMAZE or Planned Parenthood) from the web.
AMAZE.org offers up some fabulous resources, specific to kids and adults alike. Parents in particular will appreciate the "Parents Playlist," which includes 10 videos with titles ranging from "How Do You Talk to Young Kids About Sex" to "Where Do Babies Come From" to "Is Playing Doctor OK?. These animated clips will offer jumping off points for conversations and help train parents how to talk with their children about sex, health relationships, growing up, and more.