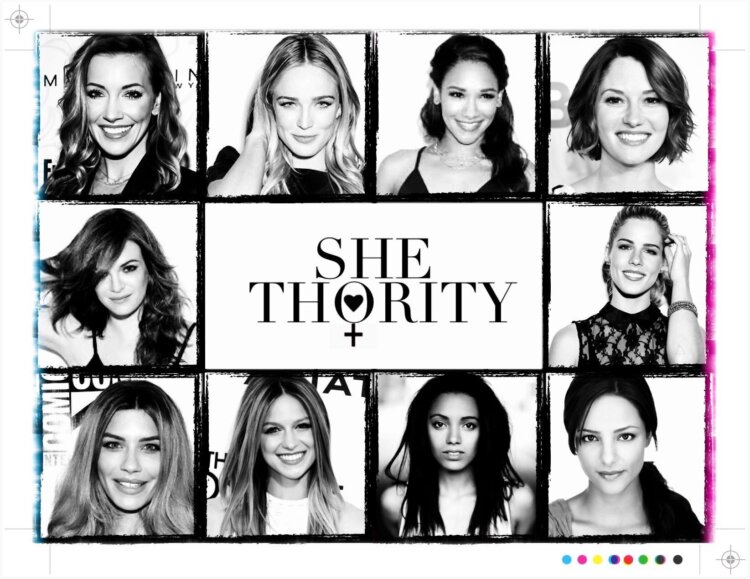 The women of the DC superhero shows on the CW network are total badasses, both on and off the screen. When they're not kicking butt on shows like The Flash, Supergirl and Legends of Tomorrow, they're a part of Shethority, an online global collective dedicated to discussing the various issues impacting women, while working to better empower and support one another.
Started by co-workers and friends Caity Lotz (Sara Lance, Legends of Tomorrow) and Candice Patton (Iris West, The Flash) in 2016, Shethority has become an online community where both DC TV actresses and their fans alike share personal stories via blog posts and videos, join in the book club, and participate in discussions about issues impacting women. Inclusivity is an important part of Shethority's mission, providing a space that makes it clear that all are welcome: women of color, trans and non-binary women, queer women, and those whose voices have been marginalized in society. In addition to their site and active social media accounts, the women of Shethority are speaking on panels, where folks can come and engage in the dialogue they hope to create.
We recently spoke with a handful of Shethority members to learn more about how the group came to be, the need for more varied representation in media, and what lessons they have all learned along the way. Read on to see what Candice Patton, Maisie Richardson-Seller (Charlie/Amaya, Legends of Tomorrow, Tala Ashe (Zari Tomaz, Legends of Tomorrow), Nicole Maines (Nia Nal, Supergirl), and Danielle Panabaker (Caitlin Snow, The Flash) had to say.
GROK NATION: Tell us about the origin of Shethority. How did everyone get involved?
Candice Patton: Caity and I formed a friendship working on these shows. We would see each other at different press events, became friends, and started sharing our experiences. A lot of it came from meeting fans across the world at these conventions and not really having the opportunity to have in-depth conversations with them. These fans would come up to us and say, "Your show changed my life, your character changed my life, and this is what I'm going through as a black woman, as a queer woman," as whatever they were going through in their life. We felt upset, in a way, that we couldn't extend those conversations with our fans. Caity and I had just been hiking in Vancouver, and we were thinking about how to continue that conversation, and that's how Shethority came about.
Maisie Richardson-Sellers: We came up with the name, which is meant to be a combination of finding your own authority, and energy and female power that we all share. And then we all just reached out to other women across the shows.
Tala Ashe: It sort of happened organically in our green room waiting to shoot Legends when I heard Maisie and Caity talking about it. I leaned in, and they leaned in… it wasn't a formal, "Do you want to be a part of it?"
Nicole Maines: I started getting involved in Shethority when I met Caity during Comic-Con. She told me how it got started, where they were going with Shethority, and what it's all about. I thought it was something we really need to be seeing more of in television: Women supporting women, and women talking about women and feminist issues.
GROK NATION: Why is the theme of empowerment and diversity on Shethority so important?
Maisie: I'd say like 98 percent of film directors I've watched on TV are men. Ninety percent of producers are men. It's such a male-dominated environment and that sadly has consequences for women on the set in terms of equality of pay, equality of treatment, you know, really fundamental issues that we should not still be having to deal with.
Danielle Panabaker: There is still room to grow. Greg Berlanti is really doing a great job with this from his vantage point of trying to encourage diversity. Selfishly, I'm being given the opportunity to direct Flash this year, and that's because they really believe in me and are actually putting their money where their mouth is and supporting women in front of and behind the camera.
Tala: We're sort of spoiled this year on Legends where every day there's so many women on set that we officially outnumber the men. It's a nice energy.
GROK NATION: One thing that the DC shows do well is diversity in representation. So many of you are firsts! First trans TV superhero, first Muslim TV superhero, first black woman to portray Iris West on TV. Tell us about the importance of these groundbreaking milestones.
Candice: The impact of Iris being cast as a black woman is so monumental, and I think the effects of that will last for a very long time. People from this generation, and on, will remember Iris West as an African-American woman, and that's a very powerful thing. She's a wonderful character, who is so strong and determined and loving and all of the things you respect in a woman. And so often we don't see black women portrayed in that way on screen.
Tala: Like a superhero, there is responsibility. It's something I take really seriously, portraying the first Muslim American superhero. I don't need to tell you or anybody else about the general depictions of Muslims or Middle Eastern people in our entertainment, essentially since 9/11. Growing up, I didn't see myself reflected ever on television or in movies and even now I still see a lot of problematic depictions of Middle Eastern characters on TV and theater.
Nicole: I think it's really, really empowering for a lot of people to see trans folks represented in such a positive and a realistic way. A lot of the time our story arcs are dominated by our transness, and we kind of exist to educate viewers, to educate showrunners and to educate other characters on the show. But Nia's purpose is more than that. She has a story-arc outside of her transness and is allowed to be more than trans.
Tala: For me, it was really important that Zari portrayed someone very nuanced and that she wasn't just this one-thing. That her culture and her religion was not the thing that defined her. And that she's this human being who has many, many facets. Like all human beings.
Maisie: Representation of LGBTQ status and race are extremely important to me—beyond just sort of standard, sidekick characters.
Candice: A lot of my work beforehand was playing the best friend or the sidekick! So to be able to play a woman who is the hero, the love interest, the leading female, the desirable woman of the hero. These are the things that women of color need to see, they need to feel desirable and strong and beautiful and all of those things—because they are.
Maisie: So many people aren't able to experience exposure to different people on a day-to-day basis, so they often get that exposure only on the screen. That's why, to me, it's so crucial to have that positive, diverse, textured layers, complex representation. Not just representation for representation sake.
Nicole: And everybody deserves to have a superhero that they connect with; a superhero that they look like.
Education is how @maisie_rs combats the challenges she faces as a woman of color #shethority #femaleempowerment pic.twitter.com/h5iQLtg4EU

— SHETHORITY (@shethority) October 26, 2017
GROK NATION: Shethority is about providing a platform and community space for girls and women. What is something that you have learned about supporting one another that you'd want to share with them?
Danielle: So often, we're afraid to ask a question because we might appear stupid or ignorant, and that is only going to perpetuate the issues. It's so important to speak up to try and learn and have conversations with the women around you.
Tala: In my life, my female friends have been the most important thing in buoying me and supporting me. Finding a community of people who understand you and who you can be yourself around is essential; it's been essential to my growth. These friendships shaped me and they've helped me become who I am and who I continue to be.
Nicole: The most important thing I can tell young people and especially young women is not to underestimate the power that we have in our voices. As young people, we are made to feel like our voices don't carry as much weight, that because we don't necessarily have as much life experience or you know time logged into this world as older folks, that what we have to say matters less.
Maisie: It's up to us to really make our voices heard and to come together as our own community to stand up for each other, cause it's really hard to do it by yourself.
GROK NATION: What can we expect from Shethority in the future?
Candice: I continue to desire to see Shethority to be something that is bigger than us. I am very happy that the women of DCTV came together to use their voices, and their platforms to give, to shine a light on this initiative. And I'm really proud of that. But our experiences are limited, and so, we really want the fans and people to connect with Shethority, to think about what they're going through and to write articles. Shethority is so much bigger than us. And so I just hope that we continue on that path.