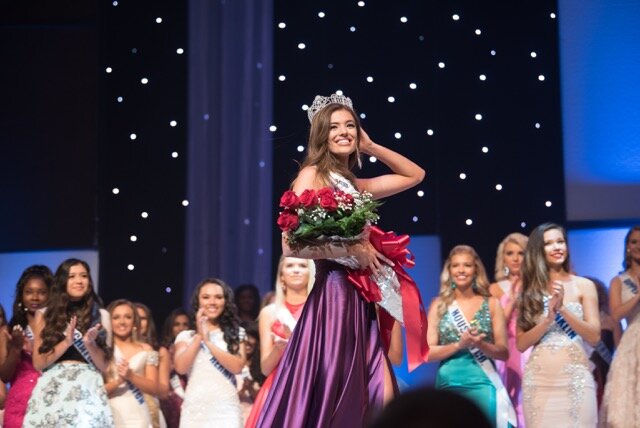 The modeling world is a funny thing—as beautiful as a photo can be, it reveals nothing about the woman's internal battle. At just 19 years old, I've already experienced five years of people telling me I'm not good enough. I'm not thin enough. I'm too tall. I'm not the "ideal" proportions.
Those words sting.
The things I had once loved about myself suddenly became flaws standing in the way of my lifelong dream. And when you hear critical words almost daily, after a while, you start to believe them.
I first got into modeling when I was just 14. I was 5'11 and wearing a 00. I was signed with AMAX, an agency in Nashville, Tennessee, that helped me get my start. I was still in high school but was able to work on the weekends and absolutely fell in love with modeling both on camera and on the runway. I began to plan for an early graduation so I could invest in my career full-time as quickly as possible.
I was soon being pitched to the top agencies in the world and had several offer me contracts, including IMG, a top agency who represents stars like Kate Upton and Gigi Hadid. I was 15 when I was offered—and accepted—a worldwide contract with them. I felt this would be the start of my rise in the modeling industry.
Aside from my summer international travels for modeling, I maintained a normal high school life: I went to football games, hung out with friends and even joined the track team.
The first insight I had into the pressures and standards of the industry was when my NYC agent told me I needed to choose track or modeling. Because I was training up to four hours a day, I had developed quite a bit of muscle. He said that my body, especially my butt, had gotten too large. If I wanted a future in modeling, he explained, I couldn't do track. And despite my just becoming a state champion in the long jump (and knowing that scholarships were on the horizon), I quit track.
By the time I was 17, I finished high school a semester early and moved to New York City. I had also grown to be 6'2" and my body had changed a little as I had gotten older as well. But I was happy, healthy and enjoying life. With a heart full of dreams of what the future might hold, I went into my agency on my first day in Manhattan.
I'll never forget the first words my agent said when we sat down: "I could tell as soon as you walked in that you have some serious weight to lose."
I sat there, as a size 2, trying to process that information. He continued, "You are also very tall, maybe too tall. Clients don't want to hire someone your size." This is when reality came crashing down: This wasn't going to be easy. My first response was a willingness to do what it would take (within reason) to get to the size I needed to be. Although, there wasn't much I could do about my height.
After I was set up with a trainer who gave me a healthy, but strict, meal plan and workout regimen, I couldn't seem to make enough progress for my agency. I went into the office week after week to be measured and heard those same hurtful words every single time. I reached a point where I questioned whether I wanted to be a model at all. I began to feel a sense of worthlessness because I was only being valued for the way I looked. I was hurting and felt like I never wanted to even look in a mirror again.
The unexpected phone call from IMG came one day when I was having my coffee. "Sofie, we're so sorry, but at the size you are now, we can no longer represent you."
After a long period of silence I answered with a simple "okay" because I couldn't find any other word to express how I was feeling.
It was okay. It really was. I shed a few tears because this signaled failure in a sense, but at the same time, I felt so liberated. My self image had been twisted so severely that I started to believe those lies about myself. I wanted to be valued for something more than just the way I looked. I wanted to be accepted for the way that God made me without being asked to change.
RELATED: The world's most famous model with Down syndrome, Madeline Stuart is taking the modeling world by storm
After the initial sadness passed, I found myself happier than I had been in a long time. There was no one there to tell me I wasn't good enough or to point out my flaws. Freedom. The absence of that source of negativity in my life opened up the opportunities for me to be happy, healthy and thriving as my natural self again.
It feels so good to be able to love yourself and your body and realize that what we as women have to offer the world goes so much deeper than a pretty face or a thigh gap. I learned to love myself again, and while taking a break from modeling, I won the title of Miss Tennessee Teen USA 2018, something I never thought I could do. I had invested in myself in ways that went beyond the surface and helped to equip me for a brighter future.
In the winter of 2018, a little less than a year after my contract ended with IMG, I was signed by JAG Models. JAG is an all-inclusive agency that focuses on celebrating all shapes and sizes of women who are living healthy lives and are breaking the molds of the conventional beauty standard. I'm so proud to stand next to these women as we work toward inclusivity in the industry. I am now working and doing better than ever in this industry that is slowly but surely changing.
I have been able to work with designers like Zac Posen, Christian Siriano, Sherri Hill and Carolina Herrera, all of whom are playing active roles in reforming the industry to be more inclusive. My agency and these designers care about me so much, not just my size, and I know all too well that's not easily found in this industry.
It's hard not to think about what my life would be like now if I had accepted a track scholarship offer from a NCAA Division 1 school instead of pursuing modeling. My life would be different, for sure, but I know I would not have learned the important lessons that I did—and I definitely would not have been as well equipped to use that to help others.
And I do want to help others because I know my story is not unique. The current traditional modeling standards are impossible; they make many girls dislike their natural shape and choose unhealthy lifestyles to try to achieve them. And while I never made any unhealthy choices, I was certainly wasn't healthy mentally. Despite what my social media communicated to the rest of the world, I was really struggling. Thanks to some time away and a new agency that supports me, I have come out the other side of that. I know that those lies I was told about myself and my body may be the norm, but it shouldn't be.
I want to work with men and women in the modeling industry to change these standards and focus on celebrating the many shapes and sizes of women's beauty. I hope to empower people through my story.
I was told I needed to change, but really it is this industry that needs to change.