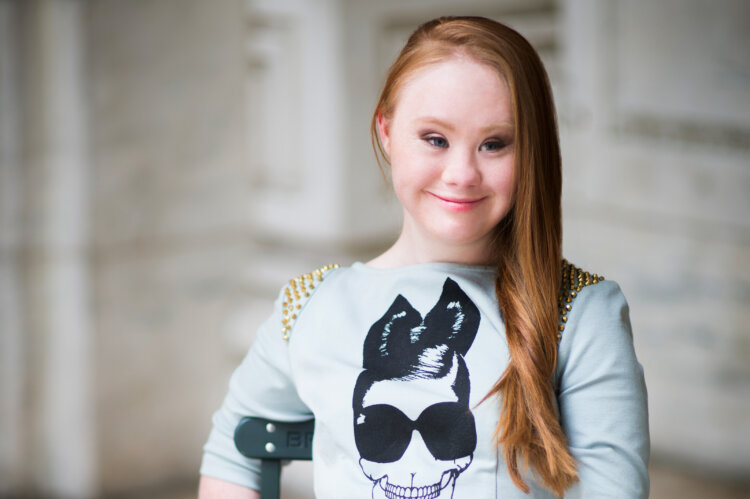 Allowing your daughter to go into the modeling industry isn't a decision that any mother would make lightly—but it was an especially hard decision for Rosanne Stuart. It wasn't tough simply because her daughter, Madeline, has Down syndrome. After all, Rosanne let Madeline do whatever she wanted: She's tried cheerleading, gymnastics, indoor skydiving, jet skiing, soccer, football, rugby, and even Australian rules football. It wasn't that Madeline couldn't do it; it was a question of if she should.
"It absolutely terrified me in the beginning," Rosanne tells Grok Nation. Rosanne herself had dabbled in modeling when she was young and thought it was "full of sleazy people." Ultimately she wasn't interested, but Madeline was. And all it took was attending a fashion show in 2015
"She had never seen a fashion show before because we don't watch television very much," Rosanne explains. "As soon as we walked in, she turned to me and told me she loved it and wanted to do it."
After getting over her initial surprise (Madeline didn't even like to wear makeup before this), Rosanne organized a photo shoot to familiarize her daughter with what being a model truly meant. She wanted to make sure it was something she would enjoy before they pursued it in earnest. So they did the shoot, and Madeline "absolutely loved it."
But that still left a tough decision for Rosanne: whether she wanted this kind of exposure for her daughter. "I submitted the photos to a few very private Down syndrome Facebook pages, and I asked parents' opinions because I am a single mum," she says. "I talked to a lot of friends about it. I talked to a few people in the media about it, like PR people who had been doing this sort of thing. I showed them the photos and said, 'Am I exploiting my daughter? Am I putting her in danger? Am I setting her up to fail?'"
And overwhelmingly the response was positive. So Rosanne started a public Facebook page with Madeline's new photos and before they knew it, the images had been viewed by nearly 7 million people. Just three years later, since that viral moment, Madeline has walked in runway shows around the world and appeared in pages of major magazines such as People, Marie Claire and even Vogue Australia.
Like any mother would, Rosanne gets choked up when talking about the call she received from Vogue Australia asking if Madeline would be in a feature story. She says it's comforting to see how her daughter is receiving acknowledgement for the work she does, but she doesn't want it to stop there: "I hope one day Vogue will call and say they want to put her on the cover."
Although she has no problem walking down a catwalk, Madeline doesn't really like being interviewed or live events where she must talk. "Madeline has trouble with her speech, so it's her kryptonite," Rosanne explains. "It's been the biggest hurdle for her." That and the long, 8-10 hour days on set and extensive travel. Luckily, she always has her mom-ager by her side.
But Rosanne is no Kris Jenner. She's not in this to get her daughter's face out into the world—she's in it to help her do what she loves. And if that also means that the world can learn a little bit more about people with Down Syndrome in the process, so be it. "Madeline has Down Syndrome, yes, but she is still a human being and she still deserves respect and still needs to be treated like everyone else," Rosanne explains. "People say that people with disabilities don't give back to the world, but the things that Madeline has done—she hasn't cured cancer or invented some rocket—but the way she is changing people's minds is just as important."
And, ultimately, Rosanne says that's what she and Madeline hope to achieve through all of this: "If you want to change the world, and you want people to understand that having a disability isn't the end of the world, then you need to get out there and tell people about it and the only way to do that is to be in the public eye, so that is what we are trying to do."