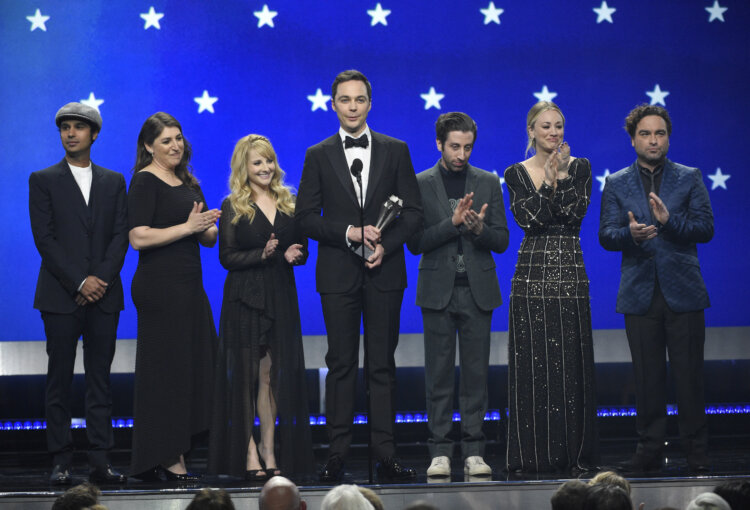 The Critics Choice Awards were last night, and although I was not nominated (I have won twice—once three years ago and once last year!), Jim Parsons was nominated for Best Actor in a Comedy Series and the entire cast of The Big Bang Theory presented our boss, Chuck Lorre,  with the Critics' Choice Creative Achievement Award.
Many, many amazing things happened last night! Even if you did watch the award show, here are a few behind-the-scene things you may have missed…
My stylist, Adena Rohatiner, helped me find a dress by Tadashi Shoji that I felt very comfortable in, despite almost always feeling not comfortable. She let me wear fierce crystal-studded safety pin earrings by Brooke Rayn along with an extra "firework" stud on one ear… I tend to be edgy in ways that are not red carpet appropriate; she made me feel like I had some of my own flair in this look with this earring fun. Thank you, Adena!
Social media everything person Natalie Koch came with me! She lives in Iowa but was in town for a bachelorette party, and she extended her trip to come with me to this awards show. It was fun to get all dressed up together and have her with me both because she made sure to remind me to take pictures with people and also because I really enjoy her company. She's a great buddy. Here's us in the car on the way to the awards show.
I met lots of famous people I admire. Because I was hanging mostly with Jim Parsons and Simon Helberg backstage, many famous people came up to them and I decided to insert myself into conversations with Eugene Levy, Ben Stiller and Patricia Clarkson. Wowza. I made major eye contact with Sarah Silverman who hugged me and said "Two Jews," and I told her I never wanted the hug to end. Chrissy Metz had literally the fiercest smoky eye I've ever seen, and I told her so. Man does she have gorgeous eyes. Rachel Brosnahan (in a very cool white pants suit) said hi to me and was so sweet! It was really a lovely event and people are pretty friendly and not as nervous as they tend to be at some of the other awards shows, so the vibe was just really light and fun and good.
When presenting Chuck with his award, our cast all got to say something about Chuck based on his "vanity cards," which he posts at the end of every episode of his shows. I'm just going to be honest here: As much as it was a thrill and honor to present this to Chuck, Lady Gaga—LADY GAGA—was sitting feet from me and I majorly tried to make eye contact with her. I'm pretty sure I succeeded and she smiled, and I just really lit up inside when that happened. Mahershala Ali did not engage in eye contact no matter how hard I tried. You win some, you lose some. 
I ran into the stunning hilarious Rachel Bloom who brought her parents with her to the show. A. That's super brave because I don't know if I would ever do that with my parents…and B. It was adorable and we took pictures together and her dad did that thing dads do when they compliment your friend right in front of you. For the record, Rachel, my mom would do the same thing if we ran into you. She would say, "She's been on the cover of Allure and in Elle magazine and on the cover of The Jewish Journal, Mayim!" And I would say, "I know, Ma. I know." Thank you Rachel for posing with me and your folks. Love this picture.
Awards shows are a mixed bag for me. Famously uncomfortable in my own skin, being on display can be hard, but tonight was a real pleasure. Natalie was with me, I felt good in my dress, I loved the hair (thank you, Emily Dawn!) and makeup (thank you, I love you, Chanel Cross!) and I was as relaxed as one can be when one has social anxiety. All in all, this was a successful night!
Congrats to all of the winners!