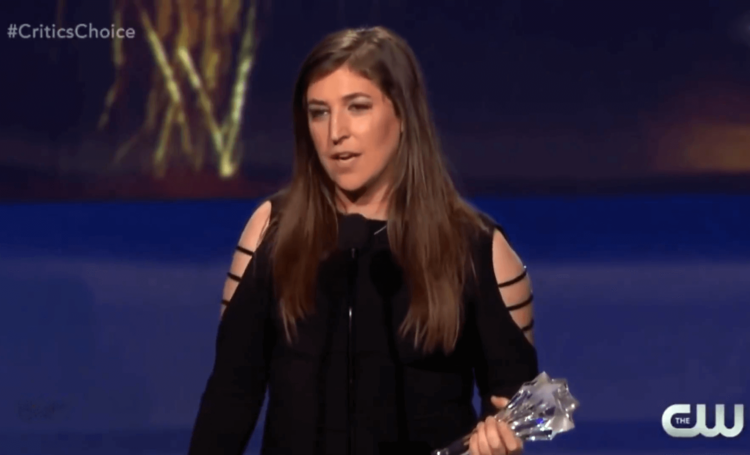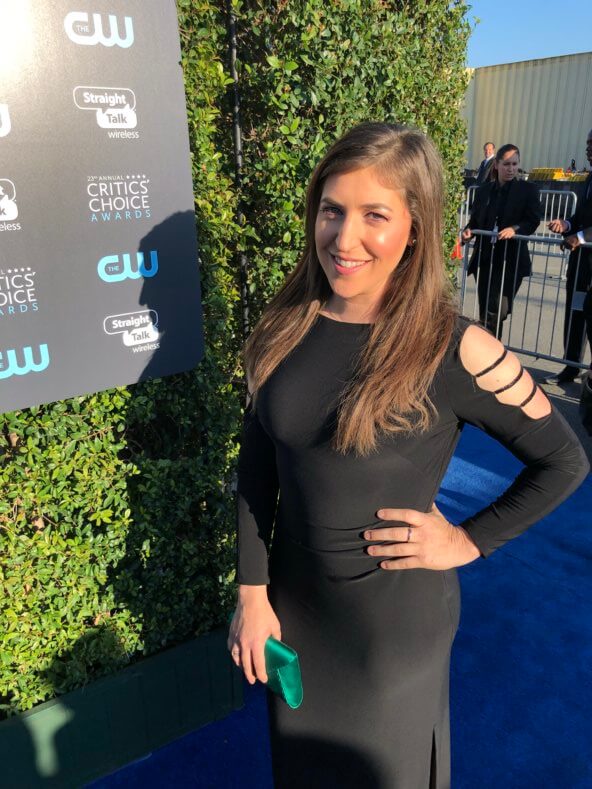 What a night at the Critics' Choice Awards! And what a shock and honor it was to receive this award.  Here are six behind-the scenes highlights from the night. 
Who was I wearing? The dress I wore to the awards is a Ralph Lauren dress that is literally from Macy's. Not kidding. My stylist Adena Rohatiner prefers that I wear fancier things, especially for awards shows, but I just loved it and it was so comfortable so I wore it.
Fingers and toes. I don't get manicures or pedicures. I paint my own toes because Adena says I have to in open-toed shoes (which were, btw, from Aldo). I procrastinated as long as I could and painted them literally 5 minutes before I started hair and make up. I felt so certain I wasn't winning I didn't even bother to paint my stubby gross bitten nails. Not even a clear coat which Adena says I should do even if they are stubby, gross, and bitten.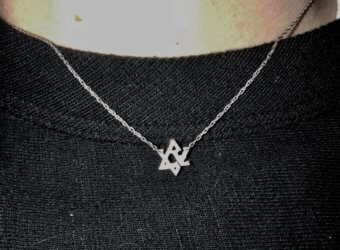 A rebel, but with a cause. I did something naughty which I bet my stylist assumes I'll always do even when she explicitly tells me not to: I wore a Jewish star. We looked for one that would be "red-carpet-worthy" in time for tonight, but couldn't find one. Technically, wearing a necklace distracts from the dress, especially the kind of dress I wore which had arm details. But before I left the house, I snuck my tiniest one on. I wanted that safety with me. My Shield of David. I tucked it in for the red (or actually, blue) carpet. But by the time I arrived, it was almost showtime; the reception area on the carpet was too crowded and people much more famous than me were being moved to the front of the line but I was stuck. And I didn't get to walk the carpet. (Oh well.) So I took my Jewish star out. But then I won. And it got to be seen. It makes me happy. This necklace also spells out the word "love" – it makes me feel loved.
I was so unprepared to win that it's not even funny. Because it's not just me being modest and assuming I won't win; I was the only one who had been previously nominated in this category; and all of the other shows are hip and new and I felt like the old hag at this party. When I won, I left my body because it was truly not happening as far as I was concerned. And I forgot to thank my lawyer and mentor Shep Rosenman and I hate myself for that. I think I mentioned people I was supposed to: agent, manager, etc. And our wonderful cast and our phenomenal writers who really deserve this award. Phew. Oh wait: I forgot to thank Warner Brothers and CBS and Peter Roth. Darnit!
I hadn't been feeling well all week. I am getting over strep throat and my voice is hoarse and my stomach has been giving me problems and – let's just be really honest right now – I started my period today and I did not need that complication (if you think peeing out of the crotch hole of SPANX is hard, try to imagine dealing with lady protection through that crotch hole). My heels were very high. I felt low-energy, which is very unlike me. So I was not feeling very good at all. I was trying really hard to put on a good face for losing. And then I won. We plan, God laughs.
My celebrity (port-a-potty) encounters. I did not get to meet Gal Gadot. Or Greta Gerwig. But! I accosted Saoirse Ronan in the port-a-potty bathroom which they have for these kinds of events, and they have like three stalls, but they're just glorified port-a-potties, and she and a few other women were remarking how foul this one smelled. Indeed, it smelled bad and I'm not usually that bothered by that kind of stuff. Anyway, I could not help it. I said hi. And she said NICE THINGS TO ME and I may have started to cry and she laughed and hugged me and I shouted to ManFriend Rob as Ms. Ronan exited the port-a-potty, "Baby! Do you see what is happening here?!" and he laughed. And she did too. So, yes. I still geek out when I see celebrities I admire. Especially her. (As the photos below show, I also enjoyed moments with Jim and Kaley, and Rachel Bloom.)
It was an exciting night. But I know there are so many more important things going on in the world right now. Women fighting to be heard, an industry and a world coming to reckoning with so many secrets and lies, the President calling Haiti and African countries "shithole countries"…this night is one night in a long life.
But for one moment, I was free of all of the things I think about all day. And although today is just another day: a check-up for my throat, therapy, hanging around with my boys, doing laundry and baking my friend cupcakes for her birthday this weekend, I am grateful for that one moment of gratitude and shock and a sense of accomplishment.
And the biggest accomplishment of all was being able to take off my SPANX before they cut off my circulation. So…victory!
Thanks to all of you for your supportive messages and love during this process! I am so grateful.
If you missed the livestream, here's Harry Connick Jr. presenting the Best Supporting Actress in a Comedy award. 🙂