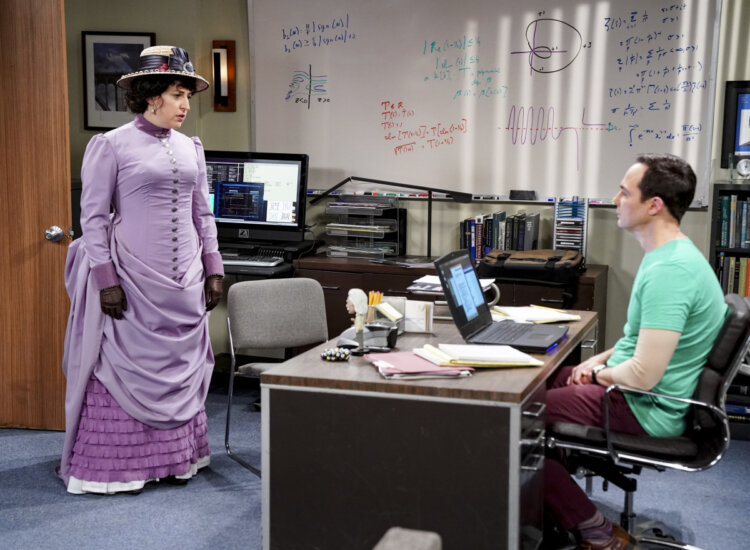 Ooooh it's so spooky! It's our Halloween episode!
Thursday's show, "The Imitation Perturbation," was so much fun! Our show is known for going all out for Halloween. I mean, our characters are totally the kinds of people who would go all out, and we have had over a decade of Halloween fun!
My favorite Halloween costume I have been in for The Big Bang Theory was when I was Raggedy Ann with Sheldon as Raggedy C-3PO, but I think this year topped even that. This episode was one of those where it felt impossible to film in front of a live audience, but we did it! I had to be in two wigs and my regular Amy costume. We pre-taped one of my wig costumes, but the other we did live in front of the audience and then we had to do a quick change to get me back into Amy hair. It felt a little bit like live theater!
Let's back up for a minute, though!
This episode featured drama between Howard and Sheldon, which becomes drama between Amy and Bernadette, which culminates with Amy and Sheldon changing their costumes from Back to the Future Part III (Doc and Clara Clayton) to dressing up pretty darn accurately as Howard and Bernadette.
Now, dressing up as 1880s Clara Clayton was one of my most favorite costumes and I'm sorry I could only wear it for one scene. I LOVE that period, and I love the bustle and the layers and the high collar and the gloves and the structure of the dress and the petticoats and the high Victorian style boots and just all of it. The wig was so heavy, but I love being a dark brunette. Jim Parsons said that wig changed the whole shape of my face, and it was so fun feeling so different for a scene! I loved it so much. Click through the gallery below to see all the behind-the-scene images from the episode.
Playing and mimicking Melissa Rauch's Bernadette was hard because I'm so close with her. I wasn't able to really mimic her fully until I was in the wig and full costume. I have always been a mimic since I was a little girl, and I felt like her little walk and her voice made their way into my body. But I'm half a foot taller than her and possibly 100 pounds heavier than she is, so I also felt like this strange version of her so it didn't feel quite right. But it also felt so right!
When I watched the scene played back the next day, it felt like a strange dream I was watching. It looked like her on first glance, but then it didn't. Because it was me! It was so hilarious to see Jim as Wolowitz standing next to me with that wig; the whole scene was so funny to do, and I wish it was a longer scene because it was so much fun. I was getting over being sick, so I actually wasn't pleased with my voice; I couldn't get it into the highest register to do a proper Bernadette voice, but I think it came out OK.
I also cannot get over how gorgeous Melissa looked as a brunette Mary Poppins. I vote for her to become a brunette! And Simon as Dick van Dyke made me crack up every take. Brian Posehn in that wig was ridiculous. Johnny Galecki as Inspector Gadget?! That was one of my favorite shows as a kid! It was a super fun episode, what can I say!?
I can't believe that it's our final Halloween episode. I hope everyone was pleased. It feels like every "milestone" episode will have this bittersweet feel…this episode was no exception.
Happy Halloween to all!