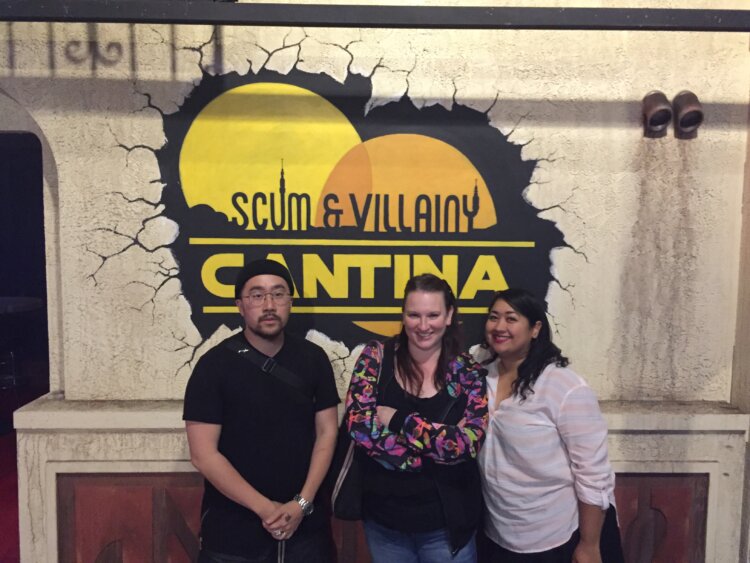 It's a place for Jedis, Browncoats, wizards and Hobbits, where you could find a pilot with a fast ship and argue over who shot first. It's where everybody knows your Hogwarts house and the music brings back memories of Serenity, the Millennium Falcon and a certain DeLorean that goes 88 miles per hour. Welcome to the Scum & Villainy Cantina, a Hollywood bar where all fandoms are welcome. It's like Cheers at Comic-Con. In other words, it's a place for someone like me.
I am a fan of sci-fi and fantasy, going back to the days of Wizard of Oz and the Narnia Chronicles; I'm a fan of Buffy and Firefly, and of course of Star Wars. But I always knew I wasn't among the biggest fans, the ones who would wait outside for weeks for tickets to a movie, the ones who hoard and sell franchised merchandise, the ones who spend all spare dollars and vacation time hitting the the halls of Comic-Con in realistic and committed cosplay. (Although those are all fine people, some of whom have written for us.)  Scum & Villainy–a bar named after my favorite one of Alec Guiness' lines in Star Wars: A New Hope, see clip below–provided me with a glimpse of what it might feel like to immerse myself in my identity as a fan of multiple franchises, and it was Marvelous. 🙂 (It's got drinks and food that are Marvel-themed, too, get it?
In SW: ANH, Obi-Wan warns of the dangers of Mos Eisley spaceport, but most creatures in the Tatooine cantina reflect the upbeat quirkiness of the bar's trademark song (admit it, you're humming it now) instead of active danger. At Scum & Villainy, it's all of the quirk and none of the danger; on a Wednesday night at opening time, we were the only ones there other than one man who claimed to know George Lucas. Later in the evening, more people–mostly in tee shirts and jeans–arrived for trivia, but the bar still wasn't full.  Decorated in Tatooine cave design, the drinks and the food are nothing to write home to Kashyyk about–although a Texan-born member of our crew was really excited about the queso–but the menu that describes them is a masterpiece by someone with both vast knowledge of geek culture and a sense of humor.
Our group of four, assembled to talk about our upcoming panel about Star Wars and Faith, ordered the Wretched Blue Milk to start with, which tastes like a pina colada. Then a few of us moved onto the Wakanda Whiskey, named after Black Panther's homeland. The menu features calamari, which comes with the description, "It's a trap, a delicious trap. Served with Ackbar red sauce." (Admiral Ackbar, as Star Wars fans know, is a member of the Mon Calamari race.) And the breaded and fried cheese sticks called "Gaffi Cheese Sticks" are served with the #toosoon description of "Extra crispy like your favorite Uncle Owen." Gross.
One of the fun things about this bar–a former temporary pop-up that has found a permanent home on Hollywood Boulevard–is that it's open 6pm-2am every day, there's no cover (except for some special events) and from 6-8pm, you can even bring in minors who may want to experience cantina life. After 8pm, the action changes, with a different event on weeknights: Mondays are board game nights (6p); Tuesday features a Lord of the Rings podcast (5:30p) & sometimes the Kevin Smith Podcast (7p, 21+ only, for which tickets are required); Wednesday: Trivia from Geeks Who Drink (8p); and Thursday: Karaoke (9p). We were there for some of geek trivia by accident and played two rounds of questions on everything from song parodies to sports; further research is obviously required. Costumes are always welcome but not expected or required. And occasionally a geek-universe actor will pop by: in addition to Smith hosting his podcast there, Greg Grunberg (Lost, Heroes, The Force Awakens) and Ray Park (Attack of the Clones) have stopped by. (See their instagram for more.)
It's also important to remember that not everyone loves a cantina. Our hearts go out to Ponda Baba a.k.a. Walrus Man (see excellent Robot Chicken clip below), who might suffer from PTSD if he set foot in this particular cantina. But the rest of us can find our geektastic home at Scum & Villainy.
For more info about the Scum & Villainy Cantina, visit them on Facebook.