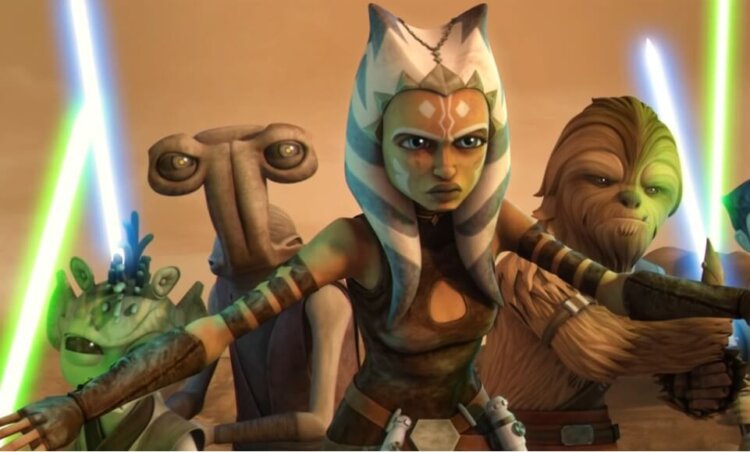 The Star Wars franchise has made its home on the big screen with the three trilogies and a variety of standalone anthology films, the first of which was last year's "Rogue One." But two animated series, "Star Wars: The Clone Wars" and "Star Wars Rebels," have expanded the Star Wars universe on the small screen, fleshing out well-known characters and introducing new ones — most notably, fan favorite Ahsoka Tano.
For fans of the 2008 animated series "The Clone Wars," Ahsoka has become as beloved and iconic as any of the original trilogy characters. Indeed, the recent Star Wars Celebration in Orlando held a third annual Ahsoka Tano Appreciation Day, and it was announced that the character would be included in July's all-female "Forces of Destiny" animated shorts (also featuring Jyn Erso from "Rogue One," Leia Organa, and Rey from "The Force Awakens"). And yet, as exciting as this project is, there is so much more that can be done – and I believe this begins with giving Ahsoka Tano a live-action film of her own.
Introduced as Anakin Skywalker's apprentice over the course of five seasons of "The Clone Wars" the young Togruta stole Star Wars fans' hearts, becoming the center of "The Clone Wars" (set between "Episode II: Attack of the Clones" and "Episode III: Revenge of the Sith) and through her appearances on "Star Wars Rebels" (set just a few years before "Episode IV: A New Hope"). Quick with her two lightsabers and a sassy one-liner, Ahsoka is bold and gutsy, talking back to her master, Anakin, like no padawan ever should (and it's glorious). What she lacks in size she makes up for in spunk, and though her bravado often gets her into trouble, her indoctrinated sense of justice – and her feisty, acrobatic fighting technique – inevitably enables her to get herself back out of trouble, as well.
Her emotionally connected temperament is unusual for a Jedi, as blatant displays of sentiment are ostensibly looked down upon by the rigidly stoic Jedi of the "Star Wars" prequel era. But Ahsoka is affectionate: she calls Anakin Skywalker "Skyguy" (he, in turn, calls her "Snips"), she spends an episode unironically caring for a slug-like baby Hutt, and she inspires loyalty from Jedi younglings and hardened Clone Trooper soldiers alike.
In that sense, Ahsoka is the perfect padawan for the rash, overtly emotional Anakin Skywalker. Indeed, the "Snips and Skyguy" rapport is one of the most gratifying relationships to emerge from the "Clone Wars" series. Far from detracting from the legendary Obi-Wan Kenobi / Anakin Skywalker dynamic (which is also explored in "The Clone Wars") Ahsoka complements each of them, reflecting Obi-Wan's wisdom and Anakin's heart.
Having learned important lessons from the Jedi masters, Ahsoka ultimately becomes  disillusioned after a false accusation propels her to leave the Jedi Order. Later, she becomes integral to the formation of the Rebel Alliance on "Star Wars Rebels" and faces off against her former master – now known as Darth Vader – in one of the most cathartic showdowns in the Star Wars saga. And there is much, much more to Ahsoka's story.
My own enthusiasm for the character is largely what drew me back into the Star Wars fandom. After meeting Ashley Eckstein, the voice actor who plays Ahsoka on the animated series, I resolved to design my own Ahsoka Tano cosplay for the next convention I attended: Anaheim's WonderCon in April. I lost count of the number  of little girls, little boys, and grown men and women who lit up at the sight of my costume. Likewise, this was one journalist's takeaway from Star Wars Celebration a month later:
So far, my biggest takeaway from #SWCO is just that people f'ing LOVE Ahsoka

— Rachel Paige (@rachmeetsworld) April 14, 2017

The fact that Ahsoka Tano is female is significant. In the original trilogy, women other than Princess Leia share a grand total of 63 seconds of dialogue. In the prequel trilogy, all of the women except Padmé Amidala are background characters, and none of the female Jedi utter a word (except for Jocasta Nu, useful for plot exposition and not much else). As the first main female Jedi in the Star Wars cinematic universe, Ahsoka Tano is not just a cool character – she's a vital one.
The creative team at Lucasfilm gets high marks for prioritizing Rey in the current trilogy and Jyn Erso in "Rogue One," and the "Forces of Destiny" announcement is exciting, but we need more. Three-minute videos on YouTube just isn't going to fulfill an equality mandate, and an Ahsoka cameo in the Han Solo movie or a probable Obi-Wan Kenobi film would miss the point entirely. What would really demonstrate a commitment to a more female-friendly galaxy while also providing fans with exactly what they want? A full-length, live-action standalone film starring Ahsoka Tano.
There are plenty of potential plot ideas for an Ahsoka movie. The early cancellation of "The Clone Wars" left a huge gap in Ahsoka's story, so a standalone film could explore Dave Filoni's original plan to plunge Ahsoka into the criminal underworld. Though E. K. Johnston's fabulous "Ahsoka" novel gives us a peek at how Ahsoka lived her life in exile after the events of "Revenge of the Sith," we only get a glimpse of how Ahsoka helped kickstart the Rebel Alliance alongside Bail Organa (that's Leia's adoptive father, played in the prequels by Jimmy Smits), something that could be explored on the big screen. And one clever fan, through a three-part YouTube series, suggests introducing an older Ahsoka Tano to train Luke Skywalker in the ways of the Force in between "The Empire Strikes Back," when Luke lost his hand and learned who his father was, and "Return of the Jedi," when he swooped in on Jabba the Hutt to save his friends, as a fully trained Jedi.
The concept of a live-action Ahsoka movie has gained more traction in recent weeks, after Rosario Dawson responded to a fan who suggested she'd be a perfect fit to play Ahsoka on the big screen. Dawson, whose geek cred is very strong, openly expressed her enthusiasm for the idea, and fans have been ecstatic. Eckstein is still the obvious first choice, especially given her intrinsic connection to the character and the fact that she's made a living promoting female fandom as the founder of Her Universe. But casting Dawson, a fantastic actress of color, would represent an even bigger step for on-screen diversity efforts.
The entire "Rogue One" film emerged from just a few lines of "A New Hope's" opening crawl. With Ahsoka, there's an even more enticing treasure trove of untold tales to explore. So in considering Ahsoka's potential future role in the big-screen Star Wars stories, I gotta say: I'm with her.