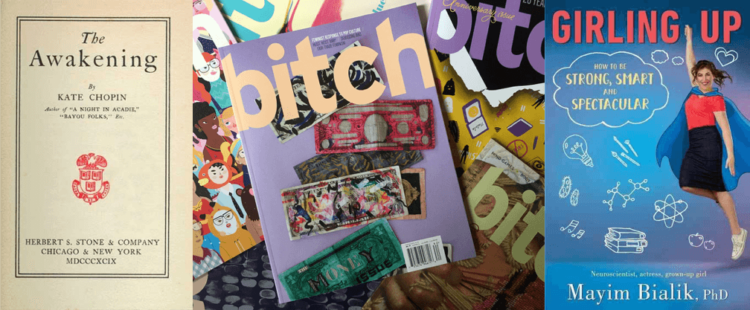 After a long day of activism, protesting and bra-burning, what feminist doesn't love to curl up with their favorite book or Netflix series? All joking aside, in a society that is saturated with all sorts of media, it can actually be a breath of fresh air to find content — from the serious to the frivolous — that has a feminist framework.
We've had many requests to share some of our favorite feminist media picks, so we gathered our cabal of feminists and asked them to share with us the books, websites, movies, and TV shows that thrill them. And perhaps, they'll end up being some of *your* new favorites!
Naseem Jamnia: "At the top of my feminist site list is The Establishment, Bitch Media, and Everyday Feminism. I love the way they parse out the news, break down different -isms in our society, really showcase what it means to be a feminist. But I also turn to feminism in the other medias I consume. I specifically look for feminist-minded sites, actually, and put down things that perpetuate harm. For nerd culture, the thing I care about, my favorites are Women Write About Comics, The Mary Sue, and The Nerds of Color. I also personally try to add to the body of feminist work, so I do a weekly essay series called the Tuesday Telegrams that details growing pains and becoming an adult in this time through the lens of intersectional feminism."
Jennifer Pozner: "I'm proud of the three years of writing and research, ten years of TV monitoring, and lifetime of feminist media analysis I invested in my first book, Reality Bites Back: The Troubling Truth About Guilty Pleasure TV, which exposes the way reality TV functions as backlash against gender and racial justice. I also still enjoy Reality Rehab, the media literacy web series I created (and co-wrote with playwright Stephen Gracia). Now that that's out of my system, my current fave feminist media include women-led outlets that publish important, challenging, accessible, intersectional reporting and analysis, and often do so with humor — such as Bitch Media, The Establishment, Rewire, and Reductress.  Oh, and props to The Onion which, although not strictly women-run, has been producing some so-real-it-hurts feminist satire lately."
Danielle Corcione: "Some books I'd suggest include: The Sisters Are Alright by Tami Winfrey-Harris, the New Jim Crow by Michelle Alexander, We Were Feminists Once by Andi Ziesler, We Should All Be Feminists by Chimamanda Ngozi Adichie, Men Explain Things to Me by Rebecca Solnit, Bad Feminist by Roxane Gay, Feminism Is For Everbody by bell hooks, Women Race & Class by Angela Davis and Redefining Realness by Janet Mock."
Deesha Philyaw: "My favorite feminist media is Bitch Media. From the print mag to the digital site to podcasts to cool products, I can always count on Bitch to keep it real. Special shout-outs to Bitch co-founder Andi Zeisler for the vision, to editorial director Lisa Factora-Borchers for carrying the torch unwaveringly and intersectionally, and to my favorite Bitch columnist, Tami Winfrey Harris, who writes Some of Us Are Brave.
I also love blackfeminisms.com. It's scholarly, but accessible. I go there for a deeper dive on subjects that I'm familiar with, like Toni Morrison, as well as to discover works, history and ideas I'm less familiar with, like about blues women and the Great Migration. Shout out to site founder Melissa Brown."
Veronica Arreola: "Given the moment we are living in where a reality TV host is now the President of the USA, I highly suggest picking up a copy of Jennifer L. Pozner's Reality Bites Back: The Troubling Truth About Guilty Pleasure TV. While a few years old, the reality TV playbook has not changed, if not gotten worse. Jennifer, one of my best friends, broke down the grossness of "The Apprentice" that parallels Trump's campaign messages. If only we had listened to her!! She has continued this analysis in the pages of Bitch Media, where I serve as a board member. These are two are not only informative, but entertaining. There's a reason why #HAHASOB is my fave hashtag lately."
Shannon Luders-Manuel: "My favorite feminist film is 'Just Wright' with Queen Latifah. There isn't anything particularly speculator about the film, but it goes against the trope of 'Girl meets boy, girl goes through a transformation, girl gets boy.' Latifah plays a tomboy physical therapist who wears jerseys and yells at basketball games. The film first follows the regular story arc of her love interest, a basketball player, getting together with the overly feminine antagonist. But in the end, all Latifah's character had to do to 'change' was to be brave enough to assert her interest. She is still completely a tomboy at the end of the film, wearing her jerseys and yelling at the basketball game. Only now she's with the basketball player and has landed a dream job as a sports therapist for the team due to her skills. I hope to see more 'chick flicks' take this route in the future."
Avital Norman Nathman: "I love that we have so much great content to choose from! When it comes to TV, two shows really stick out to me: 'The Handmaid's Tale' (Hulu) and "Sense8″ (Netflix), both streaming shows that put a twist on things we're probably too comfortable with and in particular gender and traditional norms.
As for books, three super-smart feminists that I adore all have new books and I think they are all really spectacular:
Jill Filipovic's new book, The H-Spot: The Feminist Pursuit of Happiness is a really clear and thoughtful look at the system we're all living in now and how it makes finding happiness for women much more challenging. Filipovic offers an outline for how feminism can be reshaped to continue fighting for what we believe in while also providing for happiness. If any book can squash the angry woman feminist stereotype, this one can.
In just a few weeks, Janet Mock will be releasing her second memoir, Surpassing Certainty, and I cannot wait. I quickly devoured her first memoir, Redefining Realness, about growing up multiracial, poor, and trans in America. Her new book takes us into Mock's twenties, and gives us a deeper understanding of her journey to becoming a leading voice in the transgender rights movement as well as a pop culture queen!
And of course, Grok Nation's very own Mayim Bialik's new book, Girling Up! is a must read for young women ages 10+ and their families. In fact, it's a perfect book for anyone who wants a better understanding of everything tween and teen girls go through!
Mayim Bialik: " 'The Awakening,' a short story by Kate Chopin.  One of the most beautiful stories of a woman trapped. She's ahead of her time and sees no future for the woman she wants to be. Tragic and gripping.
The Red Tent by Anita Diamant.  An historical novel about the women behind the Torah' s greatest stories.  Each matriarch has a distinct personality matching her role in the story of the Jewish people, and the discussion of women's camaraderie and support during menstrual cycles, pregnancy,  labor and parenting are universally significant for all women.
Sonnets From the Portuguese by Elizabeth Barrett Browning. 44 gorgeous sonnets of love and longing. As a feminist who craves intimacy, these are inspiring."
Have a question for our ragtag group of raging feminists? Send it to Avital Norman Nathman at TheMamafesto@gmail.com and it might just be answered in a future Feminism 101!