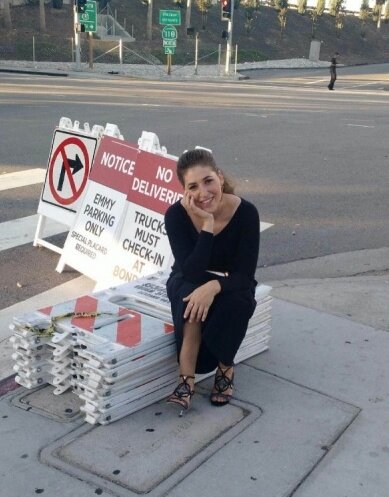 [Image: Mayim after the 2015 Emmys, curbside and ready for pickup. ]
Last week, for the first time in the past five years, I did not receive an Emmy nomination for best supporting actress.  I'm not going to lie and say that I'm not disappointed, because I think most humans would be disappointed. But every year that I have been nominated, I have been shocked – and so every year, I always expect to not be nominated. That's why I wasn't astounded to not be nominated this year!
However, ever-optimistic – or at least trying to be – I realized three great things about not being nominated. Here they are:
I don't have to worry about losing weight! True story:  I've lost weight this summer – it's not like I lost a ton but I lost enough so that whichever designer would have had to design a dress for me was going to be very pleased with me.  That's just how it works.  Now I don't have to worry about any of that!  I still plan to keep up my healthier eating and walking at least five times a week regimen because it's great for my mood; also knowing that every single meal of every single day isn't fun food and comfort food, I will feel much less guilty when I do want to have some fun food or some comfort food . But it's still nice knowing that no one will be taking my measurements anytime soon!
I don't have to worry about what to wear! Not only do I not have to worry about what size dress I might or might not fit into, I don't have to go through months of fittings and potential stress about dress coverage or things working or not working for which accessories, or what purse to wear and what to put in it, or what height shoes won't give me blisters and all of that stuff. Don't get me wrong; I am always incredibly honored to attend awards shows even if I am not nominated, but since all of that getting fancied-up stuff isn't really something that comes naturally to me, I can't help but feel grateful about skipping it this year!
I get to enjoy the show! I can now watch the Emmy awards, should I choose to, from the comfort of my couch. Actually, I don't have television so I would have to watch it from the comfort of someone else's couch. But you get the point. The women nominated in my category are all incredibly talented and incredibly deserving. Now that I am not part of the competition, I get to sit back and root for them all and be thrilled for whoever wins without needing to simultaneously acknowledge that I lost!
Of course, the Emmys are a chance to acknowledge outstanding work in our field – and there is a LOT of outstanding work in our field. And while nominations are nice, they're not why we do our jobs, and why we always try to do our jobs better. As working actors, we bring our A-games all the time because we're professionals who love what we do. We love going to set and getting to work with our talented team of regular cast and crew. Plus, we get to work with amazing guest stars, two of whom – – Laurie Metcalf, who plays Sheldon's mom, and Christine Baranski, who plays Leonard's mom – were nominated for their outstanding work on our show.
And we also get the love and support of you amazing fans: I so appreciate all the people who reached out to express their surprise and disappointment that I was not nominated this year and their concern for how disappointed I might be. But I'm okay, trust me. ☺
Congrats to all the nominees! Wishing you all luck!