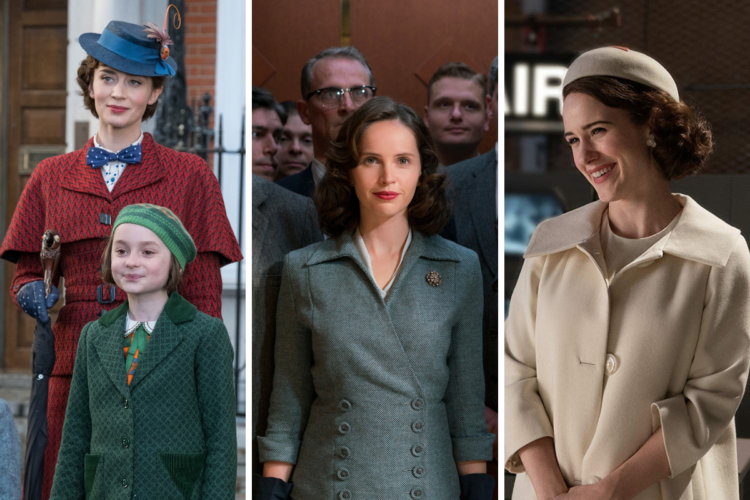 The holiday season is just around the corner. There are presents to buy, food to make, and typically way too much traveling. That doesn't even count the time it takes to emotionally prepare to interact with certain family members! (Tips for that here.)
So, yes, December can be a busy month. Sure, all those holiday movies show off perfectly groomed people in cozy pants and sweaters just sitting by the fire sipping tea or curled up on the couch and watching TV, but for most of us, those scenes are actually few and far between in reality. We want to help you make the most of those brief moments you'll get alone this month.
Below, you'll find all the notable TV shows, books, and movies coming your way in December; we recommend taking a deep breath, slowing down, and taking some time for yourself this holiday season.
TV Shows
Nightflyers (Syfy, Dec. 2)
Touted as Syfy's most expensive show yet, Nightflyers is based on George R.R. Martin's (yes, that George R.R. Martin) novella from the early 1980s. Don't go in expecting Westeros, as Nightflyers is sci-fi and horror wrapped up in one. Like Game of Thrones, though, the series is dark and a lot of people will probably die, as the show follows the crew of a spacecraft heading to the edge of the universe, and encountering some terrifying, dangerous things along the way. It will air new episodes for five straight nights beginning Dec. 2, and then again the following week, for a total of 10 episodes, all of which will also be available through VOD and Syfy.
Say Her Name: The Life and Death of Sandra Bland (HBO, Dec. 3)
In 2015 Sandra Bland, a 28-year-old black woman, was arrested for an innocuous traffic violation in Texas. Three days later she died while still in police custody. Her death was ruled a suicide, but skepticism spread. The idea that this could be a racially motivated murder—at the hands of police officers, no less—took on substantial power. This documentary may not reveal the truth behind Bland's death, but it does underscore what her life and death means, as an embodiment of racism in this country, the need for police reform, and the very real problem of too many black deaths.
The Marvelous Mrs. Maisel (Amazon Prime, Dec. 5)
Amy Sherman-Palladino's show, which follows a housewife as she becomes a stand-up comic in 1950s New York, is simply delightful. It has all the wit and charm that defined the early seasons of Gilmore Girls and features a truly outstanding lead performance from Rachel Brosnahan. If you haven't already, marathon the first season, which took home eight Emmys, so that you're all prepared for the second season on Dec. 5.
RELATED: 6 reasons we love The Marvelous Mrs. Maisel
Counterpart (Starz, Dec. 9)
Speaking of outstanding lead performances, J.K. Simmons delivers one in Counterpart. The twisty, compelling sci-fi series features parallel dimensions, great action sequences, and some of the best political/spy intrigue this side of The Americans. The first season only got better as it went along, which has us excited to see what the second season has in store.
Champaign ILL (YouTube Premium, Dec. 12)
It feels weird to be recommending a show that's on YouTube, but that's what has happened in 2018. Soon enough we'll be recommending the first original series from the streaming platform owned by Whole Foods. But seriously, we have to mention Champaign ILL because it's a comedy from the team behind the beloved Happy Endings—and that shouldn't go without notice.
The Innocent Man (Netflix, Dec. 14)
The less you know about this one before watching, the better. If you love true crime like Making A Murderer and The Staircase, you'll love this limited documentary series that's based on John Grisham's 2006 non-fiction book of the same name. This might be Netflix's best, and most chilling, true crime series yet.
Timeless (NBC, Dec. 20)
Back-to-back episodes serve as the series finale to the rarely watched but passionately loved time-travel series.
Marvel's Runaways (NBC, Dec. 21)
A group of teen misfits from wealthy LA families on the run… oh and they have powers and a dinosaur? Yes, please. Season 1 of the Hulu show was a fun thrill ride, and season 2 looks like it will be even more epic.
Movies
Spider-Man: Into the Spider-Verse (Dec. 14)
Now this is what we're talking about! The latest iteration of Spider-Man has an old-school feel to it, both in terms of the animation style and the tone of the trailer. It feels like a comic book in the way so many big budget CGI movies don't. We're excited, and you should be, too.
Mary Poppins Returns (Dec. 19)
This looks absolutely charming. Emily Blunt stars as Mary Poppins, who returns to Depression-era London in order to bring childhood joy back to Jane and Michael, who are now grown and have lost touch of that magical perspective. Sounds like a perfect film to enjoy for a jolly holiday.
Aquaman (Dec. 21)
Look, we'll be honest: The trailers for this worried us. Despite a topless Jason Momoa, it seems to leave a lot to be desired. But maybe the actual movie will be better than the scattered clips we've seen so far! The first few critics have thought so, so we're going to wait to make a decision.
Bumblebee (Dec. 21)
We're not huge fans of the bloated Michael Bay Transformers movies, but this stand-alone Bumblebee film has us vaguely curious. Why? Because it stars Hailee Steinfeld, and the trailer makes it look like Bumblebee might be as much a coming-of-age story as it is a massive war between robots. That kind of personal storytelling could make Bumblebee worthwhile… or we could be getting our hopes up.
On the Basis of Sex (Dec. 25)
It probably comes as no surprise that we love anything about Ruth Bader Ginsburg, including the recent documentary RBG, which we reviewed here. That's why we're incredibly psyched to see Felicity Jones play the formidable figure in this Christmas Day release. The film follows the Supreme Court Justice's fight against sexism early in her career.
Vice (Dec. 25)
Adam McKay continues his foray into political filmmaking, following up The Big Short with this story of the power play, or lack thereof, between George W. Bush and his vice president, Dick Cheney. The cast is packed with big names, from Christian Bale playing the power-hungry Cheney, to Amy Adams as Lynne Cheney and Steve Carell as Donald Rumsfeld. Similar to The Big Short, expect a blend of comedy and drama, and more than a bit of outrage at the ways in which, then and now, political figures control the fate of the United States.
Destroyer (Dec. 25)
This looks, in a word, intense. Nicole Kidman plays a cop whose past undercover work within a gang comes back to haunt her. Maybe don't watch it back-to-back with Mary Poppins Returns.
Books
The Dakota Winters by Tom Barbash (Dec. 4)
A whirlwind of '70s Americana, The Dakota Winters follows Anton Winter through New York City, Lake Placid, and Hollywood while he attempts to revive his father's career as a late night talk show host. Along the way Anton runs into the Kennedys, John Lennon, and Johnny Carson, making Barbash's novel part family drama and part examination a critical time in American history.
The Mansion by Ezekiel Boone (Dec. 18)
This one sounds like The Social Network meets 2001: A Space Odyssey meets The Haunting of Hill House. Here's the setup of The Mansion: Best friends Shawn and Billy spend two years in a mansion creating a revolutionary computer named Eagle Logic. The best friends split though, and Billy falls into poverty while Shawn makes Eagle Logic bigger than Apple and Google. Billy, angry and broke, brings back a failed project named Nellie, a computer program that can control every function in a house. He sets it up in their Eagle Logic mansion, and things instantly start going wrong. Only Billy and Shawn together can stop the murderous machine.
Before Watchmen Omnibus by Various Authors (Dec. 24)
All the Watchmen prequels are finally collected in one place. For fans of the graphic novel, Christmas can't come soon enough. Pre-order on Amazon.
That's it for December! We'll see you in 2019 with a whole host of recommendations to kick off your new year right.